Peanut Butter Granola Bars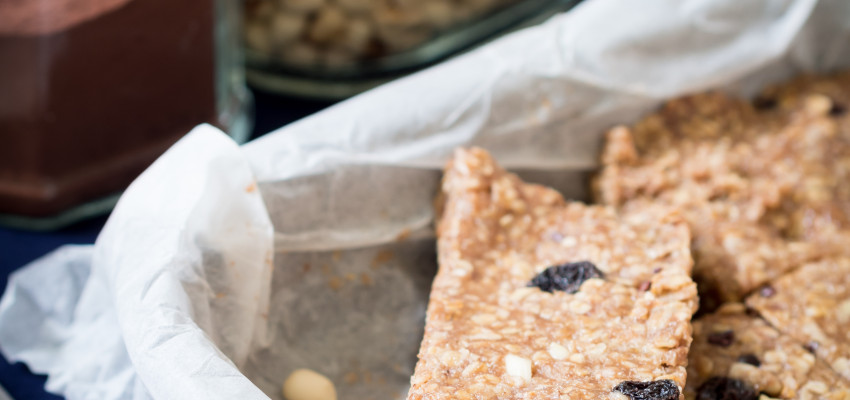 Ingredients
This recipe calls for oat bran. I found the Bob's Red Mill brand in the natural products section of the grocery store.
Makes 10 bars
1 1/2 cup rolled oats
1/2 cup oat bran
1/4 cup dry nonfat milk powder
1/2 cup raisins (dried cranberries also work well)
1/3 cup honey
1/4 cup peanut butter (or your favorite nut butter)
1/4 cup extra-light-tasting olive oil
1/2 teaspoon vanilla
1 large egg
Instructions
Preheat oven to 350 degrees. Lightly grease a 9-inch-square baking pan.
Mix together the oats, oat bran and dry milk in a large bowl. Add the raisins and mix well again, making sure the raisins are separated.
In a medium-sized bowl, whisk together the honey, peanut butter, oil and vanilla until well combined. (If the peanut butter is stiff, microwave the bowl for 10 seconds to raise the temperature a bit so the ingredients will mix together. Do not let the mixture get hot.) Add the egg and mix well.
Pour the wet mixture over the oat mixture and stir until well combined. Pour the batter into the baking pan and spread out evenly. Bake for 20 minutes.
Take the granola bars out of the oven and score into bars with the edge of a spatula. Let the bars cool completely in the pan, then turn them out onto a cutting board. Separate into individual bars and store in an airtight container.
---