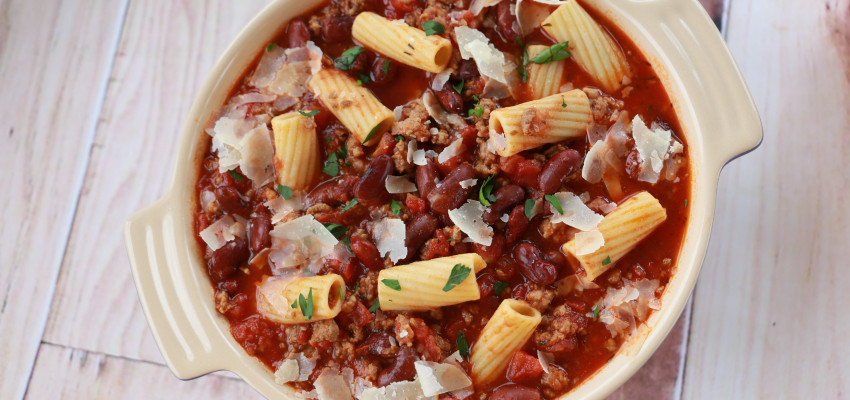 Ingredients
 ½ lb. Italian sausage, crumbled (or use regular pork sausage and add 1 tsp. Italian seasonings in addition to spices listed below)
½ lb. lean ground beef, crumbled and cooked, fats drained
1 Tbs. dehydrated onion flakes
2 cloves garlic, minced or crushed
1 tsp. dried oregano leaves
1 tsp. dried thyme leaves
2 Tbs. tomato paste
28 oz. Italian diced tomatoes, undrained
2 cups cooked dark kidney beans, or substitute 14 oz. can dark kidney beans, drained and rinsed
2 cups beef broth
1/8 - 1/4 tsp. red pepper flakes
Kosher salt and freshly ground pepper, to taste
½ lb. penne pasta, cooked according to package directions, drained and reserved
2 Tbs. freshly minced Italian parsley (or sub 1 tsp. dried parsley)
Parmesan cheese, freshly shredded (may 
Instructions
Sauté the sausage, ground beef, onion, garlic, oregano and thyme in a heavy Dutch oven over medium high heat until the meats are nicely browned and cooked throughout, crumbling them as they cook; drain any fats that accumulate.
Add the tomato paste to the meat mixture and cook over medium heat until the tomato paste has turned from bright red in color to a rather dull, brownish-red color.
Stir in the tomatoes with their juice, drained and rinsed kidney beans, broth and red pepper flakes; season to taste with kosher salt and pepper. Simmer the soup over medium-low heat for 25 to 30 minutes, adding more beef broth if needed, until the soup is a nice consistency.
To serve, place the warm cooked penne pasta into serving bowls, topping the pasta with the prepared soup; garnish with Italian parsley and Parmesan.
---