Creamy Chicken Rigatoni with Goat Cheese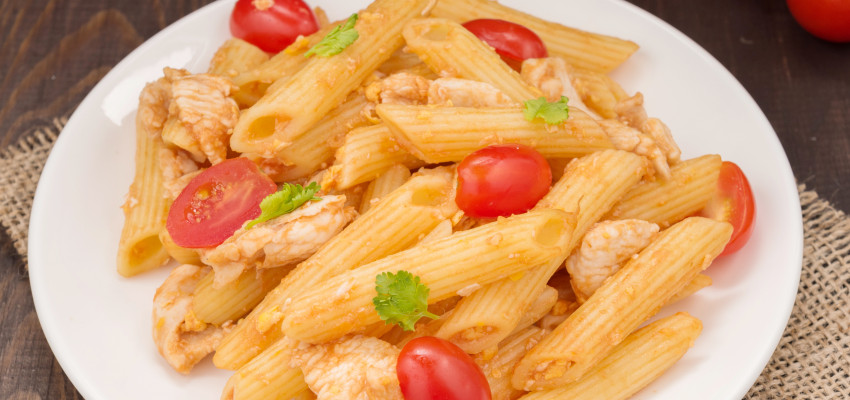 Ingredients
1-2 Tbs. good olive oil 
1 lb. boneless, skinless chicken breasts, cut into 1" cubes 
8 oz. sliced button or baby bella mushrooms 
14 oz. can petite diced tomatoes, drained well 
1/3 cup white wine 
3 cups chicken broth
1 lb. rigatoni pasta 
3-4 cloves garlic, crushed  
1 1/2 tsp. Italian seasoning  
4 oz. goat cheese, softened 
1/3 cup shredded Parmesan 
Instructions
In a large stock pot over medium heat, add the olive oil; when the oil is nicely hot, add the cubes chicken and mushrooms, cooking for 5-6 minutes. Stir in the diced tomatoes, wine, broth, rigatoni, garlic, and Italian seasoning. 
Raise heat to medium high, bringing the ingredients to a good simmer, continuing to cook for 12-15 minutes or until most of the broth has been absorbed and the rigatoni is nicely tender, stirring occasionally. 
Remove from heat and stir in the goat cheese. Let pasta rest for 5 minutes to thicken before serving. Garnish pasta with Parmesan and serve. 
---