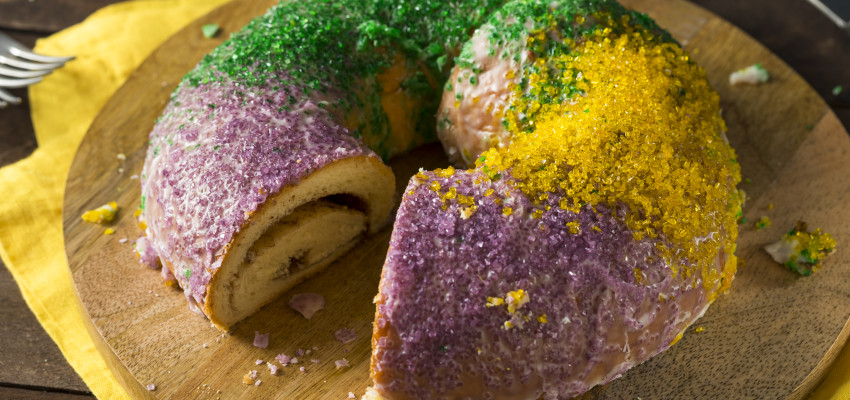 Ingredients
1 loaf frozen bread dough, thawed
8 oz. cream cheese, softened
1 cup powdered sugar
1 tsp. vanilla extract
Icing
1 1/2 cups powdered sugar
3 Tbs. milk, add as needed
1 tsp. vanilla extract
Colored sugars - purple, green and bright yellow (represents gold)
Instructions
On a lightly floured surface, using a lightly floured rolling pin, roll the bread dough out into a 10x18-inch rectangle.
In a large mixing bowl, combine the cream cheese, powdered sugar and vanilla extract until creamy and well blended.
Spread the prepared cream cheese mixture over the dough to within an inch of the edge all the way around.
Make a long log of dough by rolling it up lengthwise; brush the edge with a bit of water before pressing it to seal.
Form the log of dough into a circle, placing it into a greased baking sheet. Press the ends into each other, brushing with a bit of water to seal, as needed.
Brush the top of the dough lightly with melted butter and cover with a large piece of plastic wrap. Set in a warm place to let the dough rise, 45 minutes to an hour.
Preheat the oven to 350 F. When the dough is nicely raised, remove the plastic wrap; bake for 30-35 minutes, uncovered, on the center oven rack, until golden brown.
Meanwhile, make the glaze by combining the powdered sugar, milk and vanilla; mix well until smooth.
Drizzle the glaze over the top of the slightly cooled king cake; immediately top with the colored sugars. Allow the cake to rest until the glaze hardens, then serve as desired.
---