By

Chef Alli

on

February 9, 2023
Make a King Cake for Mardi Gras
Celebrate the famous Mardi Gras tradition.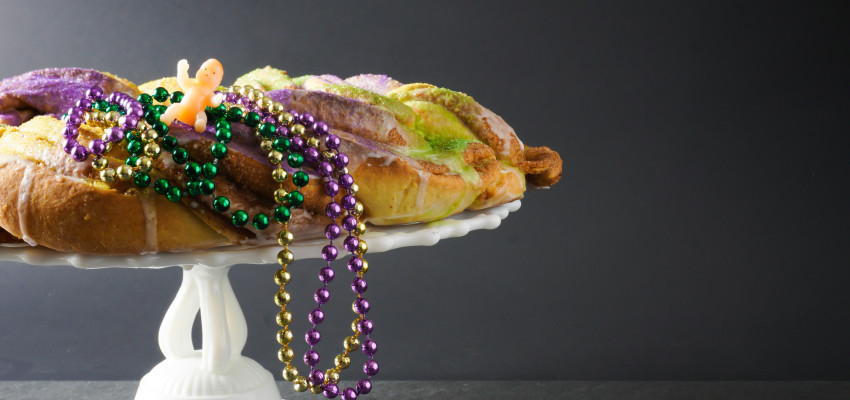 King cake is a traditional cake made for Mardi Gras celebrations, the famous centerpiece of New Orleans food lore.
What is king cake?
A king cake is a circular bread, pastry or cake that is frosted with a glaze and boldly embellished with gold, green and purple sugars – the official Mardi Gras colors. It is purposely shaped into a circle or oval to mimic the appearance of a king's crown.
What do the traditional colors of Mardi Gras represent?
Each color has its own specific meaning: gold represents power, green represents faith and purple represents justice. The king cake itself symbolizes unity of faiths.
When is king cake eaten?
King cake is traditionally eaten by Mardi Gras partygoers during what's called carnival season, which runs from Jan. 6 (King's Day, also known as the Feast of Epiphany) through Fat Tuesday, the day before the Lenten season begins. 
Where did king cake originate?
The tradition of king cake is rooted in Old World Europe, most particularly France and Spain. Settlers brought an early version with them to Louisiana where they would bake and eat it at home. Mardi Gras king cake was officially born, and the tradition has continued evolving.
How is king cake made?
Though there are many variations, traditional king cake is a sweet dough that is twisted into a round shape, baked and glazed, then adorned with brightly colored sugars. Some versions of king cake are very decadent, filled with rich cream fillings and fruit, and are quite laborious to make.
Why is there a baby in king cake?
The modern tradition of a small plastic baby inside a king cake began in New Orleans during the 1950s. A commercial bakery, McKenzie's, originally popularized a porcelain baby that was baked into their cakes. Later, because the porcelain babies were difficult to find, plastic babies were used.
Some say the baby in the king cake is baby Jesus while others believe the baby is a symbol of prosperity.
Regardless of what they believe, everyone wants to become royalty by finding the baby in their slice of king cake since this means they are "crowned" as king or queen of the party and said to be on their way to finding good fortune.
Due to concerns about eating king cake baked around something made of plastic, the baby now comes with the baked cake and the purchaser hides it inside the cake just prior to serving.
Where can I get a king cake?
Due to the incredible popularity of king cake, it can be found in many local bakeries. Many bakeries in New Orleans now sell online and ship around the world.
Can I make the king cake myself?
Yes! Below is an easy king cake recipe for you to create for your family. 
---