Fast and Creamy White Chili with Pulled Chicken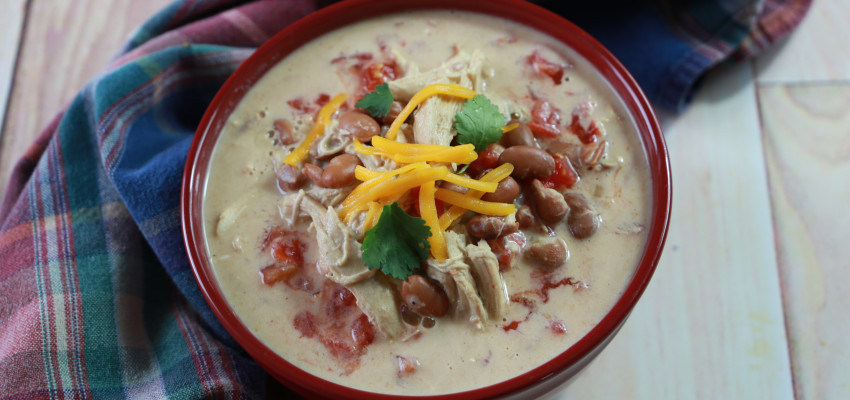 Ingredients
Olive oil, for blooming the spices
2 tsp. granulated onion
2 tsp. ground cumin
1 Tbs. mild chili powder
2 tsp. granulated garlic
Meat from one rotisserie chicken, shredded or chopped
8 oz. cream cheese, softened and cubed (may use reduced-fat)
2 cans pinto beans, 14 oz. each, rinsed and drained
1 can white beans, 14 oz., rinsed and drained
1 can diced tomatoes and green chilies, 10 oz., drained
3 cups chicken or vegetable broth
Salt and pepper, to taste
TOPPINGS, AS DESIRED
Cilantro
Shredded cheddar or Monterey Jack cheese (or your favorite shredded cheese)
Sour cream
Instructions
In a large Dutch oven or soup pot over medium heat, add a small swish of olive oil. When the oil is hot, add the spices, stirring for 30 to 60 seconds until fragrant.
Add the chicken to the spices, stirring to coat well. Add the cream cheese to the chicken mixture, stirring until melted and incorporated into the chicken; stir in the beans and drained tomatoes and green chilies, then add the broth; season chili to taste with salt and pepper.
Bring the chili to a simmer, then reduce the heat to low; cook the chili for 20 to 25 minutes to let the flavors meld together or transfer to a slow cooker and cook on low heat for two to three hours.
Top the bowls of chili with your preferred toppings. 
---