White Chicken & Rice Chili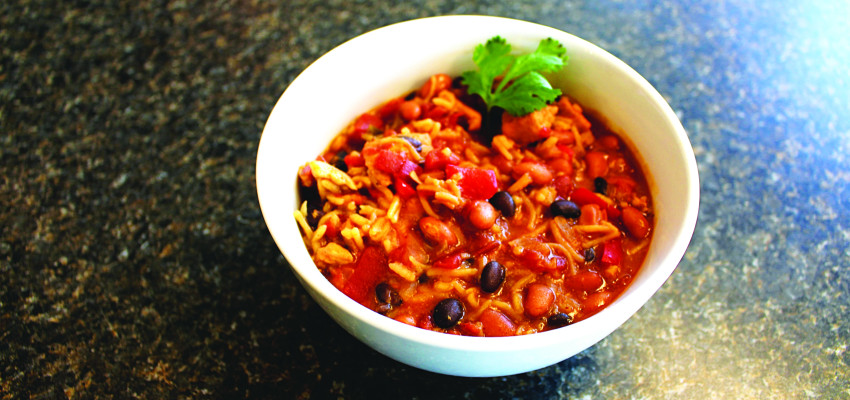 Ingredients
1 box Spanish Rice A Roni
4 boneless, skinless chicken breasts, cut into bite-size pieces
1 tsp. ground cumin
1 tsp. chili powder
1 to 2 Tbs. canola or vegetable oil
1 large yellow onion, diced
1 red sweet bell pepper, seeds and membranes removed, diced
4 cloves garlic, minced
2 cans (14 oz.) diced petite tomatoes, with juice
2 cans pinto beans, rinsed and drained
4 to 6 cups chicken or vegetable broth
Kosher salt and freshly ground black pepper, to taste
Instructions
In a large Dutch oven or stock pot over medium high heat, add oil; when oil is hot, add chili powder, cumin and spices from seasoning packet in Rice A Roni package; add cubed chicken and cook until lightly browned on all sides, approximately 5 to 6 minutes.
Remove chicken from pot and set aside; add onion and bell pepper to drippings in pan (add a bit more oil if needed) and sauté until softened, approximately 6 to 8 minutes over medium heat.
Add garlic to onion and bell pepper during last few minutes of cooking time.
Stir chicken into onion mixture and add rice, tomatoes, beans and 2-3 cups of chicken broth.
Simmer soup over low heat for 35-40 minutes, adding more chicken broth if needed to desired consistency.
Find more tips and recipes on Chef Alli's blog at www.chefallisfarmfreshkitchen.com.
---