Carrot Bundt Cake with Cream Cheese Frosting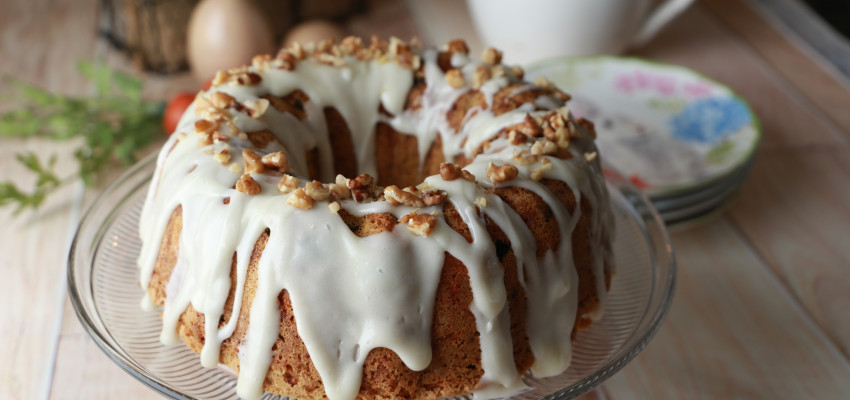 Ingredients
Carrot Bundt Cake
2½ cups all-purpose flour
1½ tsp. baking powder
½ tsp. baking soda
1 tsp. cinnamon
½ tsp. nutmeg
½ tsp. ground cloves
2½ cups sugar
1 cup vegetable oil
4 eggs, room temperature
5 Tbs. hot water
2 cups grated carrots
1 cup chopped walnuts
2/3 cup golden raisins
Cream Cheese Frosting
6 oz. softened cream cheese
2 Tbs. softened butter
zest of 1/2 orange (may add more if desired)
1 tsp. vanilla extract
3 cups powdered sugar
3-6 Tbs. whole milk or cream (or use the juice from the orange, if preferred)
Instructions
Preheat the oven to 325 F. Generously grease a 10 to 12 cup Bundt pan.
In a large mixing bowl, combine the flour, baking powder, baking soda, cinnamon, nutmeg and cloves.
Using an electric mixer or stand mixer, beat the sugar, oil, eggs and water until light and fluffy; add the carrots and mix until blended.
Add the prepared flour mixture slowly, beating just until combined; gently fold the nuts and raisins into the batter by hand.
Pour the batter into the prepared Bundt pan. Bake the cake on the center rack for 55 to 65 minutes, or until a toothpick comes out clean when inserted at the tallest part of the cake.
While the Bundt cake is baking, prepare the frosting. Using a mixer, beat the cream cheese, butter, orange zest, vanilla and powdered sugar until smooth, then add in the milk, a little at a time, until the frosting is smooth and creamy.
When the cake comes out of the oven, place the pan onto a cooling rack, letting cool for 10 minutes.
Use a skinny knife to very gently loosen the cake around the outer edge and the center piece of the pan, then invert the cake onto the cooling rack or a cake plate/stand.
Let the Bundt cake cool completely, then drizzle frosting over the top. If there's extra frosting, use it to drizzle over individual slices, if desired.
You may also enjoy:
---