Banana Bread Bars with Browned Butter Frosting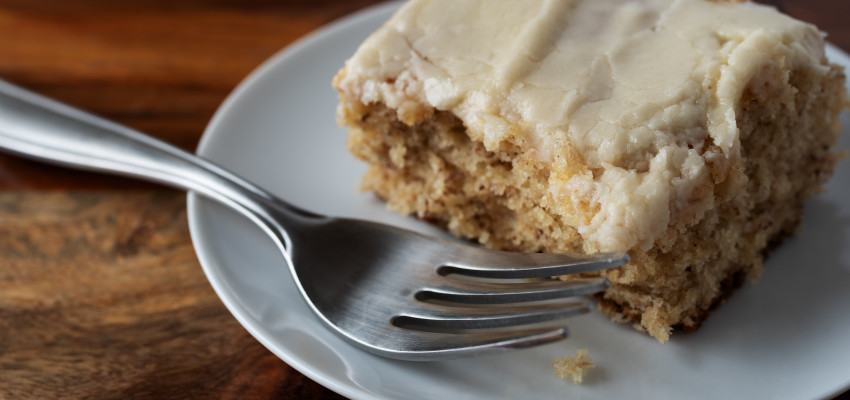 Ingredients
Brownies
1 cup granulated sugar
1 cup sour cream (or use half sour cream and 1/2 plain Greek yogurt) 
1/2 cup unsalted butter, softened
2 eggs
2 cups very ripe bananas, smashed well with a fork  (4-5 medium bananas) 
2 tsp vanilla extract
2 cups all-purpose flour
1 tsp. baking soda
1 tsp kosher salt
Brown Butter Frosting
6 Tbs. unsalted butter
3 cups powdered sugar
1 tsp. vanilla extract
3-4 Tbs. milk or cream, or more, depending on the frosting consistency you prefer 
Instructions
Preheat the oven to 350 F. Grease a 9 x 13 baking dish.
In a large mixing bowl, using an electric mixer, beat the sugar and butter until well combined and a bit creamy, 3-4 minutes. Add sour cream, butter, eggs, mashed bananas and vanilla, beating until well blended. 
In a small bowl, combine the dry ingredients, then use a spoonula or large spoon to fold the flour mixture into the banana mixture, just until all ingredients are moistened. Don't over mix. 
Spread the prepared batter evenly into the greased baking dish. Bake, uncovered, for 25-30 minutes on the center rack of the preheated oven until golden brown and a cake tester inserted into the center comes out clean; remove from the oven and let cool just slightly. 
Meanwhile, prepare the frosting by heating the butter in a skillet over medium heat, stirring occasionally until the butter turns light brown in color and the fragrance is nutty; remove from the heat immediately, letting the butter cool from hot to warm. 
In a large mixing bowl, add the powdered sugar, vanilla and the warm browned butter. Using the electric mixer again, beat the ingredients until well blended, adding milk as needed until the frosting is smooth, creamy and spreadable. 
Using a wide, thin spreader, gently spread the prepared frosting over the warm bars; cool completely to let the frosting set up, then cut into bars. Store in an airtight container.  
---