By

Chef Alli

on

April 6, 2022
Host a Mother's Day Tea Party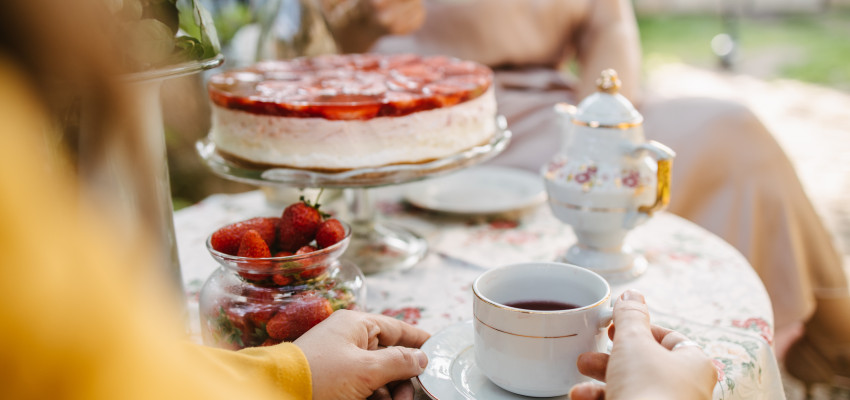 With a bit of creativity and planning, you can host a lovely tea party to honor mom and provide a special memory she will always cherish and remember.
The tradition and custom of afternoon tea originated in England to bridge the gap between lunch and dinner, which was served as late as 8 p.m. Afternoon tea is traditionally served around 4 p.m., providing the perfect opportunity to gather for dainty cups of hot tea, sweet treats, savory bites and a nostalgic day of celebrating all the remarkable women in your family. 
Begin with Special Invitations
Include all the females in your family - mom, grandmothers, aunts, sisters, daughters and remember the little girls, too. 
Since a tea party is a unique occasion, it's especially sweet to send gussied-up invitations through the mail to your intended guests, something they will definitely take note of.  Send your invitations two to three weeks in advance. 
And since a tea party does include food, it's completely appropriate to ask for an RSVP from each person invited. 
Setting the Stage 
A tea party can be hosted anywhere in your home. Turn the living room into a Victorian tea parlor or transform your back patio into a relaxing tea party oasis. Set it up wherever you feel your guests will be most comfortable. 
Soft background music, such as classical or smooth jazz sets the stage for any tea party since it lends a gentle and relaxing ease for guests. 
The Tablescape 
Have you always longed to create one of those amazing tablescapes that is fantastically ooh-la-la? Here's the perfect opportunity. 
Embrace all things feminine! Break out the fine linens, floral napkins and Grandma's lacey table runners. Add pretty plates and stemware, special tea pots and delicate china teacups. 
Don't worry if the teacups and tea pots are a mix-and-match assortment. This simply adds more vintage style and charm to your party. 
**Many tea party items and accessories can be purchased at local thrift stores and flea markets for just pennies on the dollar, including china tea pots and beautiful cups and saucers.
Add Some Fresh Flowers
Pretty single-stem flowers or a single rose with baby's breath in delicate bud vases are simple but beautiful. These can be placed in various spots of your setting to give a light and airy feel. 
If you'd really love to splurge on one of those swanky fresh floral centerpieces, consider one that compliments the main table. 
Remember to keep this arrangement lower in height so it doesn't block the view of guests sitting across the table from each other. 
Pretty Place Settings 
Take your place settings to the next level by adding a touch of pretty ribbon wrapped around flatware, adding a sprig or two of fresh herbs. 
If you have family heirloom china or silverware tucked away, this is the perfect occasion to incorporate them at your place settings. 
Keepsake Place Cards and Party Favors
Here is an inexpensive way to add some special personalization for your tea party guests. 
Ahead of time, ask each mom to send a few favorite photos of their children. Using these photos, have a place card created for each mom. 
Set each place card where you'd like each mom to be seated at your tea table, leaning them up against a tiny vase of flowers. As parting favors for the tea party, send each guest home with the place card and the vase of flowers to enjoy later. 
If you were able to purchase the china tea cups inexpensively at your local thrift store, send each guest home with their teacup. It's a special remembrance that keeps the party going. 
The Food Buffet 
Here is another perfect place for displaying favorite family heirlooms that are otherwise tucked away for safe keeping. 
An antique pitcher can serve as a beautiful pitcher for fresh flowers, just as Aunt Marylou's special pedestal cake stand makes a pretty display when piled high with macaroons and petit fours. 
Silver or glass tiered trays can showcase sweet and savory treats displayed at varying heights. 
Even store-purchased sweets and treats look special and decadent when artfully placed on tiered trays adorned with paper doilies. Mini cupcakes and cream puffs suddenly appear very dressed up when presented on a pretty glass cake stand. 
The Menu
Tea parties are not the time for sensible eating. Indulging a bit in fancy finger foods and decadent small bites is an absolute must!
Dainty finger sandwiches and mini chicken salad croissants, fresh berries, fruit salad and an assortment of desserts are perfect fare.
Adding a few store-purchased treats to the menu helps lighten the load of every hostess and is completely acceptable. Nary a soul will notice or mind. 
Serving A Proper Spot of Tea
Every good tea party hostess should learn the basics of brewing a proper pot of tea. 
Bring cold water to a boil then remove from heat and let rest for a few minutes. 
In a teapot, add a teaspoon of tea leaves for each cup of tea you are making, then fill the tea pot with the prepared hot water. Let the tea leaves steep for three minutes for green teas and four minutes for black teas. 
Pour the tea into cups, using a strainer for each one to catch the tea leaves. Be sure to include sugar cubes, lemon slices, honey, milk and cream on your table. 
Little Girls 
If you have little girls attending the tea party, they will be excited with a child-size tea table just for them. 
As a fun party favor for them to take home, all little girls will love a very small teddy bear or stuffed animal perched at their place setting, complete with a pretty bow.
If you'd like to add an activity for the little girls, consider a make-your-own yogurt bar. Vanilla yogurt with assorted toppings and fruit makes a festive tea party mini buffet. 
Since children often don't care for hot tea, pink lemonade served in tea pots along with butterfly tea sandwiches is a delightful menu. Add some tea cookies and mini cupcakes to their table -- your little girls will be delighted! 
**To make butterfly tea sandwiches, use a butterfly-shaped cookie cutter for the bread and add peanut butter and jelly or cream cheese topped with jam. 
Tea Party Recipes
These recipes will make your Mother's Day Tea Party a hit!
---