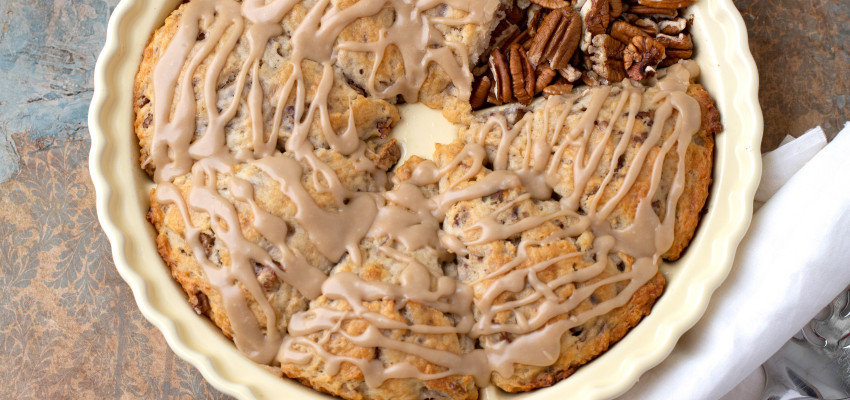 Ingredients
3 cups all-purpose flour
1/3 cup granulated sugar
1 Tbs. baking powder
3/4 tsp. kosher salt
1 cup unsalted butter, chilled, cut into small pieces 
1/4 cup chopped pecans, divided use [SW1] [MC2] 
1 egg
3/4 cup heavy whipping cream
Icing 
1 lb. powdered sugar
1/4 cup milk or half and half 
1/4 cup unsalted butter, melted
Splash of strongly brewed coffee, cooled 
Smidge of kosher salt 
1 tsp. maple flavoring
Instructions
Preheat the oven to 350 F. In a large bowl, combine the flour, granulated sugar, baking powder and kosher salt.
Cut the butter pieces into the flour until the mixture resembles crumbs; add 1/4 cup of the chopped pecans. 
In a small bowl, combine the egg and cream together; add to the flour mixture, stirring just until combined, don't over mix.
Turn the dough mixture onto a clean work surface. The dough will be crumbly in consistency at this point; use your hands to push the mixture together into a large ball, but taking care not to knead the dough too much. 
With a rolling pin, gently roll out the dough into a 10-inch round, approx. 3/4-inches thick. With a sharp knife or bench scraper, cut the round of dough into 8 equal-size wedges.
Transfer the scones to a greased baking sheet; bake for 22 to 26 minutes, until the scones are just barely starting to brown. Cool the scones completely before frosting. 
Meanwhile, in a mixing bowl, combine the icing ingredients until smooth. Generously drizzle the icing over the scones, then sprinkle with pecans, as desired. Allow the icing to set before serving.
---