Buffalo Dunes course in Garden City focuses on saving water and teaching youth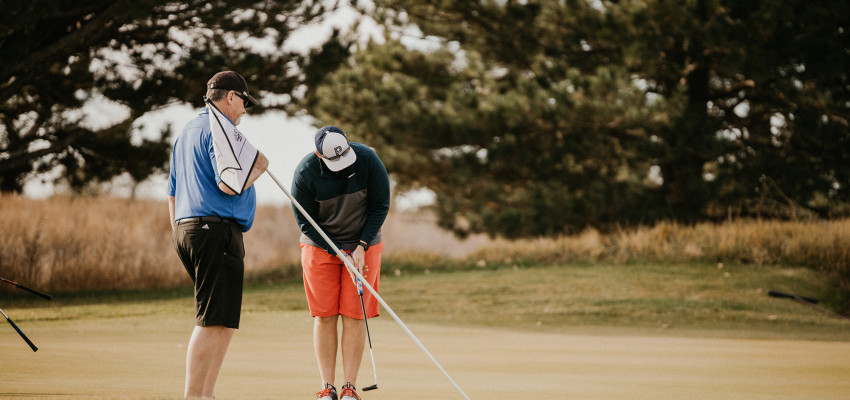 It's a visual landscape that spans two generations and 320 acres of land in western Finney County. Buffalo Dunes Golf Course is a Garden City attraction that has grown by leaps and bounds — as well as holes and slopes — since it opened in 1976.
The idea for the Garden City attraction began in 1974, when Earl Brookover, a well-known figure in Garden City who owns Brookover Feedyard, donated land to the city for a golf course. Construction began in 1976 and the landscape was unique to the golf world. In the beginning, there were no trees and it was sandy soil. When Frank Hummel, a renowned U.S. golf course architect, was asked to design the course, everyone knew the workload would be intense because of the arid landscape that is western Kansas.
This 18-hole, par 72 course has only a few trees on the property. A golfer will notice the western Kansas landscape of sandhills and sunsets as they play through the course, which has a difficulty rating of 72.5. To provide some perspective, the Augusta National Golf Course in Georgia has a difficulty rating of 76.2.
New golfers, seasoned veterans and local youth enjoy the city-owned course in Garden City, thanks to the hard work of its staff, namely head golf professional Jason Hase and superintendent Clay Payne.
Five years ago, Hase moved from a private, member-owned golf course and club in west central Texas to work at Buffalo Dunes. He says he loved the community of Garden City and saw potential for what the golf course could be. The city's leadership organization is also a great asset, Hase says.
Buffalo Dunes is an important attraction for the community of Garden City and the Buffalo Dunes staff members work overtime to be good stewards of the land.
"Most of our members are from southwestern Kansas and we know agriculture is a huge business for this area," Hase says. "Being good stewards of the land means doing our part not only for Buffalo Dunes but also for Garden City. We understand water is very precious and are working to conserve it."
Today, Buffalo Dunes, at 5685 US-83 in Garden City, offers a park-land setting. Hase says a snowstorm in April 2021 forced the course to remove many of its trees.
"The course is on a big piece of property with large sandhills," he says. "We cut down a few trees here and there so a golfer can stand on a hole and see the entire property. We are also removing 20 acres of irrigated turf to eliminate water usage, fungicides and herbicides, and to ultimately use less manpower to care for the course."
WATER-SAVING RENOVATIONS
Clay Payne, superintendent for Buffalo Dunes, says the current renovation includes environmentally friendly practices to benefit both the course and the community. More than 20 acres of irrigated bluegrass at Buffalo Dunes are being converted to non-irrigated native grass, which is also happening at the Lee Richardson Zoo and throughout the parks and recreation system in Garden City. Payne estimates this conversion will save 12-20 million gallons of water for the city each year and 16-18 hours of weekly labor, namely mowing and fertilizing.
In addition, four acres of putting green surface is being converted to newer varieties including bentgrass, a variety known for its conservation benefits. Payne says the cost of converting to bentgrass will pay for itself within the first two years based on fungicide savings alone.
The Buffalo Dunes grounds crew is taking care of 90 percent of the renovations and conversions in-house, which saves on the total cost by not outsourcing to contractors. All renovations and water-saving projects are expected to be complete by 2026, the same year Buffalo Dunes celebrates its 50th year in business.
"The patrons here at Buffalo Dunes have been nothing but positive about the changes," Payne says. "Not only are they excited about the improved course but they also seem to be forward thinkers and excited about the conservation efforts. Our golfers want future generations to enjoy the same course they currently do and one way to do that is to conserve natural resources for this community."
ON THE GREEN
Buffalo Dunes was recently named the No. 8 municipal golf course in the county by Golf Magazine. This recognition comes from voters who rank various aspects of play, location and difficulty among courses in the U.S. Buffalo Dunes was also ranked by the same magazine as the second most affordable place to play golf in the country. This is due to golfers of all ages being able to play for less than $50.
Lona DuVall, president and CEO of the Finney County Economic Development Corporation, says the golf course has an economic impact on Garden City.
ENCOURAGING YOUTH GOLF
Buffalo Dunes offers youth, adult and senior memberships and hosts regional and national tournaments each year. The premier event at Buffalo Dunes is the Ladies Professional Golf Association (LPGA) Symetra Tour Garden City Charity Classic, which supports women's high school golf programs.
Hase says this is the second-best women's tour in the world.
"It's a great thing for Garden City and southwestern Kansas to host such an event," he says. "The professional golf women who've played Buffalo Dunes include big names like Nellie Korda and Lilliana Vu."
Youth golf has continued to grow each year under Hase's tenure. The junior golf program had 15 students participate in 2021; half of those golfers were under the age of 10. 
"I was able to bring the Professional Golfers' Association Junior League with me from Texas to Buffalo Dunes, and it has become our flagship youth golf program," Hase says. "Our current high school program, both boys and girls, is super solid. We've helped with the charitable aspect of golf by supporting 14 women's high school programs in southwestern Kansas through the Garden City Charity Classic. The Classic has donated more than $50,000 to help grow women's high school golf in western Kansas." 
As the course looks to expand, Hase says Buffalo Dunes is working toward a goal of using less water while also converting to buffalo grasses native to the Sandhills region. Hase says the grounds crew is also using sod to reduce water use in areas around tees and greens. This effort is a success because of the dedicated course and city crews. 
"We've spent a lot of our own blood, sweat and tears on the maintenance team to work overtime," Hase says. "Clay and I don't have much staff turnover since a lot of my staff is seasonal help, but I've had the same crew for quite a while. We are a proud mix of people, and this is a fun place to work. Our team takes a lot of pride in Buffalo Dunes."
To learn more, go to buffalodunes.org.
You may also enjoy:
---