Farm tours in Kansas elicit conversations, trust in American food system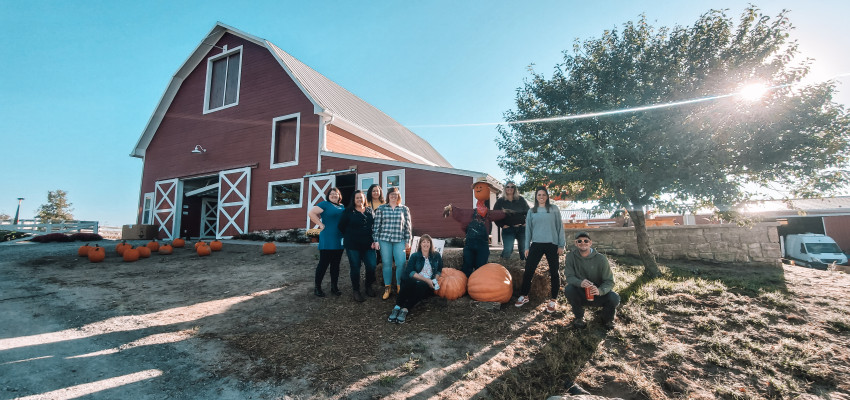 There's an "aww!" in unison as Garrett Rezac, a pork producer in Pottawatomie County, brings out a baby pig. Everyone is excited to get closer to the pig, born just a few days ago. Questions come up about caring for the baby pig as each person has their turn at holding the warm, full-bellied porcine. 
Experiences like these don't come every day for many. For six online influencers from Washington, Pennsylvania, Florida and Kansas City, this was a very "swine" day. 
INFLUENCING INFLUENCERS 
Last October, six online influencers, a farmer, a Kansas Farm Bureau (KFB) employee and a Kansas Soybean employee loaded a bus to set off on an agricultural adventure. This was the seventh year of the aptly named "Farm Food Tour" — an experience that takes bloggers and dietitians on a three-day journey throughout Kansas to be immersed in the diverse and complex world of agriculture. 
"Sharing the diversity of Kansas agriculture with online influencers is the heart of the Farm Food Tour," Sheridan Wimmer, KFB assistant director of communications, says. "There are no better people to learn about agriculture from than farmers and ranchers. When the Farm Food Tour participants get to put a face to the people growing their food, it makes a positive impact on their trust in the American food system." 
When everyone steps on the bus the first day of the trip, they take a pre-survey to gauge their attitudes about farming and ranching. Specifically, they rate their concerns about antibiotics, environmental impacts of animal agriculture, humane treatment of animals, hormones, GMOs and sustainability on a sliding scale. On the last day, the participants take a post-survey with the same questions. In every category, and after every tour, the participants' concerns have decreased. Notably, when gauging feelings about antibiotics, concerns dropped by nearly two points throughout the first six years of the tour. 
"These tours have an immense effect," Jancey Hall, director of programs and outreach at Kansas Soybean, says. "Not only are we reaching more people to share the story of agriculture, we're also positively impacting their feelings and viewpoints on those hot-button issues everyone hears about." 
SHOWCASING DIVERSITY 
In the seven years of the Farm Food Tour, 55 participants have seen farm and ranch operations in all areas of Kansas. 
Not only is the Farm Food Tour showcasing the diversity of Kansas agriculture, but of farm and ranch operators as well. One participant in 2021, Ariel Johnston, said she was impressed by seeing women in the field. 
"I am most excited to share with my followers about the women in agriculture," she says. "We had the opportunity to meet three female farmers doing their part to get food to our table, and I think that was really neat seeing them challenge the norm."
IMMERSIVE EXPERIENCE 
In 2021, the five bloggers and one dietitian enjoyed a hands-on experience by helping harvest corn and soybeans. 
"During such a busy time of year, these farmers took time out of their day to welcome our visitors and have meaningful, intentional conversations about food and farming," Wimmer says. "That says a lot about the heart of farmers." 
The 2021 Farm Food Tour included stops at Juniper Hills Farm, a produce farm near Lawrence where Scotty Thellman shared slices of radishes he grows as well as different apple varieties grown by a nearby farmer; Rezac Land and Livestock, where the participants loved on a baby pig and learned more about the pork industry; Hildebrand Dairy Farms, where farmer Melissa Reed talked about dairy production and the participants enjoyed a tasting of strawberry, chocolate and root beer milk; and Tiffany Cattle Company, where Shawn Tiffany talked about his philosophy of farming and owning a feedlot. The last stop was with Jacquelyne Leffler, a row crop and cattle producer in Americus. Leffler joined the group on the bus for the whole trip to answer farming questions as they came up. 
"It's encouraging to see people step foot on farms and ranches to hear our stories," Leffler says. "Interacting with the attendees and being able to answer questions they have about how I raise cattle and grow crops is a perfect conduit to gaining consumer trust." 
LOCAL LEVEL IMPACTS 
County Farm Bureaus are doing their part locally to influence the trust of farmers and ranchers, too. In Butler County, the Farm to Fork event has been a boon to the county's agricultural education efforts. 
The commercial buses provide another opportunity for attendees to learn more about agriculture. 
"Butler County Farm Bureau board members and other agriculturists are able to jump on the buses with everyone to talk about their operations, answer questions about agricultural practices and put a face to the farmer growing their food," Tonn says. 
The goal of Farm to Fork is to raise money for Butler County Farm Bureau's agriculture in the classroom programming. 
"Not only are we facilitating a trust in farming and ranching practices, but we're also raising funds for our ag in the classroom efforts," she says. "In Butler County, we make a large effort to connect with our schools. They're our future voters, and they need to know the importance of agriculture in their lives." 
Funds raised from the bus and dinner event go toward supplies and materials that go into classrooms throughout the county to teach accurate agricultural information. Butler County Farm Bureau also offers free trips to farms and ranches to grade school, high school and even college students. 
"We're reaching kindergarten through college-age students with our ag in the classroom programs," Tonn says. "The Farm to Fork event helps us fund those efforts. All classes from kindergarten to high schoolers in FFA to the culinary students at Butler County Community College can take advantage of a free farm and ranch field trip." 
The event in 2022 will feature a two-day effort. The Farm to Fork Family Edition, planned for July 16, is a great opportunity for families to teach their kids more about where their food comes from. The second opportunity will be the Farm to Fork bus tour with a lunch and dinner event, planned for July 23. To learn more about the Farm to Fork event, get event updates and learn how to purchase tickets, visit www.facebook.com/FarmToForkAndSoMuchMore. 
CONNECTING URBAN TO RURAL 
Legislators in Wyandotte County see mostly urban life. But for Wyandotte County Farm Bureau, showcasing the agricultural side of the county is important for the future success of farmers and ranchers in the area. 
"Since we're mostly an urban county, our goal is to connect with legislators and decision makers," Kerry Mueller, county coordinator for Wyandotte County Farm Bureau, says. "It's important for our elected officials to learn more about agriculture in the county and how their votes affect issues like property taxes and rezoning issues for farmers and ranchers." 
Legislators and thought leaders from the county get on a bus and visit pork producers, crop growers and cattle ranchers, then have a meal with a panel discussion. The event, typically held in the fall, also showcases local agritourism with a meal of local produce. 
The "oohs" and "awws" don't stop with baby pigs on tours of farms and ranches. These immersive farm experiences are expanding the trust people have in the American food system through transparency, connections and conversations. Being able to hold a baby pig also never hurts.
To read the bloggers' reactions to the Kansas Farm Bureau Farm Food Tour, visit kansaslivingmagazine.com/FFT2021.
You may also enjoy:
---