Whitney Larson Uses Social Media to Connect with Consumers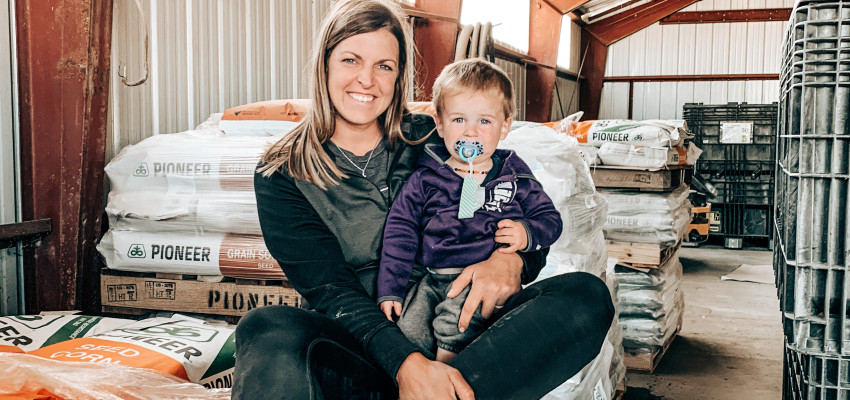 If Whitney Larson had her way, she would invite you and thousands of other people to visit her family's farm in Wallace County, meet her husband, learn how to drive a combine, do farm chores with her kids and watch the sun set over a field of golden wheat backdropped against a blue summer sky. But she can't because, according to her, they live too far out in the "boonies" of western Kansas.
However, she does the next best thing; she invites more than 19,000 people into her life and onto her family's farm and homestead through her Instagram account, Farm Wife Guru.
"We were on vacation and met several couples from California," Larson says. "They were graphic designers and engineers and asked us what we did so we showed them pictures of our farm and how we grow crops, and they didn't get it. They saw pictures of our combine and we told them we grow crops for the world to eat and they were in awe. They had never met farmers and had no idea how crops were raised or where their food really came from. From then on, I decided I needed to tell our story so people would know where their food was coming from — family farms like ours."
Through photos, graphics, videos and words, Larson welcomes people into the everyday joys and challenges of farm life. You will meet her husband, Bart, a man who she says is so smart he can fix anything and is the hardest worker she's ever seen. You'll also meet their delightful "free-range" children, Bodie, Layton and Rowdy, ages 7, 5 and 2.
"I love raising the kids on the farm and get teary-eyed just thinking about how blessed we are to do so," Larson says. "I had a great childhood and amazing supportive parents, and we sat down for a meal every night. But when I became a farm wife, supper didn't happen like that. Most evenings, it's out in the field in the tractor where we get to have supper together."
LEARNING TOGETHER
Larson brings a unique angle to her storytelling since there was a time in her past when she too didn't know the origins of her food. This ability to communicate about the farm comes from the perspective of someone who is still learning herself.
"I met Bart when I was in high school," Larson says. "I grew up in town doing all things sports, and I spent every summer in the weight room and on a ball field, not in a wheat field. I could not tell you where food came from until I married Bart and moved on the farm. The only animal I had growing up was a small dog. I understood nothing about livestock or how our freezers got filled with meat. When I married Bart, I saw how passionate he was about being a farmer. So, I let his dream quickly become mine and leaned into wanting to learn. Now I want others to learn too."
"A while back, a lady in Southern California reached out to me after she heard me on a podcast episode and said she is no longer afraid of the food she buys in the grocery store because she's learned how safe it is from me. That is why I share my story — for this exact response."
Instagram, as a social media platform, differs from others because it is image-centric; it requires photos, graphics and videos to communicate. This combination of visual and written communication provides people like Larson an intimate way to tell their story from the farm.
The Larsons' farm is on the high plains of western Kansas, an area subject to repeated drought and often the harshest conditions Mother Nature can throw at them. In addition, it is such a sparsely populated area that it would take the accumulation of all residents of six surrounding counties to add up to her number of followers on Instagram.
"I had no idea of the amount of stress involved with farming," Larson says. "You plant a seed and go off hope and prayer that God provides for you. No rain? No crop. That first year, I asked Bart, 'So we're just going to plant it and hope it grows up?' We can control nothing, and the trick is not letting those things you can't control overtake your mind."
Bart always reminds her not to sweat the small stuff, which quickly became their family motto.
Since the Larsons are like first-generation farmers in several respects, they were challenged with building relationships, finding land to rent and gaining access to equipment large enough to plant corn, milo and wheat. Even though Bart grew up on a farm, there are still challenges to starting out on your own.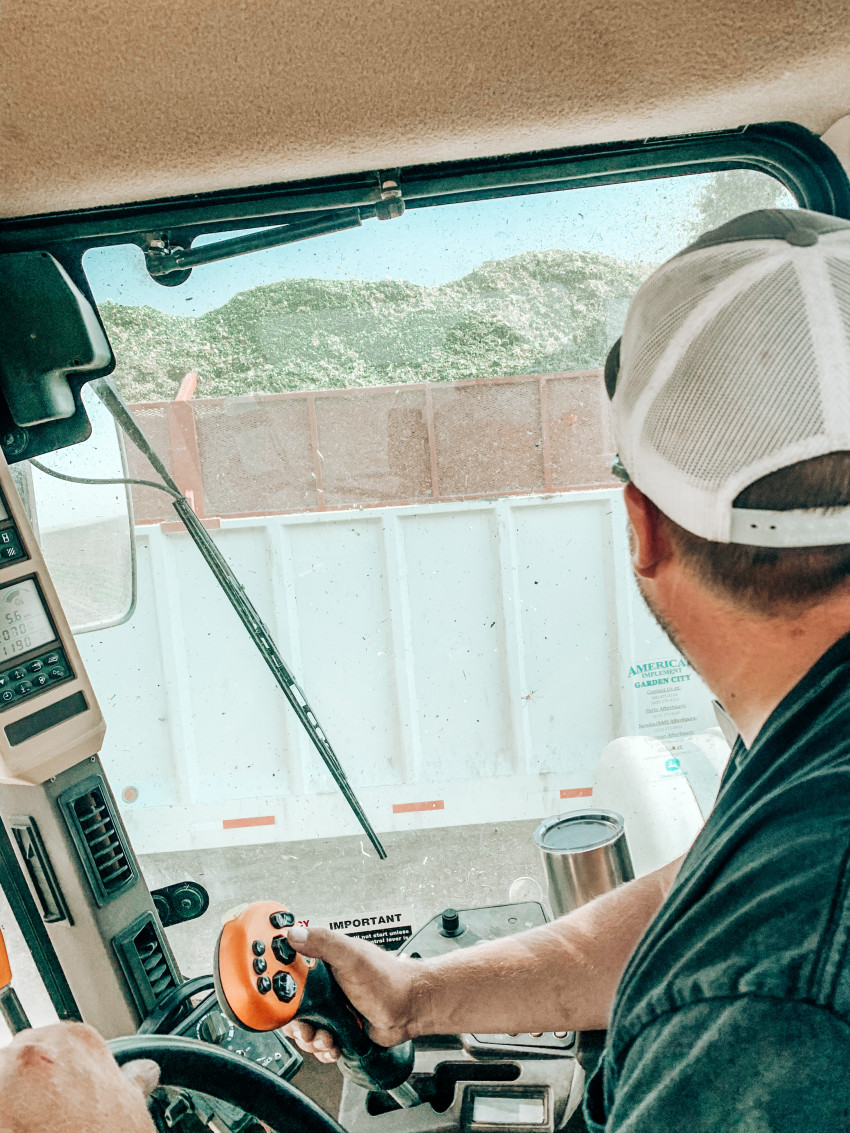 "The first big thing was signing that scary dotted line on an operating note. That's true love, signing that together," Larson jokes. "We didn't have the opportunity to come back to a generational setting, so we set out to build our dream little by little. We bought our first piece of equipment, a 12-row planter, at auction, and borrowed his parents' tractor for a year or two until we felt financially stable, then bought our first combine and tractor a few years later. We also have a spraying business Bart takes pride in and works hard at. It takes a lot of diversity to keep the farm running. I think the hard work and doing it on our own has made us so proud. We love it, but it's not always easy."
SPREADING CONFIDENCE
Larson utilizes her social media presence to share accurate information about farming and agriculture, including topics like genetically modified organisms (GMOs).
"We plant GMO crops, and there is so much fear and confusion about them in the grocery store," Larson says. "Some of my posts are meant to tell people the truth about how we raise our crops and how fear-based marketing puts a wedge between consumers and producers. My goal is to let all moms and dads shopping in the store know their food is safe and wholesome, no matter what farm it came from."
"We didn't have the opportunity to come back to a generational setting, so we set out to build our dream little by little...I think the hard work and doing it on our own has made us so proud. We love it, but it's not always easy."
In addition to Larson's Instagram profile, she shares her message on a podcast, Midwest Farm Wives, which she cohosts with a Missouri farmer. "
In addition to sharing the story of how a farm works, Larson is transparent in sharing the ups and downs of life on a farm and the importance of maintaining a positive attitude through gratitude. She uses her platform not only to educate, but also to inspire.
"Along the way, I started sharing about the struggles that come along with motherhood, and of being a farmer's wife," Larson says. "There was an outpouring of women who felt the same struggles. There is a bond of motherhood, of farmers' wives, of a tribe of women who feel the same way."For example, I shared about the time Bart taught me how to run the combine. I was nervous and shared my fears on social media, but I felt like a pro at running the combine at the end of the season. Now it's my favorite piece of equipment to run. The best part was five women who were following tried it on their farm because of watching me deal with my fears."
If you scroll through Larson's Instagram posts, read her blog at farmwifeguru.com, or listen to the podcast, it's easy to understand why people follow her. She's a teacher, a motivator, a coach, a counselor, a humorist, a shoulder to cry on, a friend and, above all, she is genuine.
CLOSE CONNECTION
If you've ever driven around the area where she lives in Western Kansas, you get the sense of a vast, sparsely populated area. Small towns are at least 30 miles apart and, for the Larsons, it's a long way into town just to buy groceries or get parts for their equipment. One can sense the isolation people who live there must feel simply because of the physical distance between them.
However, Larson has collapsed that distance through social media in a psychological way. She connects with people all over the world who learn as she learns, grow as she grows and draw hope and faith in her stories from her farm. Yet, for all of her popularity in social media, Larson's top priority is her family.
"My main goal right now is to be famous to my family," she says. "It's so easy to get caught up in social media and seeing other women with big dreams, but I just have to settle down and realize I have different dreams and priorities, and my family and our farm is number one."
Join Whitney, Bart and their free-range children on social media to pay a virtual visit to their farm in the boonies. Follow farmwifeguru on Instagram.
---