Kansas Hop Grower Creates Traveling Beer Camper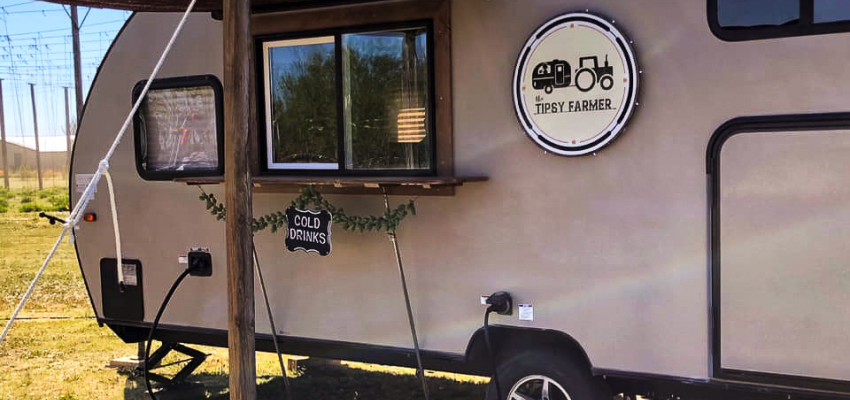 For some of us, our best ideas come to us at night. For others, it's on our work commute. For some, like Brandi Lahey in Moscow, an idea came to her and her family while they were enjoying a libation.
"My brother, who lives in Alaska, was home one winter to visit," Lahey says. "My dad, brother, husband and I were sitting around having a beer, talking about a new brewery opening in Wichita. We knew a couple of the guys starting it, so when we were talking to them, they said it'd be neat if they could have some Kansas-brewed beer with Kansas-grown ingredients. It seemed like a cool idea, so we thought, 'We could grow hops,' and got to work."
Hop To It
Before the primarily dad-and-daughter team got to work, they attended conferences to learn more about how to grow hops and visited the Kansas Hop Company in Ottawa, the biggest hop yard in Kansas.
"I called the Kansas Hop Company up and asked if we could come and check out their hop yard to see how they did things," Lahey says. "They were our mentors getting started, and we still lean on them from time to time when we have questions."
Lahey's one-acre hop operation, dubbed Cimarron Prairie Farms, sits four miles south of the Cimmaron River in Stevens County. They started growing hops in 2017 with 300 plants and tried several varieties to see how they did with the arid conditions of southwest Kansas.
"The southwest Kansas wind is brutal," Lahey says. "It adds stress to the plants and some varieties just don't grow the best here."
In 2018, they expanded their plot and planted six varieties. That year was an especially difficult growing season and half of the plants weren't successful. By 2020, they kept three varieties that continuously performed well year after year — cascade, which has a floral essence; chinook, with its piney, earthy and spicy tones; and comet, which showcases grapefruit and citrus notes.
From the Bine
Hops are a perennial plant and emerge from the ground typically around the end of March or early April. Typically, Lahey says they cut back one time to get rid of any disease that has overwintered.
When the bines (yes, bines, not vines) reach growth of about two feet long, Lahey trains them around a string to grow vertically.
"Hops follow the sun, so they can grow up to six inches in a day," she says. "I can go out in the morning, take a picture and mark where they are, then go back in the evening and they'll be four to six inches longer. It's incredible."
The bines will grow to around 17-18 feet by the summer solstice and when daylight hours cut back, they go into their reproductive phase.
"They'll produce sidearms and burrs will emerge," Lahey says.
The sidearms extend horizontally from the hop's main bine. It's from these sidearms the hop burrs emerge. From the burr is the individual hop cone.
Around August, the cones will be mature and ready to harvest. After harvesting, the cones are dried, then pelletized.
"Our drying process doesn't add any extra heat, which helps preserve the lupulin inside the cones," Lahey says. "We typically take between 36-48 hours to dry our hops."
Lupulin is the yellow powder on the leaves of a hop. The naturally occurring substance plays a big part in a variety's scent and flavors.
The pelleting process takes the dried hops and pulverizes them in a hammer mill to produce powder. Similar to what many use in Traeger grills, the powder is put into pellets for brewers to use in beer making.
"It dissolves better for the brewer and is less of a cleanup in the brewing tanks than using whole leaf hops," Lahey says.  
After pelleting, they are vacuum sealed and nitrogen flushed to help preserve them.
"They can stay on the shelves at a brewer's for up to a year or two," Lahey says.
The varieties are kept separate from each other at every stage of the planting, harvesting, drying, pelleting and storing process, though brewers may mix them at their discretion.
Finding the Hoppy Medium
Lahey wanted to find additional ways to market her hops with other products and avenues of promotion and sales.
"I sent my hops off to a guy in Pennsylvania who makes tea," Lahey says. "He makes different flavors and they're delicious. I also have a contact in Idaho who makes soap with our hops. She uses the whole hop cone, so it's like a nice exfoliator."
Lahey understands the spatial significance of western Kansas, personally and professionally. When she had her third child and was working as a nurse, finding daycare was an issue.
"I worked as a nurse for 12 years," she says. "When I had my third child, I would have to drive 90 miles round trip to drop off kids at daycare, go to work, come back and get them and go home. Working and daycare wasn't feasible, so I decided to stay home."
While it was meant to be temporary, Lahey and her family decided staying home to help with the farm was the best choice long-term.
That same spatial issue came to play when Lahey wanted to offer beer their hops were featured in at their farm.
"I really wanted to start a hops shed where people could taste the beer that was brewed with our hops," Lahey says. "We sell our hops to breweries in Dodge City and Garden City, and while we consider that local, they're still around an hour or so away to each location. People don't want to drive that far to taste beer, then worry about getting home, so I thought it'd be neat to have people come out to the hop farm with their families."
Lahey had visited with her bank and was starting to set the wheels in motion, but 2020 stalled her plans. With COVID-19 restrictions, Lahey knew that plan wasn't going to work because people wouldn't be able to gather at her farm. That's when a new set of wheels presented themselves.
"I put that dream on the back burner, but when a friend and I were visiting about it, she suggested I look into a horse trailer to make it into a mobile bar," Lahey remembers. "Well, even an old horse trailer was going to cost me too much. That's when I thought about our camper sitting in our driveway. We don't get to use it much since we're farmers."
Lahey's dad, Steve, helped her convert the camper into a mobile bar they call The Tipsy Farmer, which they use to travel to events and serve beer made with their hops, plus margaritas, mules and mixed cocktails.
"It's been really fun," she says. "And my kids love helping in it by working the register and visiting with customers. They can't make the drinks, of course."
Rather than being stationary on their hop farm, Lahey found a way to bring the bar to you.
If you're the type of person who gets great ideas over a beer, check out Dodge City Brewing, and Flat Mountain Brewhouse and Hidden Trail Brewing in Garden City. You can also find out where the Tipsy Farmer is on their Facebook or Instagram. Want the Tipsy Farmer at your event? Email them at tipsyfarmerks@gmail.com.
---