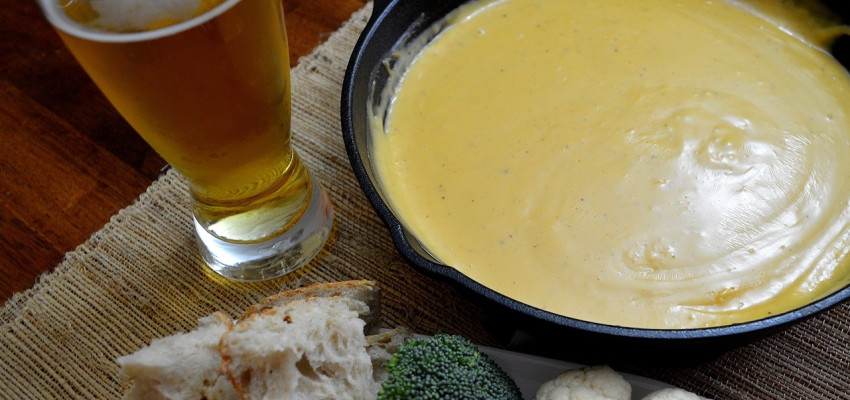 Ingredients
8 ounces mild cheddar cheese, shredded
8 ounces American cheese, shredded
3 tablespoons cornstarch
1 1/2 teaspoons dry mustard
1/4 teaspoon freshly ground black pepper
1/4 teaspoon cayenne pepper
1 1/2 cups American lager beer 
1 garlic clove, minced
Hot sauce, to taste (optional)
Bread cubes, large pretzels and broccoli and cauliflower florets for serving
Instructions
This recipe was adapted from "Cook it in Cast Iron: Kitchen-Tested Recipes for the One Pan That Does it All" by the editors at America's Test Kitchen, the popular PBS show. I've tried many cheese dips in my skillet, but this one is my favorite.
Place the shredded cheese, cornstarch, dry mustard, pepper and cayenne pepper into a large bowl. Toss with your hands until the cheese is well coated. Set aside.
In a 10-inch cast iron skillet over medium heat, bring the beer and garlic to a boil. Turn the heat down to medium low and then whisk in the cheese, one handful at a time. Once all of the cheese has melted into the beer-garlic mixture, keep whisking until it just begins to bubble.
Serve the fondue with bread cubes, pretzels and broccoli and cauliflower florets. The mixture should stay hot for about 15 minutes. To warm it back up, place the skillet back over low heat and stir constantly until the fondue begins to bubble again. If it is too thick, add a tablespoon or two of warm water.
---