Growing Entrepreneurs From the Vine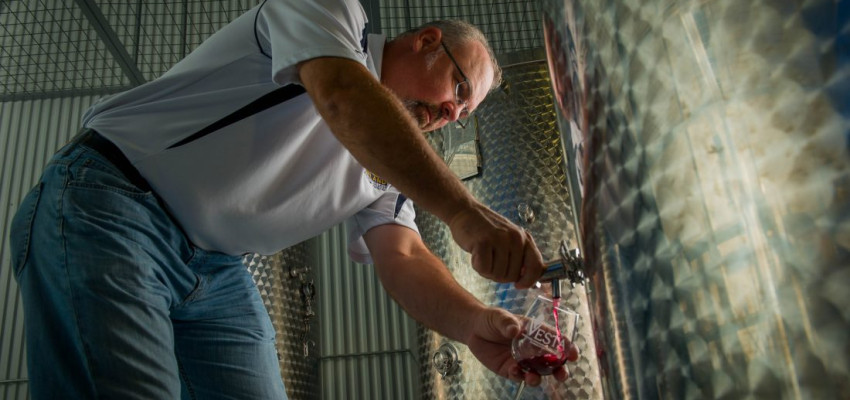 Editor's note: This article originally appeared in August 2019 in MHK Business News. All photos are by David Mayes. 
Growing up on a wheat farm in Ellis, Scott Kohl didn't expect to be where he is today. From his education in math, to becoming the director of Highland Community College's Wamego campus, he didn't know his days on the farm would translate into a different kind of growth – growth of students and an industry.
"When I was the director of campus, some winery owners came to us and said, 'No one in Kansas is teaching viticulture [the cultivation and harvest of grapes] or enology [the study of wine and winemaking] courses,' so we put together a class to see what would happen," Kohl says, who now serves as the director of viticulture and enology at the college.
The first class about viticulture was offered on Thursday nights for three hours. And people showed up.
"People were driving from Hays, Wichita, Kansas City each week," Kohl says. "When I realized how far people were willing to go for this, I thought maybe there's a thing here."
Not only does Highland Community College's Wamego campus offer opportunities to grow knowledge and an industry through viticulture and enology classes, they're also providing a new take on a business incubator that will offer six wineries in one location.  
A Serendipitous Balance
With the popularity of the initial class, Highland Community College was looking to add another viticulture or enology course. Right about that time, the Viticulture Enology Science and Technology Alliance (VESTA), a National Science Foundation-funded partnership between Missouri State University and colleges, universities, vineyards and wineries across America, received new grant dollars to increase its footprint.
"It was serendipity; a happy accident," Kohl says. "VESTA has partnerships in Oklahoma, Iowa and Illinois, but they came to us at the right time to offer our students online classes, to create the program on the ground here in Wamego and to plant our first vineyard."
Since 2010, the viticulture and enology programs have seen 137 students, who are usually non-traditional. The college has two instructors who teach classes on campus, and they supplement with classes offered online through VESTA. 
"Some students come in thinking of this as a retirement plan," Candice Fitch-Deitz, who manages the 44 vineyard varieties and teaches viticulture courses, says. "But I remind them this is a different career path. Vines take a lot of work year-round."
"The average age of our students is 45," Kohl says. "These folks already have an education and are looking for that second career. Their grandparents were farmers and they have ties to the land and want to get back to their roots."
Students can get a viticulture certificate, a viticulture associate in science degree or an associate degree in enology. Non-degree seeking students are also encouraged to learn about the industry through Highland Community College's courses. 
A 4, 5, 6-pack of Wineries
As the program grew, so did the ideas. Kohl and the teaching staff, including Fitch-Deitz and Matthew Kahl, who teaches the enology courses, wanted to offer more practical knowledge to the wine industry in Kansas. They knew the struggles entrepreneurs faced when applying their coursework to the real world.
"Starting a new vineyard or winery, or both, is a huge undertaking," Kohl says. "Basically, you have to write a $500,000 check just to get started for a small winery for the property, a building and the equipment. Most people don't have that much money lying around."
That's when the concept of helping students become entrepreneurs was conceived and 456 Wineries, a winery incubator, popped the proverbial cork. 
"456 is the phone prefix in Wamego," Kohl says. "But we also hope there'll be four or five or six other wineries in the incubator." 
The building, within walking distance of the college, was purchased in 2016. Much of the equipment was purchased through United States Department of Agriculture (USDA) grants, and because of the fortunate growth of the viticulture and enology program, funding was partially provided by the college itself through a bank loan. Kohl also worked with the Kansas Department of Agriculture and VESTA for additional grant funding. 
"The hope is we'll get the incubator filled, which will generate revenue for the degree program by way of selling wine in the tasting room, then we'll use that to pay off any loans the college has," Kohl says. "Eventually, the loan will be paid and the revenue from the incubator will be used to pay employees and keep the program going."
Funding wasn't the only obstacle Kohl and his team faced when establishing the incubator. The concern of multiple wineries under one roof became a regulatory question, but Kohl was appreciative of Kansas breweries, which had already taken care of the hurdle.
"Luckily, because of the popularity in cider, which is a wine-making process, breweries took care of the licensing issue," Kohl says. "Breweries making both beer and cider had to receive additional licenses to make and sell wine."
Business in a Bottle
"This incubator is like a traditional business incubator, except instead of rooms with desks, we'll have rooms with wine tanks," Kohl says. 
It features a tasting room with six spaces for separate wineries within the incubator. One is for Highland Vineyards and Wineries, LLC – a split from the college that will employ Highland Community College teachers to run operations but keep the college's namesake – and five additional spaces for winemaking hopefuls. The tasting room will be open to the public to taste and buy wines. 
The production room features five 10-by-22-foot caged areas for the wine-making process and one larger area for the LLC.
Kohl says the incubator will select applicants based on the strength of their business plan. Clients of the incubator don't have to be students or former students of Highland's degree program, although they should have education and knowledge of wine making. The requirements to utilize the incubator include a federal winery license from the Alcohol and Tobacco Tax and Trade Bureau and a Kansas farm winery license from the Kansas Department of Revenue's Alcoholic Beverage Control; clients also must be Kansas residents. 
"We'll take a look at potential clients' business plans," Kohl says. "They will need to know their marketing plan, what kind of wine they want to make, what their education is. We look at who has the best chance to make it as entrepreneurs.
"Entrepreneurship is what drives the economy," Kohl says. "It's a breath of fresh air when someone starts a new business. We want to set people up to be successful with the classes and the incubator."
Enology Instructor Matt Kahl came to Wamego from working in several large-scale wineries because of the incubator.
"Other than being able to teach and make wine, the incubator is what drew me here," he says. "There's something like ours in Washington and Oregon, but there's not many other opportunities like this. I think the incubator is a huge opportunity, not just for the industry, but also the area in general, economically speaking."
Full-bodied Industry
The wine industry in Kansas is growing. According to AmericanWineryGuide.com, there are 39 wineries in Kansas that stretch from Cimarron to Galena, north to McLouth and south to Fort Scott. 
Kohl and his team, as well as the students in the program, have taken advantage of the growth and developed relationships with wineries in Kansas.
"Over the years, we've been to just about every winery in the state," Kohl says. "A big part of learning is looking at how other wineries are doing it — what works, what doesn't work — so we can bring that back to our students and the incubator."
"Not only is it positive for learning experiences, creating relationships within the wine industry can help you manage your vines in the event of a pest issue," Fitch-Deitz says. "For instance, if one vineyard to the east starts seeing problems with Japanese beetles, they can let vineyards to the west of them know since the beetles usually move east to west."
Learning how the industry works is a major component to the success of any entrepreneur, and for wine makers, they need to know what their clients want.
"Before our students get started on a business, I encourage them to talk to other vineyard owners and winery owners across the region," Fitch-Deitz says. "Not just locally, but also across state and bordering states. If you put in vines, you need to know where your product is going. You're putting in three to four years before you see any return on investment because of the growing requirements of vines, so it's important to know what your buyers want."
Creating this opportunity for wine makers creates new entrepreneurs, which in turn, improves the local economy and the wine-making industry. 
With six potential wineries in one location, the hope is that people will be drawn to the area to make a day or a weekend of it. Kohl likened wineries to a car dealership. He says not many people will drive 100 miles for one car dealership, but if there are several, they're more inclined to make the trip. The same goes for wineries – get six in one place and there's more incentive to visit. 
"You're bringing people in," Kahl says. "Being able to go to one building and taste up to six different wineries' products and being able to purchase the product is a great way to get people to visit Wamego."
The incubator creates opportunities where entrepreneurs may have trouble finding ways to start. For the team at Highland Community College, they are excited about the adventure in helping pave the way for more vineyards and wineries in Kansas. 
"We're trying to make an impact not only on our community, but also in communities across the state," Fitch-Deitz says. 
To learn more about the viticulture and enology program, visit  HighlandCC.edu/Pages/Grapes. For more information on the incubator or to visit the tasting room, visit 456Wineries.com. 
---