By

Rick McNary

on

February 25, 2021
Kansas family creates business to make soap from goat's milk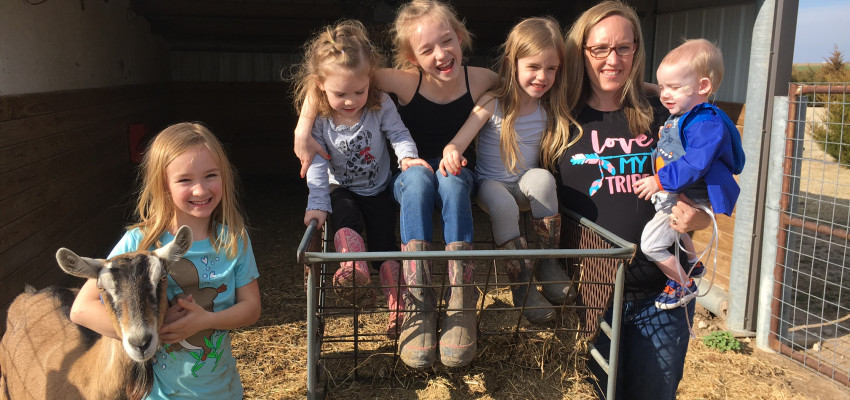 Marriages are full of compromise, but seldom is a goat the most practical solution.
Yet, when the Fieser family of Plains sought a companion for their Great Pyrenees dog, Bear, a goat seemed like a logical choice.
"I can say we put plenty of thought and studying into finding a buddy for him after we got him, and goats seemed to be the perfect fit," Renae says. "Teaching our girls responsibility with the addition of some milking chores didn't sound like a bad idea either."
Travis and Renae Fieser have five children: four girls and one boy. Like all farm families, farm life requires each family member, even young children, to work together to take care of animals and crops to make the ranch function as a whole.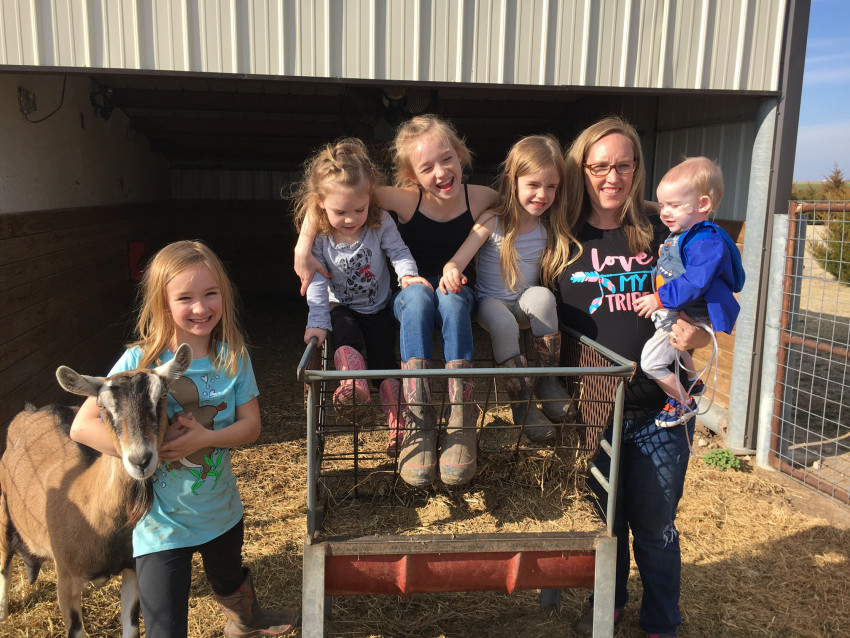 The children were taught to care for and milk the goats, something they do twice a day, once at 6:30 a.m. and the other at 5 p.m. Chores are a way for farm families to not only get work done, but also teach the business of farming and the responsibility of taking care of another living being.
"One goat turned into more goats," Renae says. "After a couple of good milk-producing goats, we had way more milk than needed.
"My husband asked, 'Why not try making soaps and lotions,'" Renae says. "So, I began researching how to make soap. That's how the business of 5 Chicks and A Hen was born."
The Fiesers farm in Southwest Kansas and raise corn, milo, soybeans, wheat and cotton. That type of farming, referred to as commodity farming, requires large equipment and large amounts of land. Their income comes from the sale of their crops at harvest. A price is determined by numerous factors influenced by markets on an international scale and prices may fluctuate daily. One day, a farmer might sell their crop and make a profit, yet they might wait and sell the next day and lose money, depending on what the international market dictates.
However, many farm families have found alternative ways to generate more steady revenue streams by offering various products consumers can purchase directly. This concept, known as direct-to-consumer sales, provides many farm families supplemental income as they provide meat, dairy, vegetables and fruits for sale directly to consumers with no middleman.
Another way they offer goods for sale is through value-added products. They take one product grown on the farm and add value to it by making something different. Some make jellies and jams from fruit; some make jerky from beef; Renae makes soap from goat's milk.
"My husband came up with the name, 5 Chicks and a Hen," Renae says. "If you notice the logo, you will notice that one chick is not like the other; that's because there are four girls and one boy.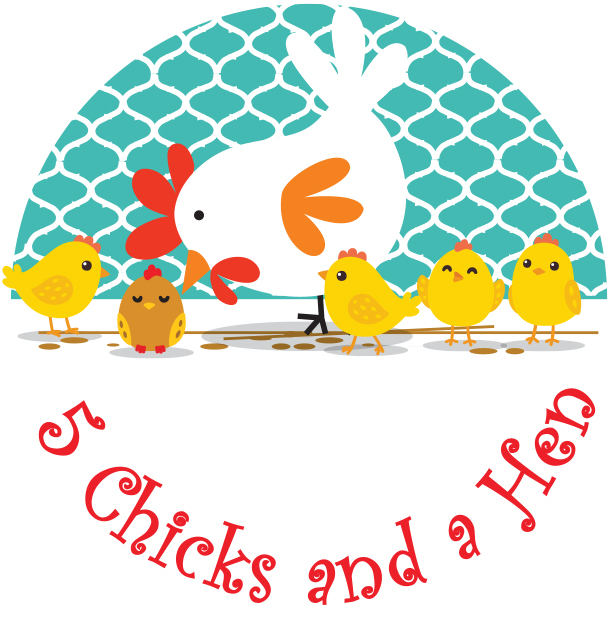 "I love making the soaps and lotions, it's my 'me' time. I can go to my factory and focus on something different. I can be creative and experiment with different fragrance combinations for both the soaps and lotions."
Renae began with one batch of soap, sent a sample to school with her kids and people started asking to purchase it. The business has grown gradually, although she was surprised with her sales on Black Friday of 2020.
"I sold numerous gift sets that I offered," Renae says. "And the majority of those sales came from listing on the Shop Kansas Farms Facebook group. I used to work in retail, and it all goes back to customer service. One of my favorite stories is a lady who drove for two hours just to smell the various soaps. She had gone through cancer treatment and some scents were different to her after her treatments. She wanted to smell each one to make sure it smelled right."
With the onset of the pandemic in 2020, the buying habits of Americans shifted from in-person to online. For those like Renae who were accustomed to selling their products online using various social media outlets such as Facebook, the uptick in online shopping provided significant growth in business.
In addition, many farmers and ranchers are discovering this new type of income stream from selling direct to customers is a way to ensure rural prosperity and continued succession on the farm. You will soon discover, in talking with farmers, they quickly identify which generation they belong to on the farm; second generation, third generation, fourth generation, etc. Each generation must adapt in order to survive; no generation wants to lose the farm during their watch.
Although Travis is a fifth-generation farmer, Renae grew up in Jewell and joined him on the farm once they were married.
"My father is a pastor and got moved to Plains in 2003," Renae says. "Everyone kept telling me they were going to set me up with the piano player (Travis) at the church. Someone finally did and the rest is history.
"Travis and I were married in 2007. At the time we started dating, Travis had just started farming on his own. Through our dating years and first few years of marriage we took on more ground and I joined in the operation and became the chief combine operator. He tells me I'm the field boss, but he just can't quite let go of that title yet, so I'm the back-up field boss. 
"I didn't grow up on a farm, but I wouldn't change it for anything," Renae says. "The freedom my kids have and the responsibilities they are learning can't be found anywhere else. Our kids range from ages 2 to 12 and they love to help on the farm, going to livestock shows and being a part of rural life."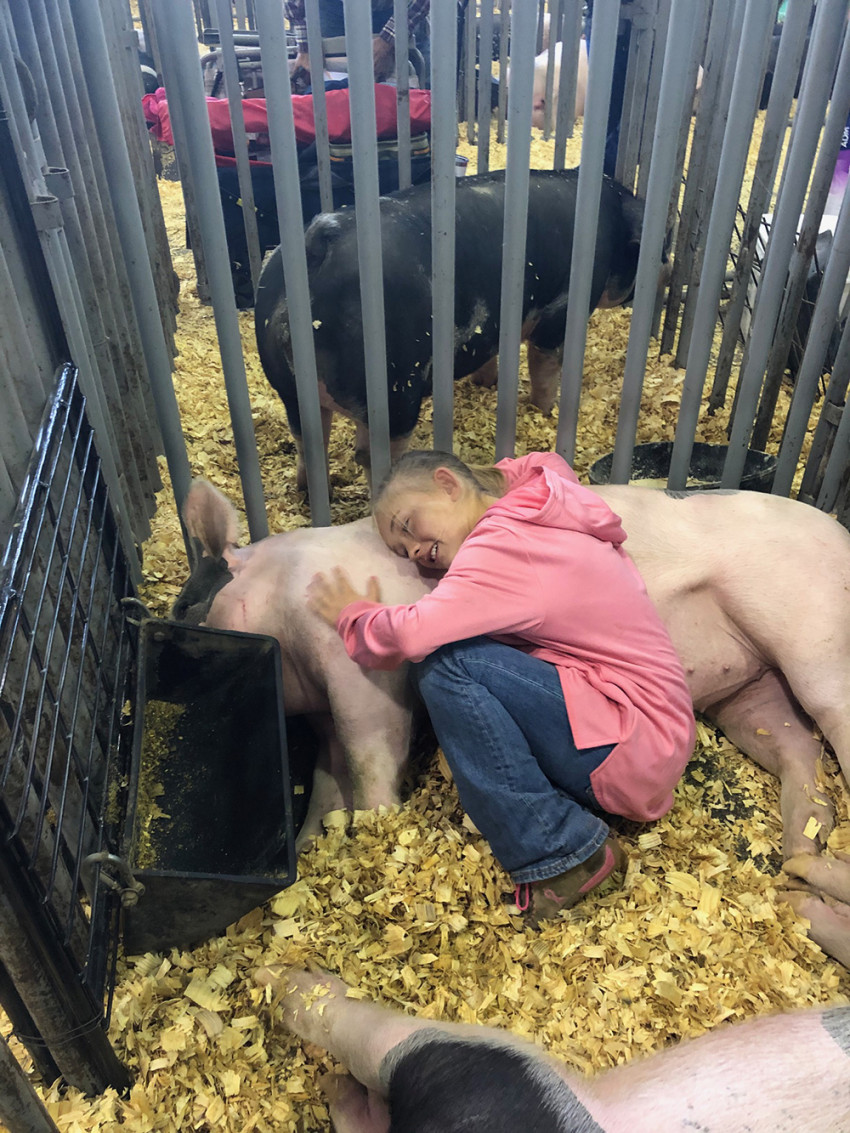 Although not readily noticed to the casual outside observer like me who has a spouse with a very different career from mine, this family-working-together-to-survive attitude of farmers is a refreshing insight into why farm families in their communities are so tightly knit. They know they need each other to survive.
They also understand the value of compromise, even if it means a goat is the most practical choice.
To learn more about 5 Chicks and a Hen, visit www.5chicksandahen.com.
You might enjoy
---