This 5th generation farm family works hard to continue the family tradition
From the time they were small, Connor and Hayden Peirce have risen early each morning to help their mom, Jeanne, and dad, Cameron, on their family farm.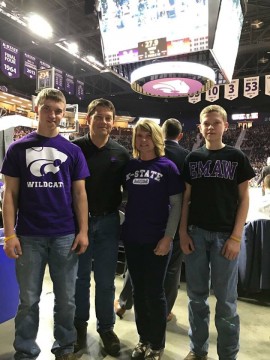 Cameron and Jeanne Peirce are the fifth generation to live near Hutchinson on a Century Farm whose original deed was signed by Ulysses S. Grant.
"Dad never pressured me to stay on the farm," Cameron says. "He gave me the choice, but I wanted to farm. We've given our sons the same freedom."
"Connor wanted to be a farmer since he could walk and loved to ride with his dad on a tractor," Jeanne says. "As he grew older, he and Hayden would divide the living room into a farm. I could see his management skills early on as he listed out ways they would rotate different crops each year in various sections."
Jeanne was raised on a farm with livestock and had no aspirations of becoming a farmer's wife because animals require daily attention. She attended the University of Kansas to pursue a career in advertising and travel. Then she met Cameron who attended Kansas State University.  
"We didn't raise livestock," Cameron jokes. "That helped me win her over."
Cameron's grandfather, Walter Peirce, was so influential in Kansas that a room in Throckmorton at K-State is dedicated in his honor. Connor, now a sophomore, is studying agronomy and often sits in that same room.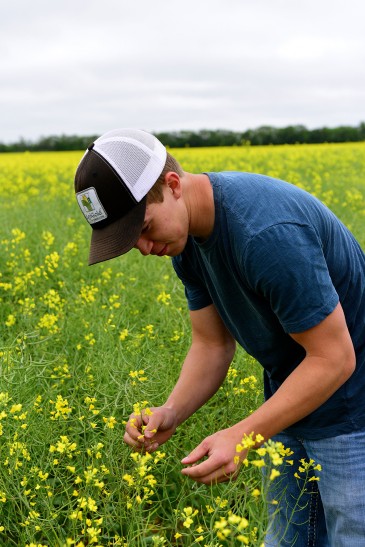 While in high school at Haven, Connor was actively engaged in the local FFA chapter, an agricultural education program with more than 650,000 members nationwide. Connor is in contention for an FFA American Degree that has the following requirements:
540 hours of agriculture education in a secondary school
Have detailed records of an outstanding supervised agricultural experience (SAE) that gives evidence of comprehensive planning, managerial and financial expertise
Earn at least $10,000 and invest $7,500
Have participated in at least 50 hours of community service with no less than three different activities
Connor is also raising canola on his own 40-acre field.
He is only 19 years old.
Hayden, a sophomore at Haven High School, is following the same path.
WHAT MAKES FARM FAMILIES TICK
In an age where parents worry about their kids spending too much time on the computer or playing video games, one has to wonder what is different for farm families like the Peirce's. As it turns out, there are common threads among farm families.
They love soil.
Farmers were focused on sustainability long before sustainability became a marketing phrase. Like Cameron, farmers have a deep commitment to improving the soil for not only his generation, but for the ones to follow.
Family history is a major influence on the farm.
As one visits with a farm family, one of the defining characteristics is the number of times the farm has been passed down. You'll hear them say, "We're a fifth-generation family farm." They see themselves as part of a continuing story and desire to keep that story alive for future generations.
"You definitely don't want the farm go do down on your watch," Cameron says. "A lot of people before us put a lot of hard work into this farm; we want to make it available for our kids if they want it."
Personal responsibility is another trademark of a farm family.
The amount of work required to run a farm requires all-hands-on-deck. Farm kids and daily chores are a way of life.
"Our main goal is for our children to be responsible, hard-working and ethical people," Jeanne says. "You simply cannot shirk your responsibility on a farm."
Education is important as well. 
That guy or girl you pass on the tractor often has at least a bachelor's degree and frequently has a master's degree in agriculture.
"Both sets of my grandparents and my parents attended K-State," Cameron says. "Jeanne is the only one to attend KU. Oh well, you can't win them all."
"When the kids were little, I used to dress them up in KU gear," Jeanne says. "That didn't last long. As you can imagine, it gets kind of crazy around here when KU plays K-State in anything."
Farmers are creative entrepreneurs.
During Walter's time on the farm, he developed a foundation seed business with K-State. Cameron's Dad, Clinton, grew organic crops. Jeanne first introduced the idea to Cameron to grow canola, a strikingly beautiful crop.
Farmers love technology.
Precision agriculture is the term that describes equipment and practices that use highly sophisticated technology to ensure utmost efficiency in farming.
"Our equipment can pretty much drive itself," Cameron jokes. "We just go along for the ride."
"I'm taking classes about the use of drones on the farm," Connor says. "You can fly over your crops and see exactly what is going on."
Farm families understand the need to influence policy.
The Peirce family has a long history of active leadership in the local, state and national levels of  Farm Bureau, whose main purpose is to advocate on behalf of the farmer.
Faith is key.
As you visit with farm families, it quickly becomes apparent that faith is the tie that binds them together. Farmers draw strength from Biblical stories, many of which were written to an agrarian culture.
If you're looking for heroes for your children or grandchildren, take them out to a farm near you. For there, dressed in faded jeans and cowboy boots, are the people who feed our world and are worthy of our admiration.
---