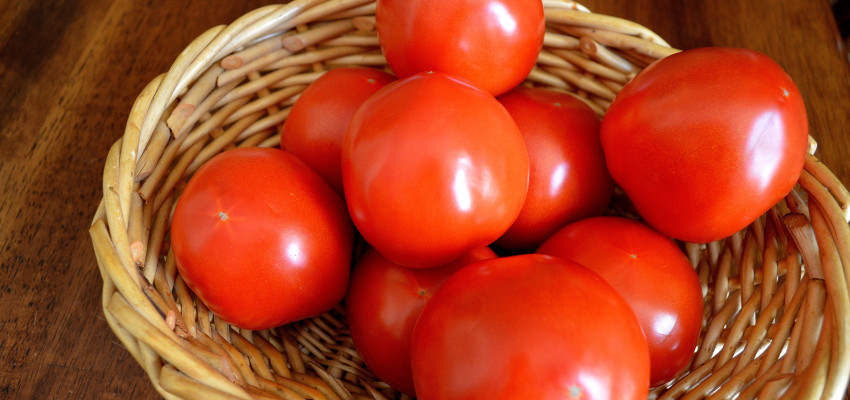 Perhaps the greatest gift of summer is the tomato. This is the only time of year I will buy them, since I know they will be full of flavor. This red globe of goodness is the primary reason I go to my local farmer's market, and if I have the time to grow my own garden, they are the first plant I place in the ground.
Honestly, I've been known to beg friends and family for the extras from their garden.
Yep, I'm a tomato addict in the summertime!
Use the right variety
Different tomato varieties work best for different purposes. Sweet little cherry tomatoes are great for salads, quickly-sautéed pasta toppings or to just pop in your mouth. Larger varieties, like the Beefsteak, Bush and Early Girl tomatoes, are perfect for slicing or cutting into wedges for salads. Plumb, Roma and San Marzano tomatoes are great for sauce.
Smell for perfection
Use your nose when buying tomatoes. A ripe one should smell, well, like a tomato. Also, look for firm ones with just a little give when you squeeze. Tomatoes with cracked skin or strange shapes still taste great but avoid ones that have soft spots or are leaking juice.
Freeze for later
To enjoy summer-tomato goodness all year, stash whole ones in the freezer. Just wash and core each tomato, and then line them up on a waxed paper-lined baking sheet so they don't touch. Put the baking sheet in the freezer. Once the tomatoes are frozen solid, remove them from the baking sheet into zippered freezer bags or another storage container. To use, allow them to unthaw at room temperature for 30 minutes. The peel will come right off. Frozen tomatoes don't have the right texture to serve raw, but they work beautifully in cooked dishes.
Eat 'em up
My favorite way to enjoy tomatoes is sliced with a sprinkling of salt. However, a close second is a simple, open-faced tomato sandwich. I spread my favorite double-cream French cheese or goat cheese onto a piece of crusty bread, and then top it with tomato slices. A sprinkling of salt and fresh thyme or oregano, and the sandwich is ready.
My favorite summertime tomato dish is Pasta Caprese. It's a tasty, fragrant, easy-to-prepare combo of tomatoes, mozzarella, basil and pasta, which doesn't heat up the kitchen too much. This dish is served at room temperature, so you can enjoy it on the backyard deck or at a picnic in the park.
On those Kansas days when the thought of boiling pasta makes you want to wilt, try Tomato and Cannellini Bean Salad instead. This dish is full of cool, cool, cool fresh ingredients—tomatoes, cannellini beans, feta, red onion, parsley and basil. In five minutes, you can have the meal ready.
Need a side dish for your grilled meats? Check out the Herbed Garden-Fresh Tomato Salad. Not only does it highlight their summer goodness, but it's also a snap to put together.
No matter how you use them, there is a way to enjoy tomatoes for everyone's taste buds. Just be sure not to miss them while they're rip and ready!
You might also enjoy
---