By

Chef Alli

on

August 6, 2019
21 Foods for Your Food Processor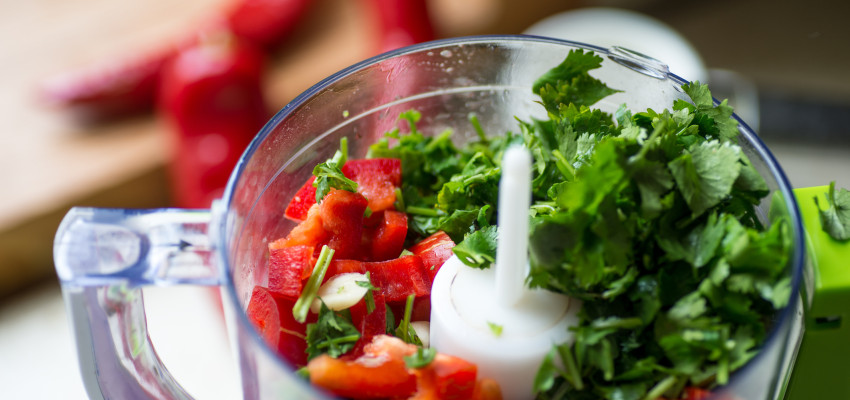 Hummus
The creamiest texture of hummus comes from spending a little time removing the skins from the cooked chickpeas. That can be an annoying task, but so worth it if you're worried about texture. But even if you don't remove the skins, the hummus made in your food processor is wonderful. 
Nut Butters 
Make your own peanut butter or cashew butter in your food processor. Add the raw nuts to the food processor bowl and watch them go from whole, to meal, to clumps, to a creamy nut butter texture in about 10 minutes. 
Whipped Cream  
You will be shocked as to how quickly whipped cream can be "whipped" in a food processor. No need to drag out the hand mixer again.
Fruit Sorbet
Process your favorite chopped frozen fruit and sugar with a bit of lemon zest – such a yummy frozen treat that's ready almost instantly. Trying to go sugar-free? Add honey to the fruit instead. 
Frozen Yogurt and Ice Cream
I had no idea a food processor could double as an ice cream maker. Freeze your favorite homemade ice cream base flat in a freezer bag. Once frozen, crumble the frozen base, placing the ice cream chunks into your food processor. Process until smooth and it's ready.
Cauliflower Rice
Toss cauliflower florets a few at a time into the food processor to pulse into perfect cauliflower rice. It also makes the cauli-rice uniform in size, too. 
Pesto and Chimichurri
We love making a good batch of basil pesto for pasta dishes, along with fresh chimichurri sauce for grilled meats. In go the fresh basil leaves, pine nuts, olive oil and Parmesan and out comes a gorgeous, fragrant pesto or chimichirri. You won't soon forget it. 
Pizza Dough 
Most food processors come with a dough blade as part of the accessory package. This tool allows you to make basic pizza dough in minutes. No hand kneading required.
Salad Dressing 
A good vinaigrette is even better when all the ingredients are emulsified in a food processor. If you're adding fresh herbs to the mix, the food processor minces them perfectly, too. 
Homemade Mayonnaise
I had no idea you could make homemade mayo so easily. Eggs, olive oil, ground mustard, salt and lemon juice process together to make the most delicious low-carb mayo you'll ever taste.
Flavored Butters
Here's a great way to use up those leftover fresh herbs. Add softened butter to the food processor bowl, then throw in the herbs and a clove of garlic. Process until smooth, then wrap in wax paper and refrigerate. 
Oat Flour and Almond Meal 
If you need a nice gluten-free flour, make oat flour in a flash by processing whole oats in the food processor. Or, pulse slivered almonds to make fresh almond meal in just seconds. 
Ground Meats 
When you find a bargain on a big hunk of meat, grab it up and let your food processor grind it for meatballs and burgers. 
Ham Salad
I love throwing chunks of leftover Christmas or Easter ham into the food processor.  In just a few quick pulses, I've got minced ham that just needs dressed to make a delicious ham salad. 
Cookie and Bread Crumbs 
I love how fast I can have cookie crumbs for making no-bake desserts, pulsing them within seconds to a fine texture. And, it works the same for making the most beautiful finely textured bread crumbs. 
Pulsing Butter into Flour for Biscuits and Pie Crusts
This may be the biggest shocker of all: making biscuit dough and pie crust in an absolute flash in the food processor. Watch for your ingredients to suddenly come together on one side of the food processor bowl; this is the signal to immediately stop processing so you don't overwork the dough, making it tough. 
Egg Noodles 
Making homemade egg noodles is so easy in the food processor. You won't believe it until you try it yourself. I make several batches and then freeze them. I use my Grandma's made-by-hand recipe in my food processor – works like a charm. 
Shredded Vegetables
I love to shred vegetables in my food processor. The assorted shredder discs that come with your food processor turn potatoes into hash browns, cabbage into coleslaw and Brussels sprouts into a shredded veggie that can be pan sautéed in minutes. 
Baby Food
Want to feed your baby pureed vegetables with no added ingredients? Cook the vegetables until fork-tender then process them in your food processor to have a batch of baby food that's super budget-friendly. (Pureed veggies freeze like a charm, too.) 
Restaurant-Style Salsa
You'll never buy jarred salsa again. Add diced tomatoes, red onion, chipotle sauce, garlic, jalapeno and spices to the food processor bowl and pulse 12-15 times. Yep, it's that easy. 
---