Another moo-velous home craft project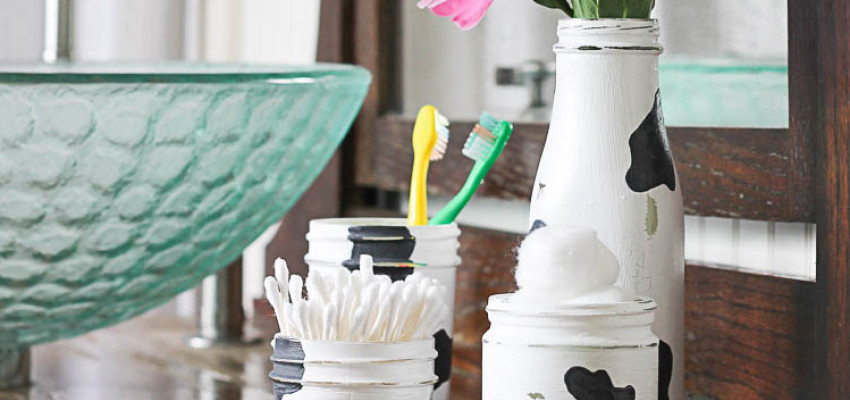 Hello friends!  It's Ariean from OneKriegerChick and I'm so excited to be here again.  I love a good challenge. Especially a creative challenge.  When I was given the challenge of creating a  cow-themed craft, I was all over it!  Cow-themed art is really popular right now, so why not add a few cow print accessories to go with it?
Such a fun statement for a bathroom and you may already have all the supplies.  
That's moosic to your ears, right!  (I had to work that in somewhere.  Watch out- I may have another under my hooves!)
These cute little jars come together pretty quickly, so let's get started... Supplies needed:
jars (clean. all paper labels removed)
white chalk paint or acrylic paint
black, charcoal or brown chalk paint (or acrylic paint)
clear wax for chalk paint or clear finish spray
paintbrush--1 smaller and 1 a bit larger
sandpaper or sanding block
pencil
optional: metal jar rings (if using mason type jars) or twine
Start by locating jars and making sure they are free of any leftover paper bits.  This a great project to use up some of the jars in your stash. Please tell me I'm not the only one who saves jars!
Paint a coating of white paint on each jar.  The paint should dry pretty quickly.  Continue adding coats until you achieve the desired look.  I painted two coats of chalk paint, but would probably add another coat if using acrylic paint.  Chalk paint is really thick, but dries very quickly.  I intended to sand off a little of the paint, so I also didn't want the paint to be too thick.  
After the paint is dry, use a pencil to draw the outline of cow spots.  You can add as many spots and make them as large as you like. Fill in the outlines with the darker paint color.
I wanted a more distressed or aged look on my jars, so I used a sanding block to sand off the paint in a few places.  This is totally optional.
If you plan to use these in an area where they will get wet, spray them with an acrylic coating.  If not, use a soft cloth to apply a coat of clear wax.  Either option will add a protective layer to the paint and give it a finished look.  Another idea would be to add the metal rings to the tops of the canning jars or to wrap a piece of twine around the top.  
Now that they are finished, have fun filling and accessorizing!  
These are styled in a bathroom, but really could be used in any space you need a few extra organizers.  You could also use any size jars.  A larger jar would look udderly cute on a kitchen counter filled with cooking utensils.  I heard you could even make a soap dispenser--endless possibilities!  
Hope I inspired you to create and would love to see how you use this project in your own homes!  Please tag me on Facebook or Instagram @onekriegerchick to share.   Happy creating!
Want to learn more about dairy cows? Check these out:
Looking for more fun crafts?
---