Pizza: Grilled Pesto with Chicken, Mozzarella and Goat Cheese Crumbles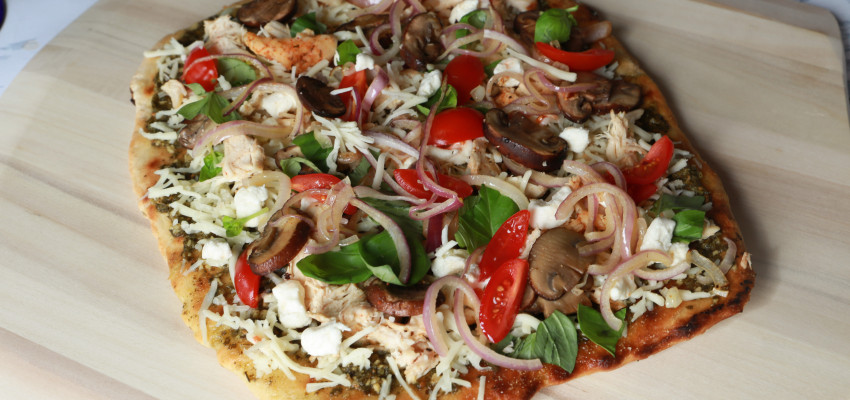 Ingredients
1 grilled pizza crust, warm
1 Tbs. olive oil
8 oz. sliced button or baby bella mushrooms
1/2 medium red onion, sliced very thinly
1 cup shredded rotisserie chicken, or any fully-cooked and shredded chicken (or other meat)
1/3 cup basil pesto
1-1 1/2 cups shredded mozzarella cheese
1/3-1/2 cup crumbled goat or feta cheese
1 cup grape tomatoes, halved or quartered
1/4 cup fresh basil, cut into thin strips
Instructions
Heat oil in a large skillet over medium-high heat.
Sauté mushrooms and sliced onions until just softened.
Add the shredded chicken, cooking until the mixture is hot throughout.
Spread the pesto evenly over the pizza crust, leaving a ½-inch border.
Top the pesto with the warm chicken mixture, mozzarella cheese, tomatoes and goat cheese; garnish with basil.
Return the loaded pizza to the preheated grill over medium heat, closing the lid to let the pizza cook until the cheeses are melted and bubbly and the pizza is hot throughout.
Remove from the grill.
Top with more mozzarella and basil, as desired.
Slide the pizza onto a large cutting board, letting it rest for five minutes before slicing it into wedges.
Serve at once.
---