Chunky Monkey Grilled Dessert Pizza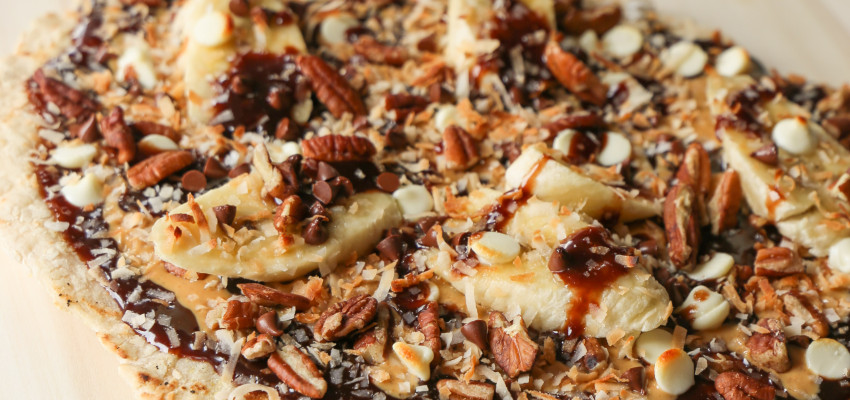 Ingredients
1 grilled pizza crust, warm
½ cup jarred hot fudge topping or chocolate hazelnut spread, warmed in the microwave until easily spreadable
1/3 cup creamy peanut butter, warmed in the microwave just enough to be drizzled
1/4 cup toasted pecan or walnut pieces
2 small nicely ripened bananas, sliced into 2-inch chunks
1/4 cup white chocolate chips
1/4 cup semi-sweet chocolate chips
1/3-1/2 cup toasted sweetened coconut pinch of kosher salt
Instructions
Spread the warm fudge topping over the pizza crust, leaving a ½-inch border.
Drizzle the warm peanut butter over the chocolate.
Sprinkle with half of the toasted coconut and pecans or walnuts, then top with the banana chunks.
Sprinkle both types of chocolate chips over the pizza, followed by the remaining half of the toasted coconut.
Drizzle with a bit of the warm fudge topping, then sprinkle with kosher salt.
Return the loaded pizza to the preheated grill over medium heat, closing the lid to let the pizza cook a few minutes until the chocolate chips are softened and the pizza is hot throughout.
Remove the pizza from the grill; let the pizza rest for five minutes, then slide it onto a large cutting board.
Cut the dessert pizza into wedges as desired; serve at once. For even more fun, top the dessert pizza with your favorite ice cream!
---