Mexican Rice Casserole with Black Beans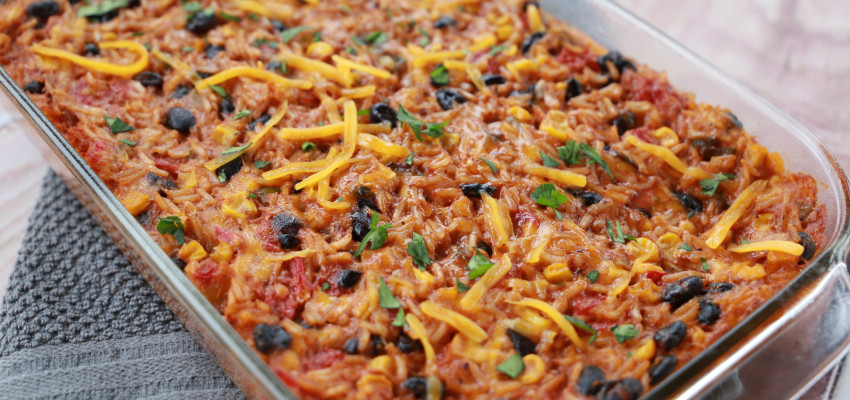 Ingredients
10 oz. can diced tomatoes and green chilies, drained
2 cups cooked black beans, drained and rinsed, may substitute 15 oz. can of black beans, if desired
1 cup red enchilada sauce, or tomato sauce
1 cup salsa 2 cups cooked rice
1 cup sour cream
1-2 cups shredded cheddar cheese, as desired
Minced cilantro, if desired 
Instructions
Preheat oven to 350 F. Lightly spray a 9×13-inch baking dish with nonstick spray.
In a large mixing bowl, combine all ingredients (except the cilantro, if using); transfer to the prepared baking dish.
Bake the casserole, uncovered, for 20 to 30 minutes, until hot throughout (160 to 165 F at center). Let the casserole rest for five minutes before serving as a side dish to your favorite tacos; garnish with cilantro and additional salsa or sour cream, if desired.
This casserole can be made a main dish by adding cooked ground beef or shredded cooked chicken, if desired. You can make ahead and reserve in the fridge until ready to bake. If casserole is chilled when baked, add eight to 10 minutes additional baking time. 
You may also enjoy:
---