By

Chef Alli

on

November 6, 2018
Freezer Meals Casserole Style
A Q&A session with Chef Alli on freezer casseroles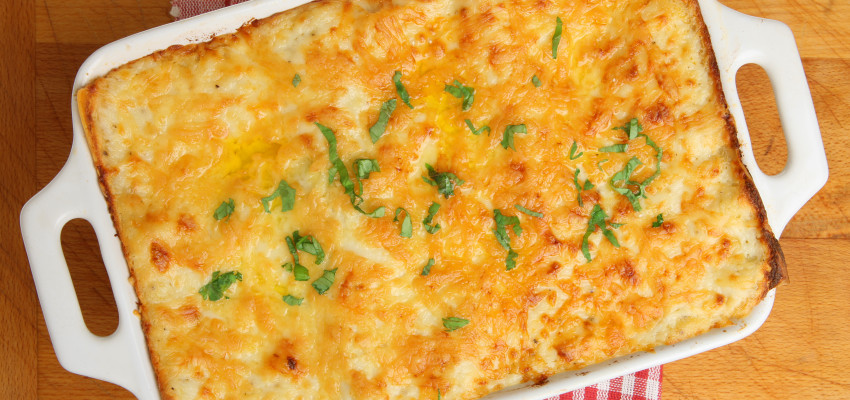 Q: Can casseroles be frozen and baked later?
A: Absolutely! Most family-favorite casseroles make perfect freezer meals. While you're knee-deep in the recipe, why not go ahead and make a double or triple batch? That way, you can have a casserole for dinner this evening and a couple more down the road. (My dad would say that's working smarter, not harder.)
Q: Should I bake my casserole first and then freeze it?
A:I'd recommend doing it the opposite way — otherwise you're just heating up leftovers instead of baking something fresh for dinner. Most casserole recipes work great when you prepare, freeze, thaw and then bake them right in the same dish or pan. Make sure you always thaw frozen casseroles in refrigeration, not on the counter, and when you bake your casserole, aim to get the center to measure at 160-165 degrees F. for a hot, safe temperature.
Q: What if I don't want all my baking dishes tied up in the freezer?
A: When you're ready to place your casserole ingredients into your baking dish, first place an oversized sheet of heavy-duty aluminum foil into your dish, letting it overlap on all sides, followed by an oversized sheet of plastic wrap on top of the foil. Now place your casserole ingredients into your prepared and lined baking dish and pop it into the freezer. When the casserole is frozen solid, remove it from the freezer. Once it has set on the counter for a few minutes, you will be able to give the foil a gentle tug, lifting your casserole right out of your dish. Now, wrap your frozen casserole with the excess plastic wrap and then the foil. Take a second sheet of foil and use a marker to write the date, type of casserole and baking instructions on it before wrapping this sheet of foil around your frozen casserole and popping it back into the freezer.
Q: What's the hardest part of frozen casseroles? (No pun intended!)
A: For me, it's remembering to get them out of the freezer and into the fridge to thaw in plenty of time for dinner. A large, family-size casserole will take 24 to 36 hours to thaw properly in refrigeration, so if you come home from work and your casserole is still in the freezer, you'll have to figure out something else for dinner.
Q: How do you remember to thaw out a casserole beforehand?
A: I'm a master at using my phone for reminders. The more annoying the alarm, the more I'm apt to follow through, too. I found that setting an alarm on my phone that repeated every Sunday morning before we left for church sent me right to the freezer to pull out one to two casseroles for the week. I was amazed at how doing this one, simple thing really helped me get my work week launched in a positive manner, both mentally and physically. Knowing that we have dinner ready to cook can really take the stress off.
Get these casserole recipes:
---