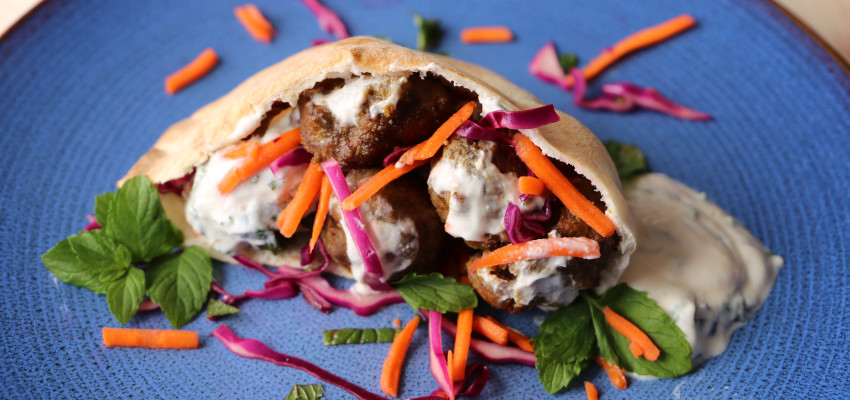 Ingredients
1 lb. ground lamb
1 Tbs. dehydrated onion flakes
1/2 cup panko breadcrumbs
1 egg, beaten
3 cloves garlic, crushed
1/4 cup cilantro, finely chopped
1 tsp. cumin
1 tsp. coriander
1 tsp. smoked paprika
1/2 tsp. cinnamon
1/4-1/2 tsp. red pepper flakes
1 tsp. kosher salt
1/2 tsp. black pepper
Olive oil, for frying the meatballs
4 whole pita bread pockets
Fresh mint, for garnish
Instructions
Gently combine all the meatball ingredients (except the olive oil) in a large mixing bowl. Use a cookie scoop to portion out about 18-20 golf ball-sized meatballs.
Heat a good swish of olive oil in a large skillet over medium high heat. When the oil is hot, add the meatballs, working in batches until the meatballs are browned on all sides, 8-10 minutes, or until cooked throughout.
Cut the pita pockets in half and microwave them for 15 seconds; use your fingers to gently open each one.
Add the desired number of warm meatballs to each pita pocket; drizzle with Creamy Yogurt Sauce, as desired.
Serve with the Shredded Purple Cabbage and Carrot Salad on the side. Garnish the pita with fresh mint, if desired.
---