Grilled Fish Tostadas with Mexican Crema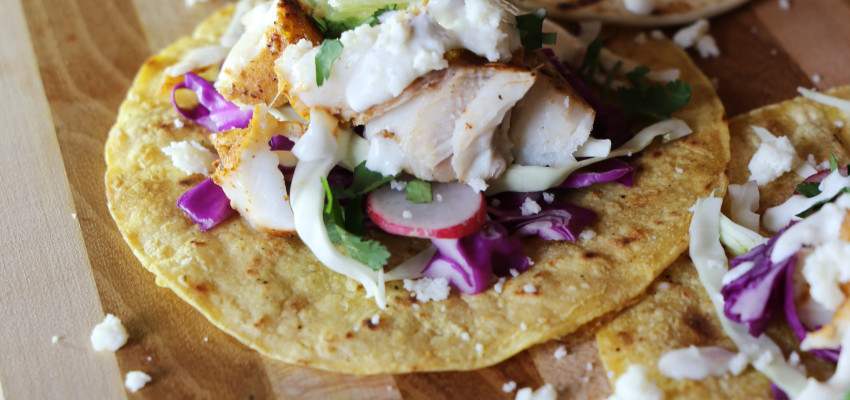 Ingredients
Fish
1 lb. lean white fish fillets, such as tilapia, halibut, mahi mahi, snapper or cod
kosher salt and freshly ground black pepper
Corn and flour tortillas, grilled and warm
Marinade
2 Tbsp. olive oil
zest and juice of 1 lime
1 clove garlic, crushed
1 ½ tsp. chili powder
½ tsp. ground cumin
½ tsp. smoked paprika
1/8 tsp. red pepper flakes
Mexican Crema
¾ cup sour cream or plain Greek yogurt
¼ cup mayonnaise
zest and juice of 1 lime
½ tsp. granulated garlic
½ tsp. ground cumin
kosher salt and freshly ground pepper, to taste
Toppings
Cojita cheese crumbles, shredded purple and green
cabbage, fresh cilantro, sliced avocado, sliced
radishes, lime wedges, red onions
Instructions
Season the fish with salt and pepper on both sides. In a mixing bowl, whisk together the oil, lime juice and zest, garlic, chili powder, cumin, paprika and red pepper flakes. Add the seasoned fillets to the marinade and allow to marinate for 30-40 minutes.
Preheat a clean, well-oiled grill to medium high heat. Grill the fish fillets for three to four minutes per side, depending on their thickness, turning half way through the cooking time. A one-inch thick fish fillet typically takes eight to 10 minutes to cook all the way through. When the fillets are fork-tender at the center and flake easily, transfer the fillets to a plate and allow to rest for a few minutes before breaking into small chunks.
Meanwhile, combine the Mexican Crema ingredients in a small bowl, stirring until smooth. Place the fish chunks on top of the warm tortillas, topping the fish with the prepared crema and desired toppings.
You might also enjoy
---