By

Leah Fliter

on

February 13, 2015
Creative ways to incorporate seafood into your diet.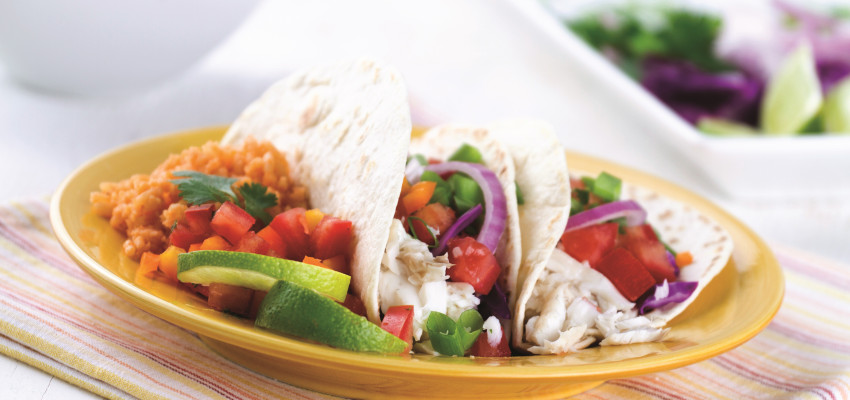 Although we live in a landlocked state, Kansans can — and should — enjoy seafood as part of a nutritious diet.
"Eating seafood twice a week decreases our risk of dying from heart disease by 36 percent," says Hy-Vee registered dietician Karen Hanson. "Seafood is a low-calorie protein source and has many other health benefits."
Seafood is a good source of omega-3 fatty acids, which are vital for healthy human development. "Our bodies don't make omega-3 fatty acids, so we have to get them from our food," Hanson notes. "Omega-3s help reduce the risk of heart disease and contribute to brain and vision development in infants. Fish is also a natural source of B-complex vitamins, as well as Vitamin A and Vitamin D."
For Kansans who want to add seafood to their nutritional toolbox, Hanson suggests working seafood into recipes you already make. "Make a shrimp stir-fry with lots of crunchy vegetables and a tasty teriyaki sauce," she says. "Tilapia and cod have a mild flavor and can be dressed up with colorful fruit or vegetable salsas and in fish tacos.
"You can grill fish outside or in your oven for a tasty Lenten dinner," she continues. "Use a flavorful marinade or basting sauce and add a green salad and bread for a complete meal."
And of course, you can't beat a surf-and-turf of steak paired with a few scallops or jumbo shrimp for an elegant dinner.
"Check out the seafood counter at your local grocery store," Hanson urges. "Ask about specials and new recipes; don't be afraid to experiment. Fish, seafood and shellfish add great variety and nutrition to our diets."
Seafood and Nutrition
Most lean or lower fat species of fish, such as cod, flounder and sole, contain 100 calories or less per three ounce cooked portion, and even the fattier fish like mackerel, herring and salmon contain approximately 200 calories or less in a three ounce cooked serving. Lean fish have significantly less fat than other protein-rich foods, and most kinds of fish and shellfish contain less than five percent total fat. Higher fat fish such as mackerel, herring and king salmon have about 15 percent total fat.
Researchers have found that omega-3 fatty acids can make blood less likely to clot and block blood vessels, and that consuming omega-3s may also decrease levels of some blood fats and possibly cholesterol. Possible relationships between omega-3 fatty acids and other disorders such as cancer, arthritis and asthma are also currently being studied.
Health Benefits of Seafood
Reduces the risk of heart disease
Helps protect against heart attack and sudden death
Decreases blood triglyceride levels
Increases HDL (good) cholesterol
Contributes to sharp vision
Contributes to brain development in infants and children
Helps build muscles and tissues
Provided by Karen Hanson, Ridgeview Olathe Hy-Vee dietitian.
You might also enjoy
---