Classic Swiss Cheese Fondue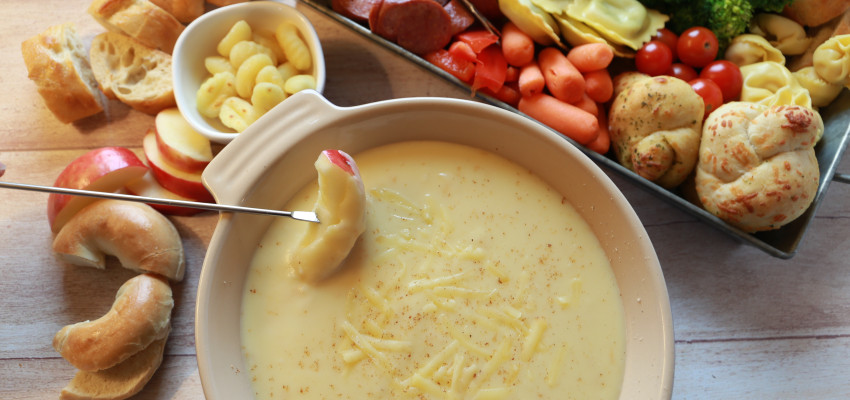 Ingredients
1/2 lb. block gouda cheese
1/2 lb. block gruyere cheese
2 Tbs. cornstarch
1 cup dry white wine
2-3 cloves garlic, crushed
1 Tbs. fresh lemon juice
1 Tbs. Dijon mustard
1/8 tsp. nutmeg, plus more for garnishing
Assorted Dippers
Cubed breads, such as French, Italian or sourdough
Cubed pretzel rolls, mini bagels or ciabatta
Gnocchi
Steamed baby potatoes, skin on
Fully cooked/smoked sausages, such as kielbasa or Polish
Steamed ravioli and tortellini
Steamed vegetables, such as broccoli and cauliflower, baby carrots or asparagus spears
Button or baby portobello mushrooms
Grape or cherry tomatoes
Sliced zucchini and yellow squash
Sugar snap peas
Sliced bell pepper strips
Assorted olives
Sliced tart apples, such as Honeycrisp or Granny Smith, skin on
Sliced pears, skin on
Instructions
Grate the cheeses and place them into a large mixing bowl; gently toss with cornstarch, coating well. In a large saucepan over medium heat, bring the wine, garlic and lemon juice to a simmer. Add the cheese to the simmering liquid a handful at a time, stirring until smooth between each addition. Once all the cheese is incorporated and smooth, stir in the mustard and nutmeg.
Meanwhile, preheat the fondue pot to low and arrange your dippers as desired. Pour the warm fondue into the prepared pot. Serve with the forks and assorted dippers and enjoy at once.
Serves four to six.
Cheese fondue is best made fresh, but it can be made one day in advance and refrigerated until ready to use. Reheat it in a double boiler, adding additional white wine a little at a time as needed, until the fondue reaches the desired consistency. 
---