By

Chef Alli

on

February 1, 2023
How to Host a Fondue Party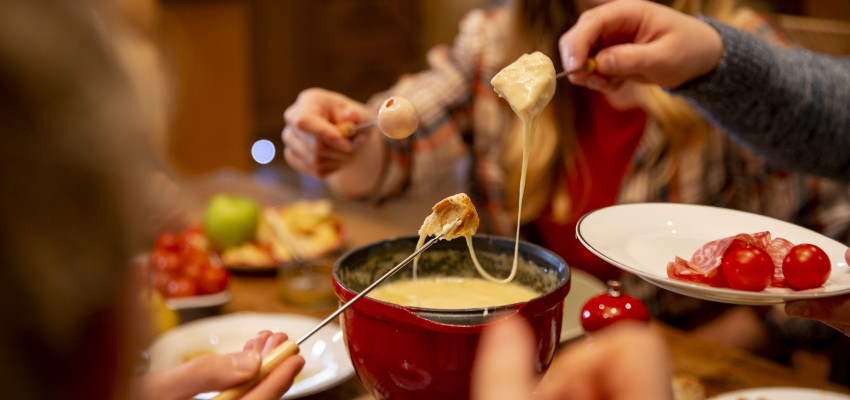 Growing up in the 1960s and 1970s means you likely encountered fondue night at your house. We sure did, and man, was it a blast! I can still remember my mom's avocado-green fondue pot and the forks with different colored handles so you could remember which was yours.
Fondue parties are a great way to socialize since you can roam from pot to pot. But even better, they allow us the opportunity to enjoy a variety of foods, a few bites at a time. Having lots of dipper choices makes fondue super fun.
Begin on the savory side with breads and veggies dipped into warm, melty cheese, alongside assorted meats simmered "coq au vin-style" in a flavorful broth. Then, most lusciously, comes the chocolate fondue — the icing on the cake, if you will.
If you missed out on the fondue craze back in the day, now is the perfect time to experience it. Invite the gang over and dip away!
Fondue Party Tools
A fondue pot*
Fondue forks, such as the metal style that typically come with a fondue pot at the time of purchase, or chopsticks or long wooden kabob skewers 
Platters and trays for holding a large assortment of dippers
Small, pretty bowls or plates for holding individual dippers 
*An electric pot is recommended for cooking meats because you need the broth to simmer.
Three Fondue Pots Are Best, But Two Will Do
It's ideal to have a fondue pot for each type of fondue you want to serve at your gathering.  For instance, if you want to offer cheese, simmering broth and chocolate, it's nice to have a pot for each one, serving them all at the same time. If the triple threat isn't an option, having two pots for serving the savory options (cheese and broth) at the same time works great since you can then take a little party break and regroup before preparing the dessert course: chocolate fondue. And since warm, luscious chocolate is such a big deal (at least in my neck of the woods), you may want to fill both pots as the big finale to your party.
The Fondue Kissing Rule (for consenting adults)
For even more fun, be sure to enforce the fondue faux pas rule: If you accidentally drop a dipper from your fork and into the pot, it's obligatory to kiss the person on your left. That said, be sure you're seated next to someone you like.
Flower Power! Welcome A Costume Element
Since fondue originated in the 1960s-1970s era, encourage your guests to come dressed retro. They will flip for breaking out the bell bottoms, miniskirts, go-go boots, tie-dye and ponchos. Their reward? Loads of fondue and the best photo memories ever.
Never Fear, The Stove Top is Near
No fondue pots available? Don't let that stop you. Gather up your best saucepans and have a cooktop fondue party. The key to successful cheese and chocolate fondue in a saucepan is very low and slow so they don't scorch on the bottom. Place your dippers on the counter next to the cooktop and away you go.
---