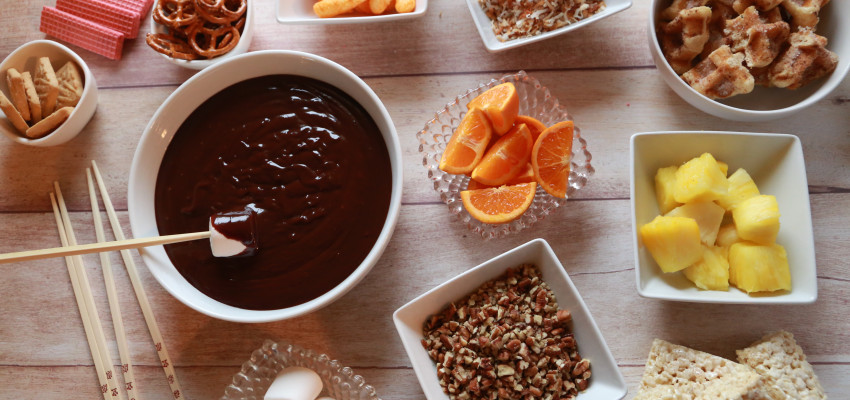 Ingredients
16 oz. Ghirardelli semisweet chocolate morsels
12 oz. Ghirardelli milk chocolate morsels
1 1/4 - 1 1/2 cups heavy whipping cream (adjust as you go, as needed)
2 Tbs. butter
1 tsp. vanilla extract
Smidge of kosher salt 
Assorted Dippers
Sliced apples
Whole strawberries
Fresh pineapple chunks
Maraschino cherries
Banana chunks
Orange slices
Marshmallows
Pretzels and peanut butter pretzels
Cookies, such as shortbread, wafer, biscotti, sandwich or meringue
Rice Krispies treats
Brownies
Mini doughnuts
Cooked bacon strips
Cheese puffs
Pita chips
Toaster waffles, toasted and cut into pieces
Pound cake and angel food cake
Garnishments, such as chopped pecans or toasted coconut
Instructions
 Place the chocolate morsels into a large glass bowl. Microwave them in one-minute intervals at full power, stirring between each interval until the chocolate is fully melted and smooth — this should take 6 to 8 minutes total.
Slowly pour the whipping cream into the melted chocolate. Add the butter and microwave for one to two minutes, whisking to combine. Continue to microwave in one-minute intervals as needed until the fondue is smooth and glassy. If it's too thick at this point, add additional whipping cream a little at a time to achieve the desired consistency. Stir in the vanilla and salt until fully incorporated.
Meanwhile, preheat the fondue pot to low and arrange your dippers as desired. Pour the warm fondue into the prepared pot. Serve with the forks and assorted dippers and enjoy at once.
Serves eight to 10.
Melting chocolate in the microwave is the best way to keep it from scorching, as it can easily do when cooking in a saucepan on the stove. Just be sure to stir the morsels after every minute in the microwave. 
---