Grilling Steaks in the Summer
Two tips for grilling steaks and a great cocktail option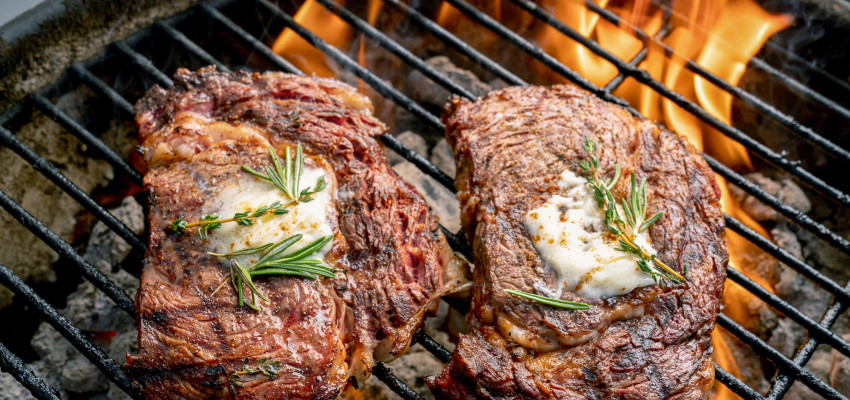 Summer means it's time for dinners on the deck, drinks by the pool, neighborhood parties, trips to the lake and family gatherings — all fun times that involve food!
Even though most Kansans grill our steaks year-round, there's no doubt they're still synonymous with summertime. I'm excited to share three easy steak recipes you can showcase for family dinners or when entertaining friends.
These featured recipes offer alternative ways of cooking the steaks, so don't worry if your grill is suddenly out of propane or you don't own an air fryer. You'll have an option available to you with these recipes.
I have also included two of my essential beef tips for cooking meat. Please heed these two important "rules" and you'll enjoy a tantalizing steak experience every single time.
Two Essential Tips for Cooking Steak
1. Never cook steak while it's still cold.
Removing the chill from any type of meat is very important to the cooking process. Allow the beef to lie on the counter, uncovered, for20-30 minutes (our friends at K-State Research and Extension remind us to never leave cooked or uncooked food unrefrigerated for more than two hours) so it can rest and relax before ever hitting the heat source .
This ensures the juices and fats that coagulate at the center of the chilled meat can slowly find their way to the edges, allowing the protein fibers to relax, resulting in evenly cooked meat.
2. Always be sure that your cooking vessel (grill pan, cast iron skillet, grill, etc.) is preheated before the beef ever lands on the surface.
If you hear a sizzle when that steak lands on the grill, you're off to a fantastic start. Once each side of the steak is caramelized, you may need to turn down the heat source a bit, allowing the steaks to cook through without overcooking the exterior.
And, if you're looking for a fun drink to enjoy this summer while hanging out with family and friends, this recipe for a Cuban Mule cocktail is perfect. This drink can be made as a cocktail or a cocktail (non-alcoholic).
---