Baked Asparagus Casserole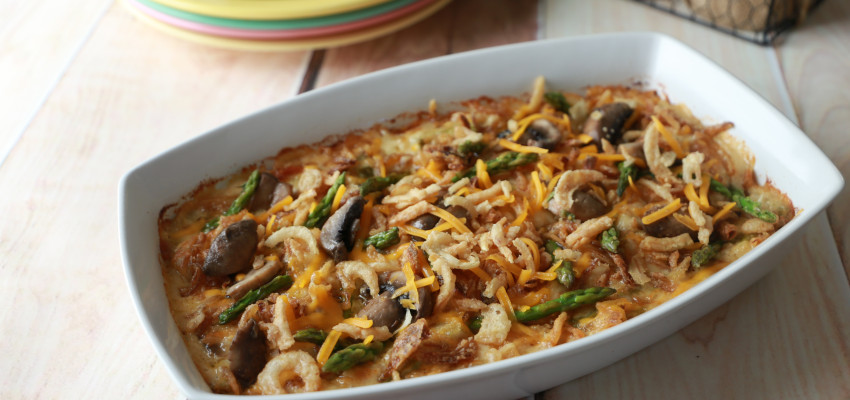 Ingredients
1/4 cup butter
2 lbs. asparagus, trimmed and cut into 1-inch pieces
8 oz. button mushrooms, sliced
1/2 sweet onion, chopped (or 2 tsp. dehydrated onions)
1/4 cup all-purpose flour
1 1/4 cup milk
1/2 cup mayonnaise
1/2 cup sour cream
1/2 cup shredded cheddar cheese
1/2 cup shredded Swiss cheese
1/4 teaspoon paprika (or smoked paprika, if you have it)
salt and pepper
6 oz. can French-fried onions
Instructions
Preheat oven to 350 F. Grease a 10 x 7 casserole dish.
Melt butter in a large skillet over medium heat; add asparagus, mushrooms and onions and cook, stirring occasionally, for five minutes.
Sprinkle flour over the vegetables and cook, stirring continuously, for one more minute. Gradually stir in milk, cooking until sauce is nicely thickened.
Reduce heat to low; stir in mayonnaise, sour cream, both cheeses and paprika. Remove from heat and season to taste with salt and pepper. Crush one-third of the French-fried onions, then fold them into the asparagus mixture; transfer mixture to prepared casserole dish.
Sprinkle remaining French-fried onions on the top. Bake casserole for 25 to 30 minutes or until hot and bubbly throughout, and top is golden brown.
You may also enjoy:
---