By

Chef Alli

on

April 19, 2023
10 Ways to Make Roasted Vegetables Taste More Delicious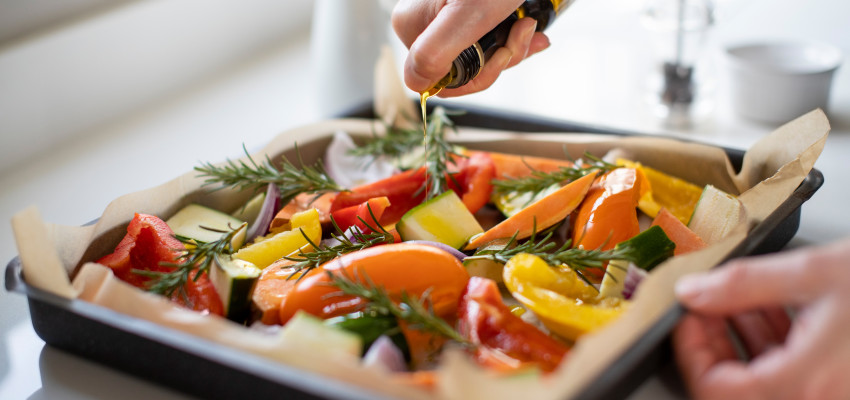 Roasting vegetables is an easy way to bring healthy veggies to your family. If you're looking for new ideas for your favorite roasted vegetables, check out our top 10 list.
1. Add a glaze
Earthy vegetables like Brussels sprouts, parsnips and beets tend to have a slightly bitter taste to them that can linger, even once they are roasted.
A sweet glaze is the perfect way to balance that out. Try drizzling the roasted vegetables with a balsamic glaze, maple syrup, honey or agave nectar to add a touch of sweetness.
Toward the very end of the cooking time, add the glaze so it doesn't burn and make a mess of your pan.
2. Use flavored oils to enhance your roasted vegetables
If you typically use olive oil for roasting vegetables, try branching out by using an infused olive oil such as lemon, garlic or rosemary to add an extra layer of flavor.
If you enjoy Asian flavors, try a roasted sesame oil to give the cooked vegetables a unique taste. A little bit goes a long way with roasted sesame oil, so season to taste.
3. Zest up your roasted vegetables with a citrus
The zest of citrus is a best kept secret with many home chefs. This tiny ingredient packs a punch, offering incredible brightness to the roasted vegetables without adding calories or fat.
Remember to add the citrus at the very end of the cooking time.
4. Toss with mustard
Add a spoonful of spicy brown or smoky jalapeño mustard to roasted potatoes or vegetables to make them extra flavorful.
Mustard has the perfect balance of acid and sharp flavor that can make about any roasted vegetable pop right off your palate.
5. Sprinkle some cheese
Toss fully roasted vegetables with finely grated Romano or Parmesan cheese, then place beneath the broiler for a moment. Watch your veggies carefully under the broiler so you don't burn them – broiling vegetables doesn't take but a minute or two.
Or, add some tang by sprinkling in crumbled feta or goat cheese just prior to serving the warm roasted veggies.
6. The power of pesto
Pesto is incredibly flavorful and adds color to roasted vegetables. Roast the vegetables with a bit of olive oil, then toss with jarred pesto and some chopped fresh herbs.
7. Bacon makes everything better
Mix chopped bacon with vegetables and roast them together. The bacon fat helps brown the vegetables and provides a delicious smoky/salty/savory flavor.
8. Drizzle roasted veggies with dressings
Did you know salad dressings work wonderfully for adding zest and zing to roasted vegetables?
Drizzle your favorite salad dressing over warm roasted vegetables then give them a couple minutes to soak up the flavors before serving to your guests.
9. Spice it up
If you're adding your favorite spices to roasted vegetables, do so at the beginning of the cooking process because spices intensify with heat.
Good spice options for seasoning roasted vegetables include sweet paprika, smoked paprika, cumin, chili powder, granulated garlic, granulated onion, turmeric, garam masala, curry powder and crushed red pepper flakes.
10. Include fresh herbs
If fresh herbs are what you'd like to incorporate for accenting roasted vegetables, toss them in at the very end of the cooking time since the flavor from herbs is lost the longer they are exposed to heat.
My favorite herb options include fresh rosemary, sage, thyme, dill, basil and flat-leaf parsley.
---