By

Chef Alli

on

February 22, 2023
Sheet Pan Recipes to the Rescue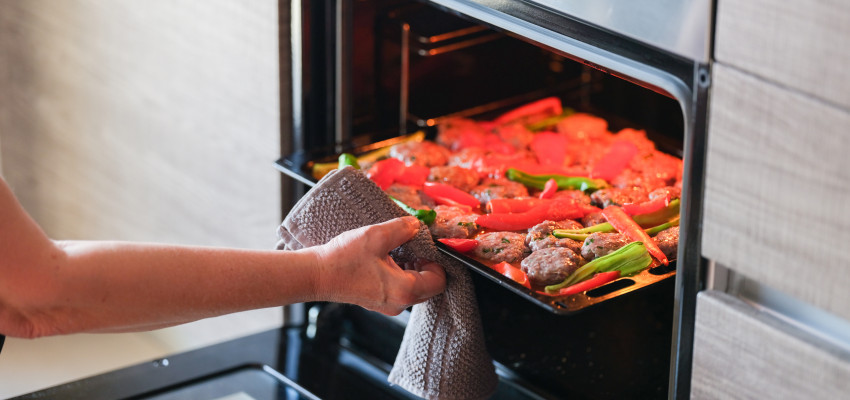 A few days into the work week, I usually need a break from cooking supper. Only problem is, my family still needs to eat and takeout isn't an option because we live in rural Kansas. That's when I turn to a sheet pan dinner.  All I do is chop up vegetables, add meat and put everything on a sheet pan to cook in an oven on high heat.
While my sheet pan meal is cooking, I have a few minutes to whip up a finishing sauce to drizzle over my creation when it's done and dinner is ready to serve. 
What makes sheet pan meals easy? 
When ingredients like chopped vegetables and serving-size pieces of meat are spread out over a good pan in a single layer, they cook super fast.
Because sheet pan meal ingredients are typically roasted at a high temperature, vegetables and meats release their natural sugars and caramelize, adding flavor. 
Prep is simple and cleanup is minimal. You only need a knife, cutting board and sheet pan with a rimmed edge. 
Serving sheet pan meals is easy, simply place the hot sheet pan dinner right in the middle of the table. Your family can serve themselves directly from the sheet pan.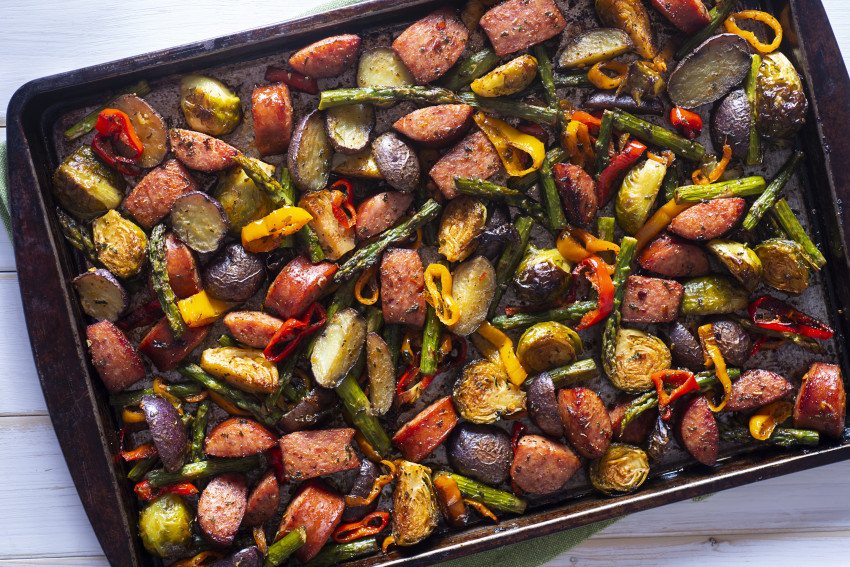 Sheet pan cooking tips 
Use the correct sheet pan
For foods to cook properly, the size of your sheet pan and its construction are important. 
I like to use what's called a half-sheet pan, 18-by-13 inches, with a rimmed edge. This size holds enough food to feed a family of four and allows for the ingredients to be spread out in a single layer, which allows them to cook quickly. 
It's important to use a sheet pan that's very sturdy since that is what conducts the heat that cooks and caramelizes the ingredients. I choose sheet pans made of stainless steel or aluminum. 
Please note! While it's tempting to put sheet pans into the dishwasher for extra-easy clean up, opt out. Instead, extend the life and finish of your sheet pan by always hand washing it in hot, soapy water. 
Preheat the oven and sheet pan
While you're prepping ingredients, place the empty sheet pan into the oven while it heats up. This simple step helps ingredients cook more quickly since the pan is already hot, and the added heat leads to better caramelization. 
Space is your friend 
Spread the ingredients into an even layer, but don't fill the pan to capacity. Leaving some good space for the hot air to flow and surround the ingredients will help the food brown and crisp. 
When sheet pans are too full, the ingredients steam instead of roast, so they don't caramelize. 
Consider frozen vegetables 
Vegetables for sheet pan meals don't have to be fresh from the produce department. Frozen veggies are a great option since they are already cut when packaged.
Remember, because they are par-cooked before they are frozen, frozen vegetables cook extremely quickly as part of a sheet pan meal, typically in 8-10 minutes. 
Sheet pan dinner building blocks 
Pick your protein 
To build your sheet pan dinner, first choose the protein. Most sheet pan dinners cook in a 375 to 425 F oven, so use the following times as a guideline for determining doneness.
Shrimp: 5-6 minutes or until they are curled and opaque
Fish: 8-10 minutes or until it flakes easily with a fork
Chicken, boneless skinless breasts and thighs: 15-20 minutes or when a thermometer reads 165 F when inserted into the thickest portion of the meat
Chicken, bone-in skin-on breasts and thighs: 25-35 minutes or when a thermometer reads 165 F when inserted into the thickest portion of the meat
Pork tenderloin: 20-25 minutes or 145 F
Steaks, 1 to 1 1/4-inch thick: Broil about 8 minutes for rare (115 to 120°F), 9 minutes for medium-rare (120 to 125°F) and 10 minutes for medium (130 to 135°F)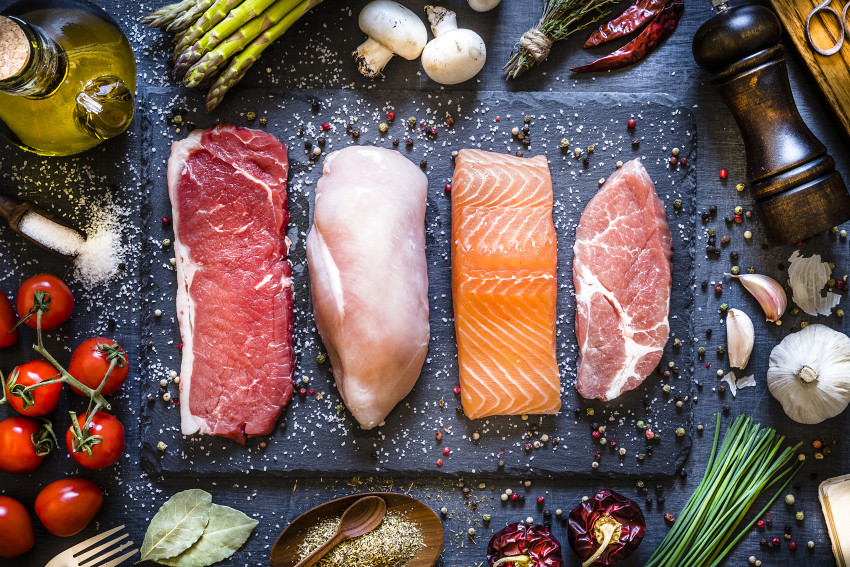 Add vegetables 
Once you've selected your protein, add the veggies. Vegetables fall into two categories: quick cooking or long cooking. Size also factors into the time it takes them to cook, with larger pieces taking longer to cook than smaller ones.
Quick-cooking vegetables
Tender vegetables like onions, bell peppers, tomatoes, green beans, okra and asparagus cook quickly when spread on a sheet pan and roasted in a hot oven. Consider frozen vegetables as part of the quick-cooking category too since they are par-cooked before being frozen. 
Long-cooking vegetables 
Dense vegetables like potatoes, sweet potatoes, Brussels sprouts, cauliflower and beets cook in about 25-30 minutes, depending on their size. Give these veggies a head start, then add proteins at the midpoint of cooking your sheet pan meal.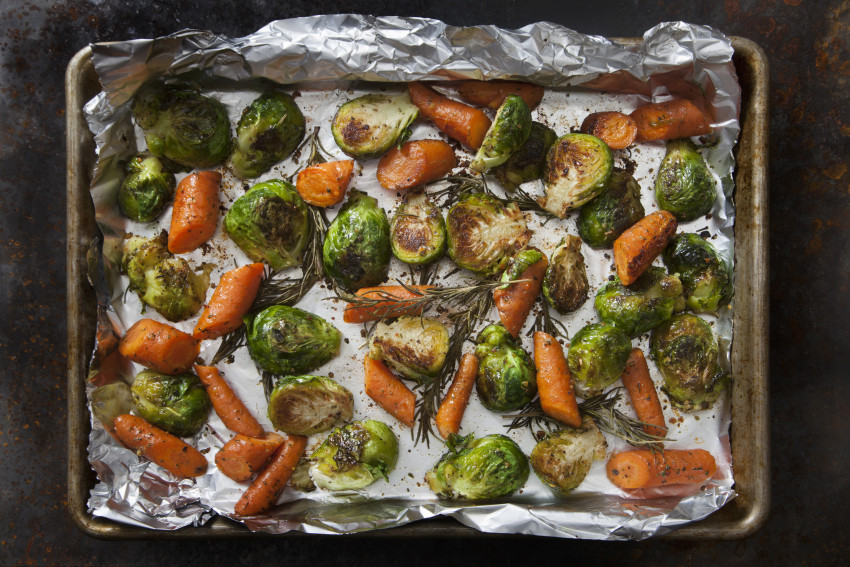 Seasonings and garnishments 
Just before serving, sprinkle your hot sheet pan dinner with kosher salt and freshly ground black pepper. Add freshly chopped herbs, thinly sliced radishes, or chopped spinach or arugula for a pretty pop of color and added texture and crunch. 
Don't be afraid to experiment 
After you have a few sheet pan meals under your belt, you'll be ready to mix and match. 
Pair long-cooking vegetables with the longer-to-cook bone-in meats and the quick-cooking vegetables with shrimp, salmon, chicken cutlets or thin-cut steaks. 
If you want to combine ingredients with different cooking times, just remember it will be a two-step process. Start with the longer-cooking ingredients, then add the quick-cooking ingredients midway through.
Try these sheet pan recipes!
---