Farmers Buy Local Grocery Store to Keep Small Kansas Town Thriving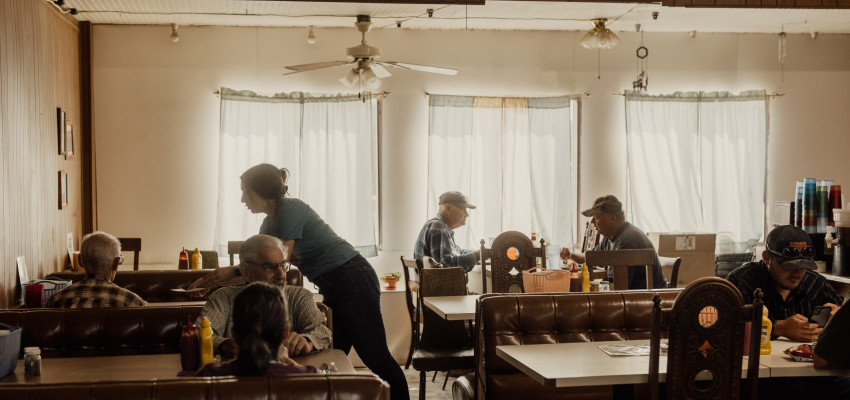 Kaden and Emily Roush spent months searching for the perfect location to warehouse their booming e-commerce business without much luck. Their direct-to-consumer Berkshire pork business, R Family Farms, grew exponentially during the pandemic, straining the confines of their home.
"We built this business out of our garage," Kaden says. "We turned a parking stall into a boxing station. I can't use my garage for normal residential things anymore."
After more than a year of searching for a location in Lebanon, the owner of LaDow's Market — the local grocer — approached the couple about buying the store. It immediately solved one big problem: arranging in-person order pickups.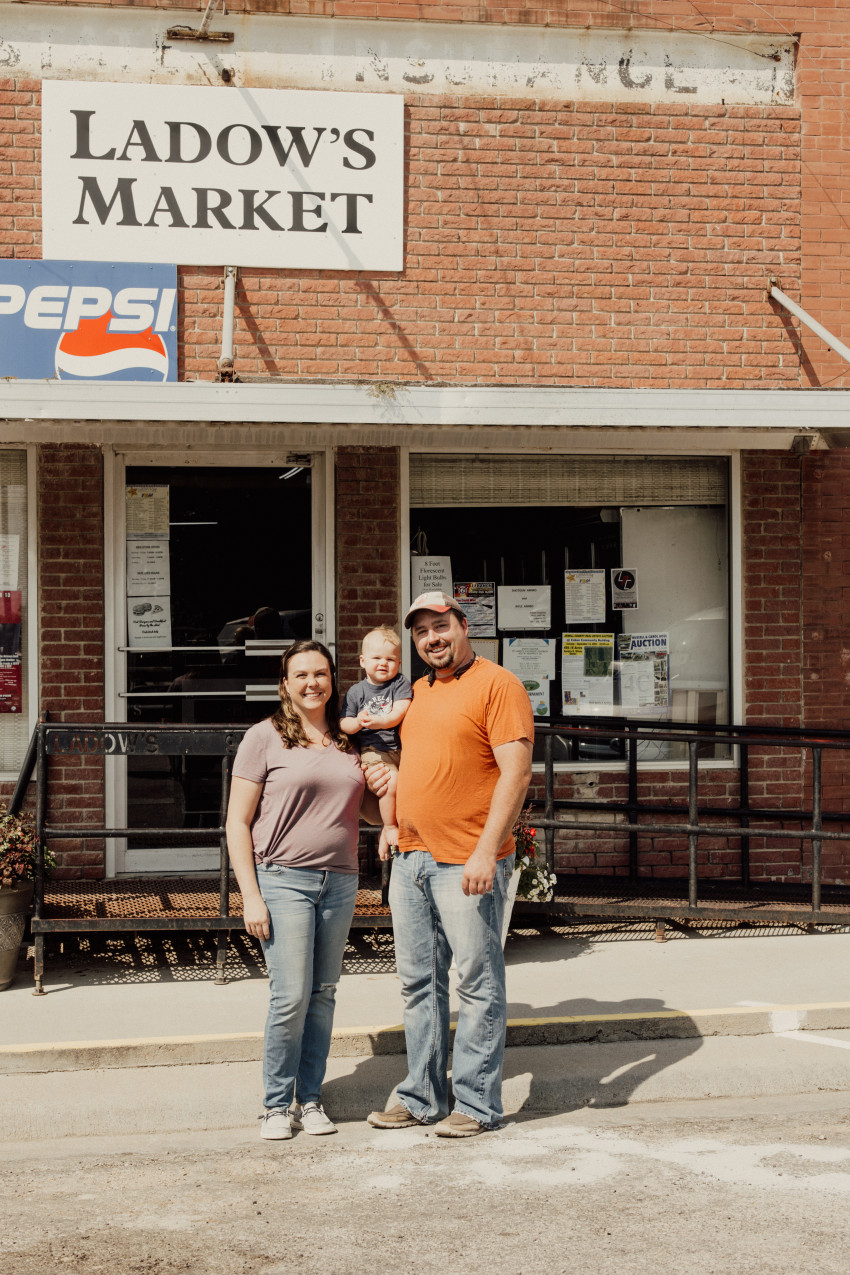 "A lot of people were willing to travel," Emily says. "Either we weren't around, or we had to invite them to our house."
While filling a need for the local community, the store needs some work to fit the Roushes' plans, including more warehouse space, more staff and some new amenities. To pull all of that off, they received a competitive grant from the U.S. Department of Agriculture's Healthy Food Financing Initiative that will help defray the expansion cost.
The grant program is designed to increase access to healthy foods, provide new market opportunities for farmers and ranchers, stabilize small and independent retailers, and create quality jobs and economic opportunity in low-income communities.
Center of everything
Calling LaDow's Market a grocery store undersells the variety of services it provides to the citizens of Lebanon. The front window serves as a community bulletin board with flyers for fundraisers, events and other happenings in and around town. Inside are groceries, of course, but it's also a department store with sections for small appliances, pet supplies, snow shovels and an assortment of other items. The lunch counter begins drawing diners around 11 a.m. for sandwiches, coffee and conversation.
The market is as central to the social lives of Lebanon residents as the city is to the rest of the country — well at least 48 states, anyway. Lebanon is a little over 2 miles southeast of the geographic center of the lower 48. 
Beyond a marker, a guest register and a small chapel once featured in a Super Bowl ad with Bruce Springsteen, there's not much else to draw travelers off U.S. 281 or U.S. 236, the two closest highways.
But for locals, LaDow's Market and its groceries, other goods and community are another reason they don't have to frequent those highways as often to nearby cities like Red Cloud, Neb., Smith Center, Downs or Mankato.
"At the end of the day, we own a grocery store in a town of 250 people," Kaden says. "Every metric known says we shouldn't be here and we shouldn't exist. Yet we're here, and the community appreciates it and values it enough that they shop with us."
Stocking up
The Roushes intend to use the USDA HFFI grant to add a 1,000-square-foot cold storage locker inside a new 7,200-square-foot warehouse that will be built next to the store. The space will benefit the store and serve as a home for R Family Farms' e-commerce business, with the bonus of using the same workforce in some instances.
"Moving the meat business up here will allow us to cross-utilize labor," Kaden says. "If we have downtime with staff in the grocery store, they can jump over and pack boxes or pick orders."
The Roushes also plan to add new, energy-efficient equipment inside the store and are hopeful the HFFI grant will help open additional doors.
"Our plans are to use the grant funding and stack other opportunities on top of it," Emily says. "None of this would be possible if it weren't for the grant funding, especially with the way (construction) prices are today. There's no way we'd be able to tackle such a project without swimming in debt."
Kaden says getting the USDA grant shows others who provide grants that their money will be leveraged with other funding.
"A lot of the foundations that will invest money in projects like ours like to see that seed funding and know they're not trying to swing the whole project themselves," he says.
Growing the community
LaDow's was owner-operated prior to the Roushes purchasing the store, which meant long days for the operators with little opportunity for rest or relaxation. The Roushes knew their other jobs wouldn't allow them to be heavily involved in the day-to-day operations of the store. In addition to co-owning R Family Farms, Kaden is a part-time loan officer, manages a cattle herd, grows crops and sells seed while also serving on the volunteer fire department. Emily is the city clerk two days a week, the marketing manager for R Family Farms and does the grocery order for the store each week. They have increased the staff to five, with hopes of adding a part-time position soon and more as the business grows.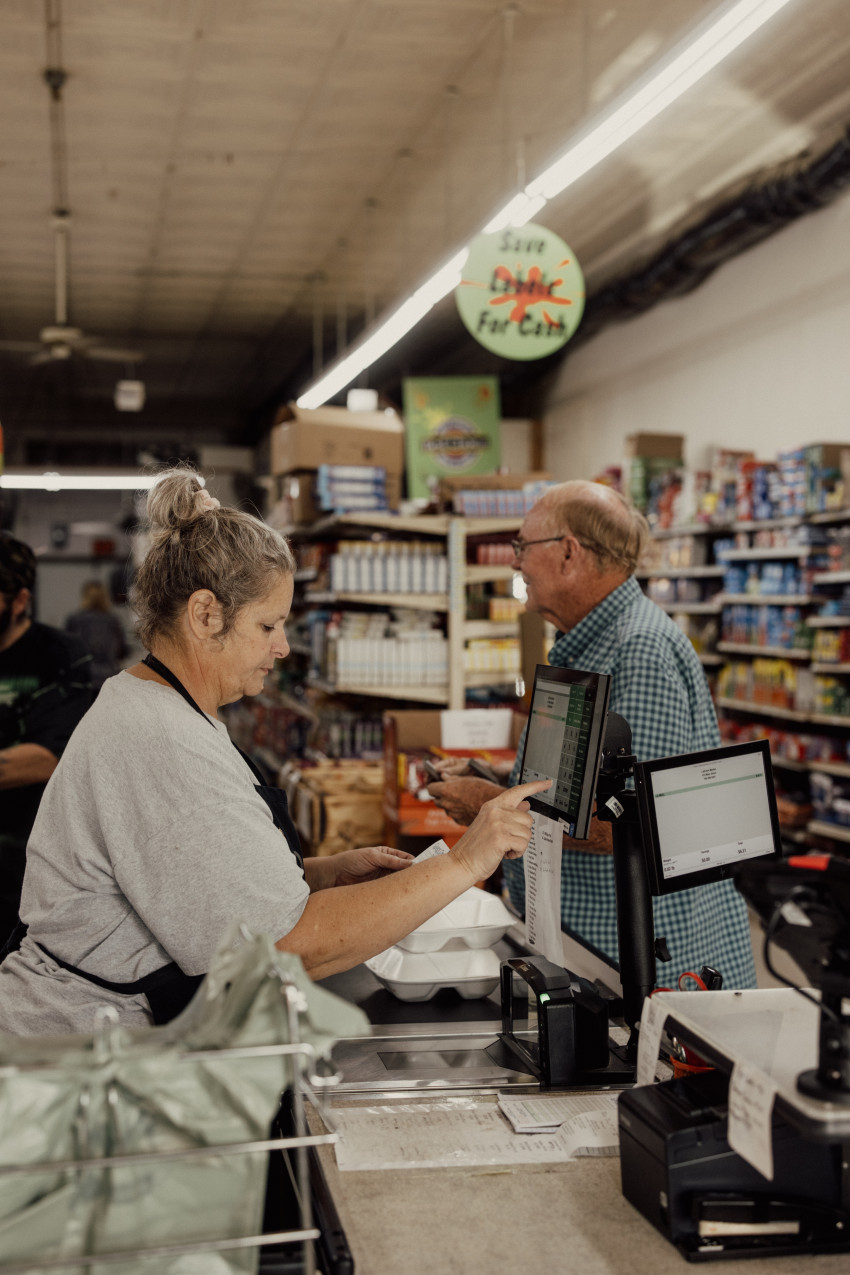 "We've been very blessed," Kaden says. "We went around and recruited, and we were able to get our 'A-team' put together."
The jobs come with paid vacation, a health care stipend and above-average wages, in addition to Sundays and most holidays off.
"We decided paying more was worth it to get the right people here," he says.
One of the biggest rewards for Emily was hiring a store manager and seeing her move to town.
"It feels good that our employing her was able to bring a young person to town," she says.
Preserving a future
The Roushes never intended to own and run a grocery store, but they've embraced the opportunity to see how far they can advance the business. 
"It just kind of fell into our laps because we were looking for someplace to move our e-commerce business and another place to sell our meat," Emily says.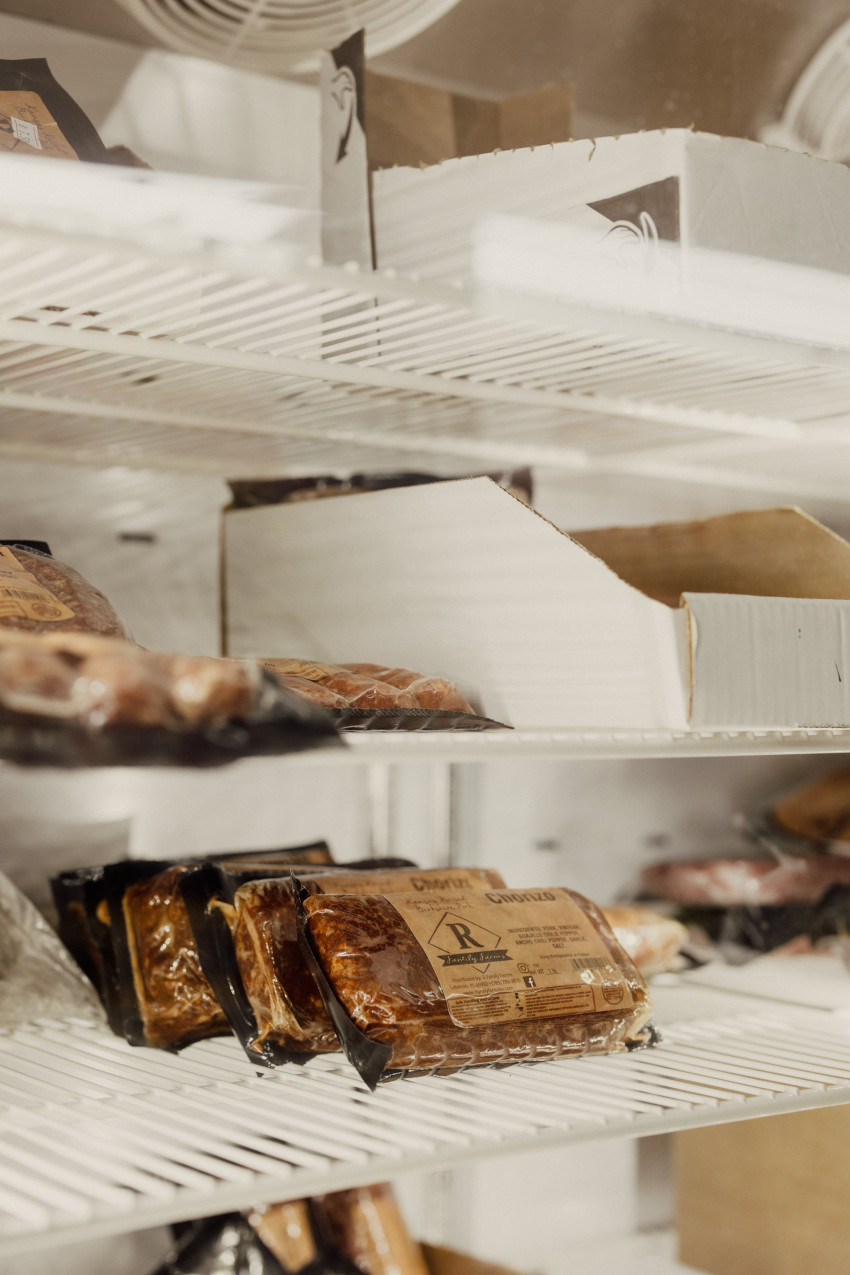 Now LaDow's Market is preparing to launch a website and take online orders with the goal of offering delivery, amenities the other stores in the region don't offer. Those are the short-term goals. Farther-out ideas are even more ambitious.
"We do have wild ideas of keeping the store open 24/7," Emily says with a laugh.
Kaden jumps in to add the round-the-clock shopping would be enabled by automation. He envisions a membership-based service where people can unlock the door with a passcode on their phone. The lights come on automatically and they can scan items as they place them in their cart.
"That way they can shop the night before Thanksgiving when they realize they forgot to pick up milk and a stick of butter," he says. "Those types of models might not work in big cities, but in a place like Lebanon where you know everyone on a first-name basis, we already have that trust established."
LaDow's Market met some of the initial needs R Family Farms had for a retail location, and the Roushes will continue to fine-tune the business to serve their community, but they don't expect the grocery business will win any contest for gross margins.
"We didn't buy the grocery store to get rich," Kaden says. "We bought it to preserve our town and continue to provide access to food for our community."
---