Small town in Kansas uses grain bins to revitalize downtown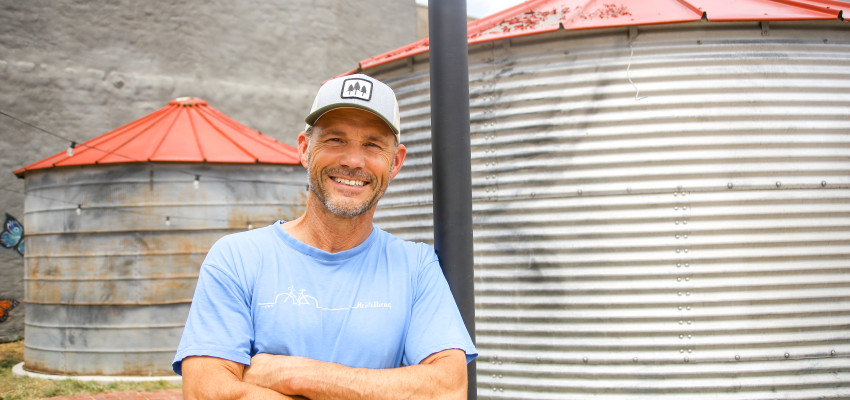 Kingman is the home of the Eagles and a population of around 3,000 people; but its downtown area is coming back to life, thanks to work of Scott Mueller and his dad, who goes by Chalk.
Mueller, who grew up in Kingman, calls himself a "place person" – making it easy for him to be proud of his roots when he moved to California for 30 years.
"I was always proud to say I was from Kansas," Mueller says. "The history of Kingman, the classic small-town feel with community pride makes it easy to want to help it thrive."
Kingman is indeed rich in history. A man named Donald R. "Cannonball" Green developed a stage line in 1876 that connected the railroad to towns across southwestern Kansas. Green also carried the mail from Wichita to Kingman with his trusted team of horses. A stretch of Highway 54 between Kingman and Greensburg is now known as the Cannonball Highway.
Brick by brick
When Mueller was in California, he and his wife, who is from Salina, would come back to Kansas to visit for holidays and would notice Kingman starting to go down a path many small towns in Kansas travel.
"Jobs were going elsewhere," Mueller says. "The draw to live in a small town for all its benefits wasn't enough. I was watching this in front of my eyes, and it was kind of depressing."
With an interest in real estate and a love for his hometown, he noticed a building with no roof and had water coming in when it rained, its previous owner having walked away from it. Instead of seeing the dilapidation, he saw opportunity.
"I saw the building, and thought, 'I can do something to help give the town a little nudge,'" Mueller says. "We carried out so many buckets of debris. We didn't even really know what we had until we cleared everything out."
Mueller, with his dad, fixed up the building and before it was even completed, they had it rented out. Within the building on Main Street is a financial adviser, an art gallery and a vintage store.
Grain bins a plenty
Mueller is a person who is always moving, always thinking, always doing. That set the stage for his next adventure in real estate renovation for Main Street Kingman.
"I was riding my gravel bike in the Flint Hills, and as my wife would tell you, my brain's always going," he says. "I was going by all these grain bins. Since I'd bought another dilapidated building, which fell down and was an empty lot at that point, I thought, 'What if we put grain bins in there as a pop-up flea market or farmers market or outdoor market.'"
The first person Mueller called was his dad, who used to farm and ranch and knew a lot of the area farmers in Kingman.
"I wanted to do something with my dad because he isn't farming anymore, but is still able to help," Mueller says. "I called my dad and told him what my idea was, and he didn't laugh or call me crazy."
Chalk is 86 years young, and just like his son, likes to be busy.
"The great thing about my dad and his young-at-heart spirit is how supportive he was of this idea," Mueller says. "I told him I needed him to find me five grain bins."
Not one for settling small, Chalk outdid himself.
"The next day, he calls me and said, 'I have 18 grain bins. What do you want me to do with them?'" Mueller says.
"They're everywhere!" Chalk replies.
Eventually, they went with the five grain bins that were closest in proximity to Kingman's downtown since moving them was a big task. Once the bins were placed on poured rounds of concrete for each one, the Binyard came to life.
Binyard, rhymes with vineyard
The Binyard is set up as a place for entrepreneurs, young and experienced, to sell their goods. There are often clothes, baked goods, jams, flowers and you can expect pumpkins this year.
"There's an 11-year-old entrepreneur growing pumpkins and selling them for his college fund," Mueller says. "He was selling out when he would sell them from him home, so he planted a few more acres. I told him he was welcome to sell them at the Binyard for free because I love what he's doing. His mom told me I should still charge him the fee so he understands the business side of having input costs. I told his mom that's her decision, but either way, pumpkins are going to be at the Binyard from September to Halloween."
Reserving a bin at the Binyard costs just $20 per day for a 155-square-foot space with lights and electrical outlets. Not to mention the cool factor of it being in an old grain bin.
"It's all online," Mueller says. "You book a bin on the website; you pay for the bin on the website. The website, our Instagram and our Facebook will tell you what's going to be there that day."
Weekends are the best time to visit the Binyard – there's a higher likelihood of entrepreneurs looking to sell. This fall, make a stop by Kingman's Binyard – perhaps buy a pumpkin or two.
For more information about the Binyard, visit www.thebinyard.com. 
---