Kansas School District Makes Agriculture a Community Effort
Bluestem School District provides new learning opportunities for their students.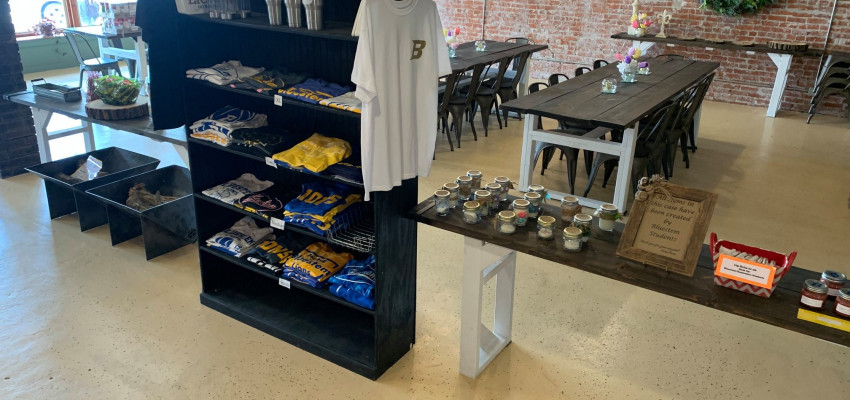 "Why can't we do that?" seems to be the motto of USD 250 Bluestem School District superintendent, Joel Lovesee. He's served the school district for 14 years and led as superintendent for nine. With an outgoing personality and can-do attitude, big things have happened in this small school district, located in Leon. The latest census puts this Butler County town at 669 people.
"I like little towns; I like knowing everybody," Lovesee says.
Lovesee's love of this little town has contributed to the creation of the Ag Academy and Bluestem Mercantile. Both ventures have been beneficial for the schools and community of Leon.
School in a Barn
The Ag Academy is an educational opportunity for students at Bluestem Elementary to learn about agriculture – and they get to learn in a barn. Ag Academy teacher Barb McCaffree saw the impact animals have on youth because she provided horse therapy for students on her ranch. She wanted to bring opportunities like that to the students of Bluestem. Lovesee knew McCaffree was considering retirement and asked what it would take to get her to stay.
"A barn," she said. With McCaffree's passion and Lovesee's desire to do his best for the students, the barn was built.
"My whole job is to make sure there's money to pay the bills," Lovesee says. If you have a great idea and tell me how the kids are going to benefit by the next day, we're going to get it, we're going to do it. To me every program I design is an investment."
In that barn, McCaffree teaches students ranging from kindergarten to sixth grade about various aspects of agriculture. The students learn responsibility through caring for and feeding livestock. McCaffree says the students enjoy coming to school because they get to help with animal chores, like collecting chicken eggs and putting them into cartons that are sold at the Bluestem Mercantile.
Growing Students and Community
The Bluestem Mercantile, a storefront in Leon that sells a variety of items including home décor, groceries, seasonal items and so much more, began in 2020 and continues to grow. Lovesee wanted to find a way to foster relationships between the school and community as well as develop the town and its students.
"It's really all about expanding our community," Lovesee says.
Creating the Bluestem Mercantile didn't happen overnight. The project started when Lovesee developed an entrepreneurship class at the high school. The class sold candy out of a candy machine they purchased from eBay and then they moved to selling coffee in the library. When a storefront came up for sale in Leon, Lovesee took what was originally a bank and turned it into a student-run grocery store.
After the purchase, Lovesee applied for a grant and was awarded $17,000 from the Rural Grocery Initiative, a program at Kansas State University that aims to sustain locally owned rural grocery stores. The funds helped them get the Mercantile organized and functioning.
"We bought all our coolers, our racks, our initial inventory and our point-of-sale system," Lovesee says.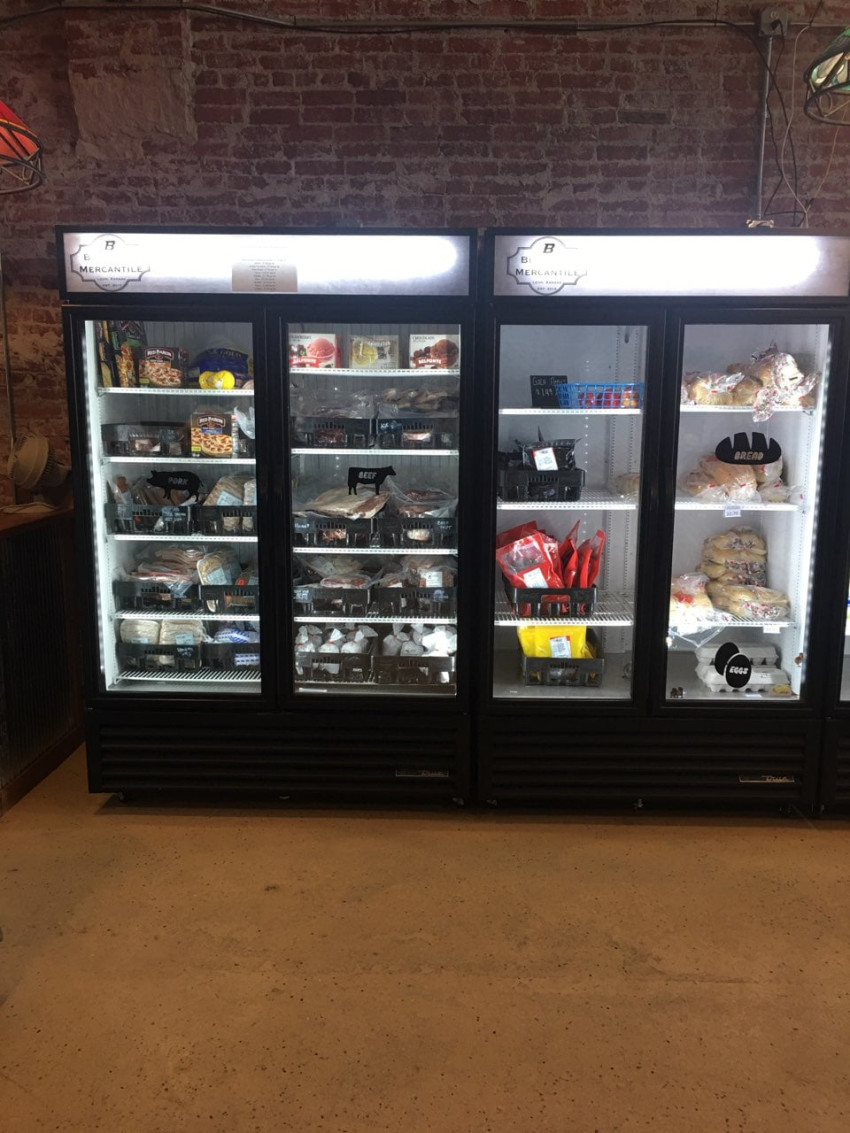 After the purchase, teacher in-service days came with an option.
"I gave teachers the option to come down and said, 'You can do curriculum at the school, or you can come paint and clean at the Mercantile,'" Lovesee says.
Teachers became painters.
Growing Experience Through Hands-On Opportunities
Bluestem Mercantile is under the supervision of special education teacher, Amie Oltman. She finds value in the Mercantile because she's seen her students grow exponentially from their experiences there.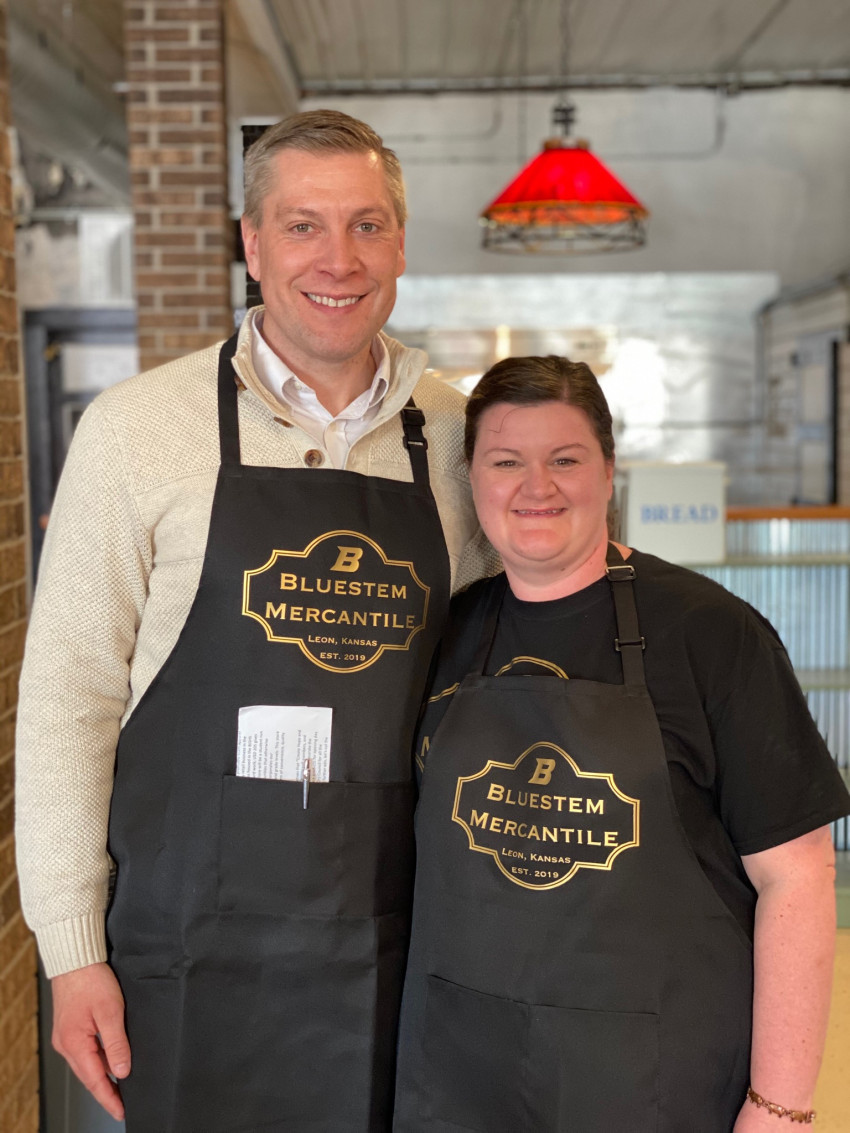 Oltman shares how one student was developmentally behind and had a hard time speaking so others could understand him. As he spent time working at the Mercantile his speech teacher made goals he could complete at the Mercantile. Oltman shares that today the student has finished speech therapy, speaks with every customer and will graduate high school this year.
Working at the Mercantile isn't the only things students do. They also decide what items and how much they should buy for the store. Oltman says some of their choices and outcomes have surprised everyone.
 "The highest selling items are the ones they picked out," Oltman says.
After the first year of operation, Bluestem Mercantile grossed more than $100,000.
"We're just doing what we're doing, and it just keeps growing," Lovesee says.
Lovesee and the staff of Bluestem Schools have expanded the Bluestem Mercantile. Within the Mercantile they have the Team Store, which can create vinyl cuttings and team T-shirts. There is also a room where students produce commercials for the business. Bluestem Mercantile has allowed students to grow and try new things and Lovesee doesn't plan to stop working to create beneficial opportunities for the students of Bluestem.
"I want them to leave knowing something," Lovesee says.
---