A School for Kids Who Love Chores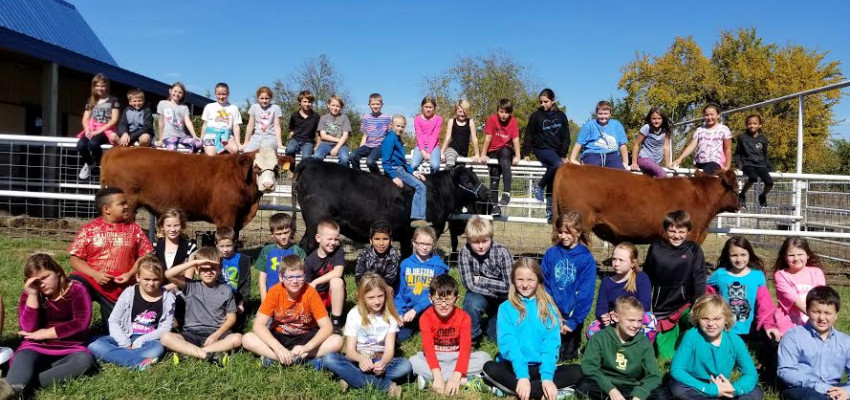 EDITOR'S NOTE: Many of us don't have daily interactions with agriculture besides enjoying that delicious glass of milk for breakfast or that juicy hamburger for dinner. Some teachers and schools are using agriculture and farm life to teach important subjects like reading, social studies, math and science. This story first appeared on the Kansas Farm Food Connection website (www.kansasfarmfoodconnection.org) as a feature of one Kansas school that is bringing agriculture and learning to life.
Can you imagine your kids being disappointed if they don't get to do their chores? At Bluestem Elementary School in Leon, this happens.
"Behavior-wise in my classroom, it's first, you get a warning, second you lose recess, third you don't get to do chores," fourth-grade teacher Barbara McCaffree says with a laugh.
What kind of chores are we talking about here, exactly?
Several years ago, Bluestem started incorporating agriculture into their curriculum. This isn't your run-of-the-mill classroom unit about life on a farm. They encompass agriculture through hands-on learning at their barn, greenhouse and chicken coop.
Every subject — reading, social studies, math, science — draws on agriculture, and many activities revolve around caring for their animals.
"It adds a sparkle to the students' day. It adds a sparkle to the teachers' day, too. We can apply so many educational skills to this," McCaffree says.
They got the idea from Walton Rural Life Center, which is part of the Newton School District. Walton is a charter school for kindergarten through fourth grade that uses an agriculture-based curriculum.
Agriculture themes are introduced in all subjects and students in different grades help care for the animals at the school's barn.
When a group from Bluestem toured Walton eight years ago, they were inspired.
"We looked at our principal and said, 'We could do this,'" McCaffree recalled. "I thought it would be awesome."
McCaffree and her "partner in crime and computer guru," fellow fourth-grade teacher Angie Greene, helped spearhead the effort, which started with a lot of research. The staff at Walton answered questions along the way and the Kansas Foundation for Agriculture in the Classroom provided a wealth of resources. Today, McCaffree manages the greenhouse and barn while Greene helps run the technology aspect of the program.
"All of us are affected by farmers and ranchers," McCaffree says. "Our 'ulterior motive' is for students to appreciate what farmers and ranchers do for us."
What does the curriculum look like? Here are some of the topics and themes they cover:
• SCIENCE: Units on human skeletal and digestive systems will compare those systems to animal anatomy. How is having one stomach different from having four, like a ruminant? Which bones do humans have in common with chickens?
• READING: Using books from Kansas Farm Bureau's Kailey's Ag Adventure series and other sources, students read about agriculture as a topic while honing skills like comprehension, grammar and punctuation.
• MATH: A unit on Kansas crops such as wheat, sorghum, corn or soybeans is a perfect opportunity for students to measure and track the growth of plants in the greenhouse.
• SOCIAL STUDIES: When students research and write reports about U.S. states, they include interesting agricultural facts, like top crops or animals produced there.
The school keeps chickens, goats and calves. Many of their ag efforts support the school while also reaching out into the community. For instance, some of the eggs students gather are sold to staff and family members.
Plants grown in the greenhouse serve as feed for some of the animals.
The school holds a giant spring sale offering tomatoes and peppers they've grown. Some of their cattle are auctioned or the meat is raffled off.
They supplied beef for hamburgers at a concession stand during an event.
The community has embraced the program in return, supporting the school and its efforts. Local farmers and ranchers have donated hay and even calves.
"That support is just amazing," McCaffree says. "The farmers and ranchers who support us that way is so nice. We certainly appreciate it."
And getting back to those chores….
On weekends, when McCaffree stops by to care for the animals while school isn't in session, her students will say, "Mrs. McCaffree, come get me. I want to do chores this weekend!"
"It's just amazing," she says.
If you're interested in introducing an agricultural component to your school's programming, McCaffree and Greene recommend starting with the resources at Kansas Foundation for Agriculture in the Classroom at ksagclassroom.org, and talking with schools that have successfully integrated a program. Your school might end up being the inspiration for another school. Better yet, and most certainly, it will be an inspiration for your students.
You might like this recipe:
---