What Happens During Fall Harvest on Kansas Farms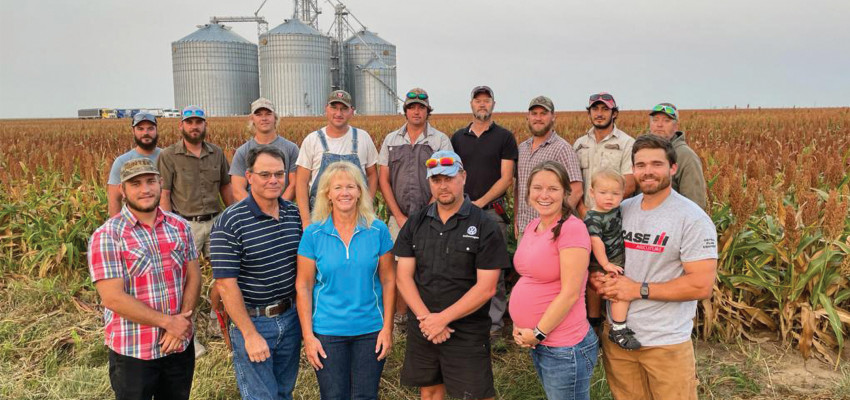 THE SUPER BOWL OF KANSAS FARMS
"Harvest is like our Super Bowl," Paige Clawson says. She and her husband, Kurtis, farm in Haskell County in southwest Kansas. She explains a good harvest can make or break a year's worth of work.
"It's our paycheck," she says. "Our employees get paid every two weeks, but we get paid twice a year. And the scary part is you don't know what you're going to get paid until you're harvesting. It can be exciting but also disappointing."
The Clawsons grow corn, milo (also known as grain sorghum), wheat and triticale, with the corn and milo being harvested in the fall. She says fall harvest begins in September, and some years they're done by Halloween while others they're still working through Thanksgiving. It all comes down to Mother Nature.
You'll never hear a farmer complain about rain, but it's a double edged sword during harvest.
"If rains come in and it gets too muddy, we leave ruts in the field and can't get the crop out," Clawson says. "We also want moisture because we're planting crops as soon as these are out of the field. We're praying for rain, but we're also hoping for windows of time to get things done."
To ensure they're as efficient as possible, the Clawsons hire 10 employees from South Africa through the H-2A visa program, which is through the U.S. Department of Labor. This program allows immigrants to lawfully work for agricultural employers in the United States on a temporary basis. These workers supplement their normal staff, which includes Paige, Kurtis, Kurtis' parents and one full-time employee.
"The H-2A program helps us hire temporary workers we can't otherwise get," she says. "They join us for three to 10 months of the year during the crop-growing season. Without these employees, we wouldn't be able to harvest our own crops."
Another bonus of these employees is their skills and background.
"A lot of them have farms of their own back home, so they bring some experience and gain experience while working for us."
HARVEST IS FAMILY FOCUSED
Farm families know it takes an all-hands-on-deck approach to make things function during harvest. Brett Neibling farms with his dad and uncle in Doniphan and Brown counties, where they grow soybeans, corn and hay. They also raise cattle.
"From September through November, harvest is our entire life," he says. "We plan everything around it. You wake up in the morning thinking about harvest and go to bed thinking about harvest. It's intense."
For the Clawsons, having two young children — Max, 2, and Natalie, 6 months — adds a cherry on top of the harvest hubbub.
"Harvest is one of the most beautiful things to see. You've worked all year and you see it come to life. As a parent, it's fun to get to share it with your kids because it's what we love to do."
The idea of watching your work thrive also appeals to Matt Splitter. He and his wife, Jana, farm in central Kansas where they raise corn, soybeans, wheat and milo. He says growing crops teaches you patience.
Splitter compares fall harvest to having a reset button.
"You planted a crop in the spring, you take it through a growing season, you reap the rewards and then you can reset," he says. "If it's a bad year, we say we try again next year. If it's a good year, we reflect and look back on the blessings of the year."
MACHINES ARE PUT TO WORK DURING HARVEST
Besides people, machines play an integral part of harvest. Combines get the grains out of the fields. These machines cut the plants, then separate the grain from the plant and spread the remaining material over the field. The collected grain is dropped into a grain truck to be moved out of the field and into storage or sold.
When things are clicking, these machines are efficient. When they're not, they add another level of stress to an already stressful time. Neibling shares one of his now-favorite harvest memories.
"An employee called me on the radio and said he had a problem. I asked him what the problem was, and he said he had fallen into a hole. When I arrived, I saw the combine was sitting on its back end inside a 15-foot hole. I couldn't believe it!"
He shares it wasn't funny when it happened because it took time away from wrapping up harvest and he was concerned about his employee's safety, but today it's an inside joke since everyone was OK. They tell anyone who goes to that field to watch out for holes.
If you've never experienced the joy of sitting in a combine and watching the field get harvested or enjoying a delicious homemade meal on the back of a tailgate, many farmers will tell you, you haven't lived. Neibling agrees and says you can only appreciate harvest by experiencing it.
"It's something you can't explain," he says. "If anyone has the opportunity to experience it, they should." 
---