Keeping The Kansas Workforce in Kansas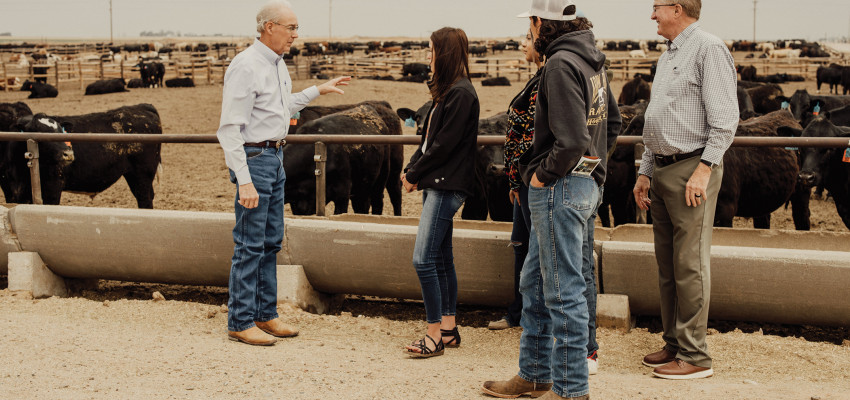 Zoe Alba, a freshman at Garden City Achieve High School, stood outside Hy-Plains Feedyard in Montezuma, while owner Tom Jones explained the different genetic traits of cattle. Alba and the other students listening to Jones all had one thing in common — a passion for cattle and ranching.
It's those kinds of passions Jones and other business owners and educators hope anchor students to the area to become vital pieces of the southwest Kansas economy.
"We want them to know what kinds of opportunities there are and what kind of a life they can make right in or near their hometowns," Jones says.
Alba was one of 100 students from eight schools in southwest Kansas and Tyron, Okla., who attended the event aimed at showcasing opportunities in western Kansas, which was held in late April at the feedyard.
"I'm interested in the cattle industry, so I thought today would be a good chance to see what's out there for jobs," Alba says.
Since Alba is a freshman, she says her exact career path isn't known, but a showcase like this could help her decide and point her in the right direction.
"With the right chance, I would stick around southwest Kansas," she says.
SHOWCASING WESTERN KANSAS TO STUDENTS
Alba and other students were part of the spring Hy-Plains Western Showcase, a summit designed to educate students on southwest Kansas industries and attract them to opportunities in the area.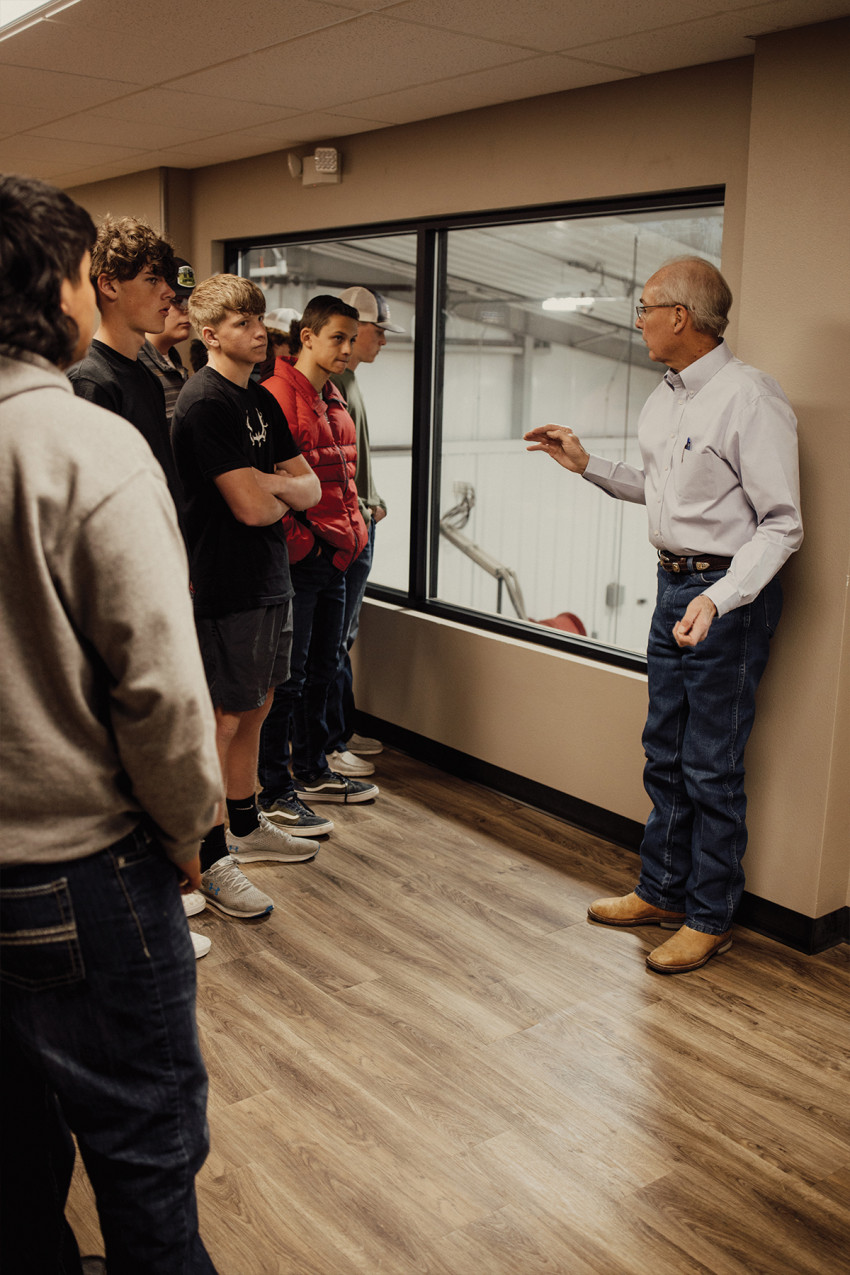 Two other showcases have been held at Hy-Plains, and one at the Southwest Plains Regional Service Center in Sublette. The next one is slated for September. The events have reached more than 500 students.
Jones has been instrumental in forming the showcase and serves on the Advantage Kansas Coordinating Council. The council was established in 2021 to help align education with state agencies and business needs, including workforce development.
Joe Coles from Coles Consulting serves as an educational consultant and has assisted Jones in the development of the showcase.
"Tom really got things going when he started having a leadership day where he taught students about agriculture," Coles says. "That got the ball rolling on this. He started this in Gray County as an effort to try to keep students around to help the economy there."
Since then, the showcases have grown to include informational days for school counselors and educational days for students.
"The reason we do this is to show students what kind of work is right here in southwest Kansas," Coles says. "We have smaller, shrinking communities, and we want to keep these communities vibrant. There is opportunity for them here to make a good living."
In addition to Coles and Jones, the showcase in Montezuma featured speakers from the Kansas Principals Association, Trane, Foley Equipment, Davis Electric, Hutton Construction, MJE Livestock Equipment, Weber Heating and Cooling, Dodge City Community College, Garden City Community College, Seward Community College and Tatro Plumbing. Rep. Boyd Orr was also featured as a speaker during the showcase.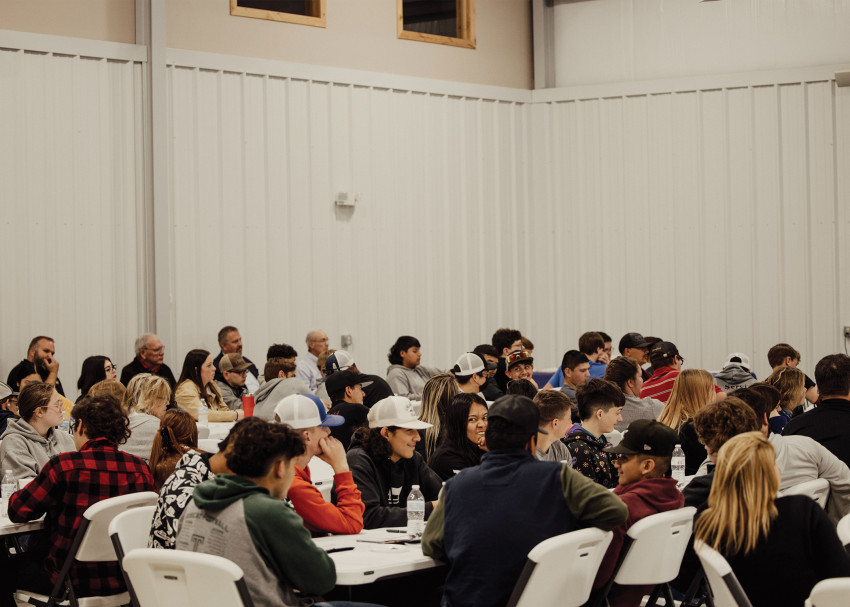 Jones says he hopes the showcases impact students and influence the kind of future they see for themselves. He provided tours of the Hy-Plains facility and urged students to stick around southwest Kansas.
"There is so much going on here in the state, and so many plans and options for the students," Jones says.
Dan Whisler, educator in residence for Trane, works with school districts across Kansas to lead the BTU Crew PBL energy education program, which is a K-12 STEM education program that takes a project-based learning (PBL) approach to help students learn about energy while increasing their analytical and problem-solving skills and exploring future careers.
Whisler told students about the opportunities with energy-related jobs like wind turbine technicians and energy analysts. These types of technical jobs are available, no matter where you are.
"We want to give everyone the same opportunity despite school size and location," Whisler says. "And technology can do that.
KEEPING TALENT IN KANSAS
Kansas builds its talent but sees issues in retaining what it builds.
"We are 47th in the nation at keeping students in the state," Clayton Tatro, vice president for workforce development at Dodge City Community College, says. "What's the biggest export of Kansas? Our talent."
Tatro says 25 percent of jobs in the current economy require a four-year degree, while 65 percent of jobs right now require a technical degree.
"We've spent the last two generations telling students to go get a four-year degree," he says. "Then we sent the last 30 years of manufacturing overseas."
Tatro says there are plenty of opportunities for students who want to earn two-year or four-year degrees, but the focus during the showcase is on technical careers and opportunities.
"This is such a cool opportunity," Tatro says. "My passion is getting kids involved in tech ed. These students are passionate about things like construction, welding, diesel, farming and ranching. We specialize in hands on learning and putting students directly to work."
LEARNING WHAT MATTERS
Bob Kreutzer, who is retired from Tatro Plumbing but is part of the Advantage Kansas Coordinating Council, said students should learn about opportunities, meet employers and be a team player. He talked about why high school classes are important, even if students don't plan to go to a four-year university, and what skills are needed to succeed in the workforce.
"As you go away from here today, look at your possible careers and think about it," Kreutzer told the students attending the showcase in Montezuma. "Talk to other people who aren't here today. Bounce ideas off them. Help them help you decide.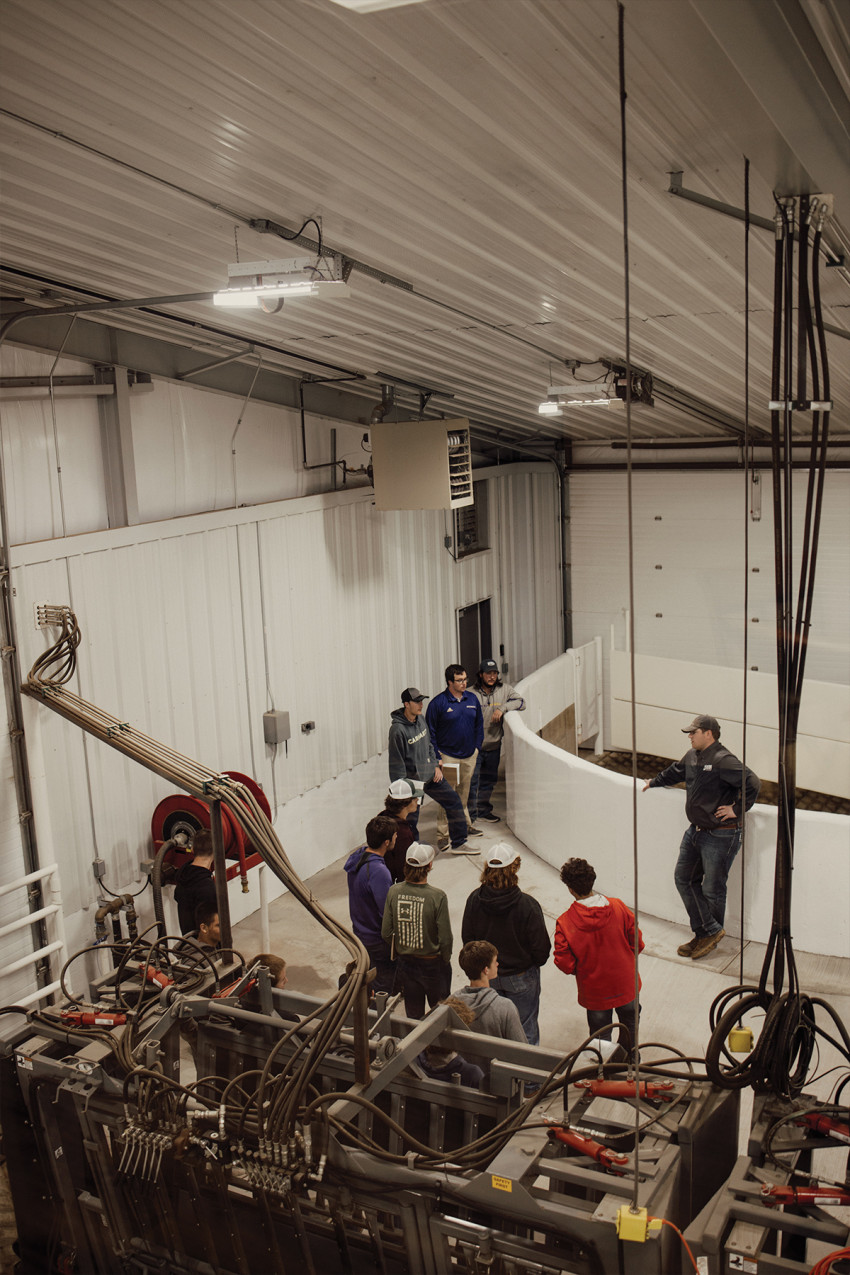 "You should love what you do," Kreutzer continued. "It won't be easy, but it can be an absolute joy when you figure it out."
DISCOVERING THEIR INTERESTS
Success can be measured in several ways, but for Coles, it's learning about students who are making connections to businesses they're interested in.
"In all my years of doing what we do, when we can help one person, it's a success," Coles says. "We've already gotten direct feedback that students are reaching out to businesses."
Coles says despite what the future brings for southwest Kansas students, he hopes those with correlating interests consider remaining in that corner of the state.
"We want them to find a career they would do for free, but they get to make a living and have a life they are passionate about. We hope they find that here," Coles says. "We believe what makes this more than just a career day is how it's a process. The leadership skills and training integrated into the experience for the students make these events more than just learning about careers — they also learn how to be successful in their chosen career and community," Coles says.
Alba is considering staying in southwest Kansas and will choose an educational path as it aligns with potential future careers and opportunities.
"It was good to see what kind of jobs are here in southwest Kansas," Alba says after the showcase. "It definitely got me thinking about my future and the kinds of jobs available to me." 
---