By

Chef Alli

on

December 10, 2021
15 Cooking Hacks For Everyone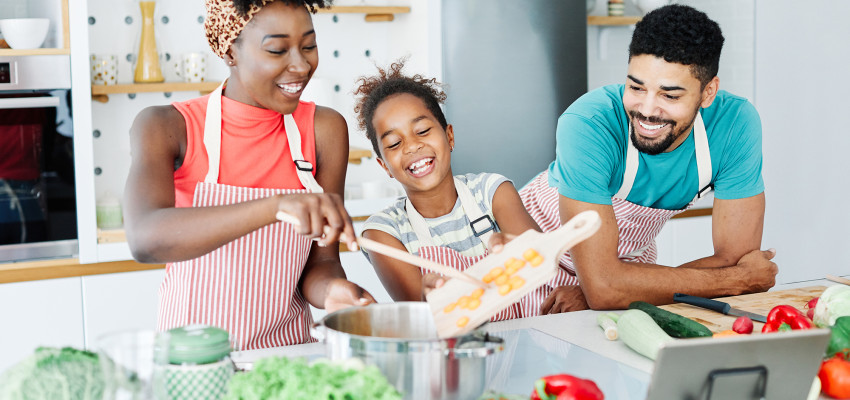 These tips can make recipes more flavorful, cooking more fun and every cook more successful.  
1. SOAK YOUR APPLES IN SALT 
The best way to keep sliced apples from turning brown is to place the apple slices in a bowl of cool water then add a sprinkle of kosher salt. Let the apples soak for 5-10 minutes, then use as needed for your fruit tray. No more apple browning, and this technique is easier than using lemon juice.  
2. FREEZE YOUR FLOUR 
The first step of many pastry crust recipes is cutting very cold butter into flour. If you can cut that butter into ice-cold flour, the butter can stay cold longer. Why does this matter? If the pastry dough stays chilled as you are preparing it, you can immediately roll it out. Otherwise, you must chill the dough for a few hours before handling.  
3. SOAK YOUR ONIONS 
Are your diced onions a bit too strong in flavor? Give them a quick soak in some lime juice. The lime juice adds a bit of acidity to the salsa or pico de gallo you're making.  
4. FLUFFY PANCAKES AND WAFFLES ARE ESSENTIAL 
Who doesn't love fluffy flapjacks and waffles? For feather-light pancakes, gently fold whipped egg whites into the batter. For waffles, substitute ginger ale or club soda as part of the liquid your recipe calls for.  
If you're making waffles or pancakes for a crowd, prepare them just ahead of time, placing the pancakes or waffles onto a cookie sheet and into a 200 F. oven. This keeps them warm and ready to serve all at once. If you have a lot of pancakes or waffles to keep warm, place parchment paper between the layers.  
5. BROWN MUSHROOMS THE RIGHT WAY 
When browning mushrooms, add the mushrooms to a dry skillet and let them cook, gently stirring every few minutes. Once you see the moisture release itself from the mushrooms and evaporate, add butter, cooking until the mushrooms are nicely browned. Only season the mushrooms with salt once they are fully cooked.  
6. BREADCRUMBS TO THE RESCUE 
Picture this: you're out of the French-fried onions you like to put on top of your casserole. Instead, brown some butter in a skillet, add Panko breadcrumbs and cook for a minute or two. Spread over the top of your casserole and bake as usual. This technique also works with regular breadcrumbs.  
7. FREEZE YOUR FRUIT 
Did you know you can freeze citrus whole? If you've got a lemon or lime that's looking a bit past its prime (or maybe you have too many on hand), toss them into the freezer. You can pull it out later to zest while frozen, or thaw and juice.  
8. NO MORE BROKEN TACO SHELLS 
When heating taco shells, sprinkle some shredded cheese inside each one during the last minute of baking. The melted cheese will work as glue inside each shell, helping the filling stay anchored inside. The melted cheese can also keep the shells from breaking.  
9. ADD COFFEE TO YOUR CHOCOLATE 
Anytime you're baking chocolate cookies, cakes or brownies, substitute strong coffee for a good part of the liquid your recipe calls for. Coffee and chocolate complement each other perfectly.  
10. SUBSTITUTE PORKRINDS FOR BREADCRUMBS 
Are pan-fried pork chops or country-fried steak fingers on the menu? Grind up pork rinds and substitute them for the breadcrumbs. 
11. MAYO MAKES FLUFFY EGGS 
By adding a bit of mayo to beaten eggs, you will create the fluffiest, most tender scrambled eggs of your life. You can also substitute mayonnaise with butter to create the crispiest grilled cheese.  
12. ELEVATE YOUR FRENCH TOAST 
French toast can totally be elevated to a new level with just one ingredient trade-out. Substitute RumChata or Bailey's Irish Cream in place of the milk. You've got a new breakfast and brunch favorite. 
13. MINCE YOUR GARLIC AHEAD OF TIME 
If you hate mincing garlic right in the middle of a recipe, try smashing and mincing several cloves of garlic at one time. Then, place 1-2 tsp. into an ice cube tray, then fill each one with olive oil before freezing solid. Move the cubes to a freezer bag and keep them handy in your kitchen freezer. As a bonus, these frozen cubes can be tossed right into what you're cooking without being thawed first.  
14. PIE CRUST COOKIES 
Did you grow up eating cinnamon-sugar spiral cookies? My mom liked to combine her leftover pie dough scraps before rolling out the dough, brushing the cookies with melted butter and sprinkling with sugar and cinnamon. After she rolled up the dough, she sliced the cookies into 3/4-inch spirals and baked the cookies until they were golden brown.  
15. BETTER THAN BOUILLON  
There is one ingredient my kitchen is never without: Better Than Bouillon paste. This is a concentrated bouillon paste usually added to water to make a broth. I add the concentrate itself in small amounts to give dishes a more complex flavor. I keep several flavors on hand all the time.  
---