By

Chef Alli

on

November 17, 2021
Tips for Making a Christmas Charcuterie Board
If you're looking for an elegant and crowd-pleasing addition for any gathering, consider putting together a DIY charcuterie board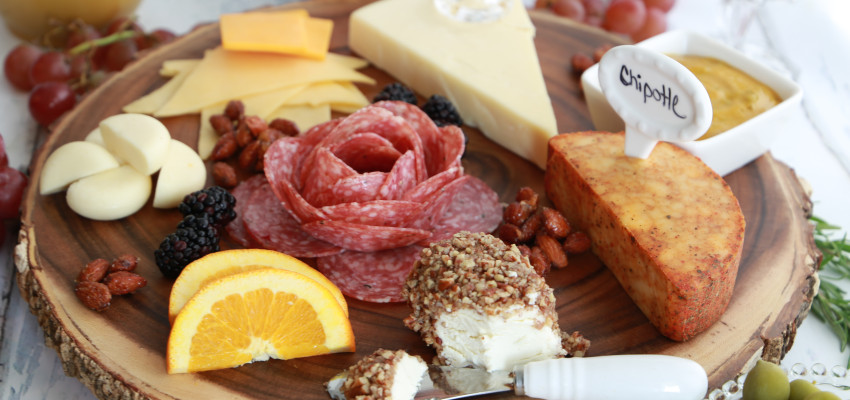 Creating a charcuterie is super fun since there are so many delicious and easy options that take just minutes to prepare. Pronounced "shahr-ku-tuh-ree," a charcuterie board is usually comprised of an assortment of cheese and cured sausages along with mustards, toasted breads, crackers, hummus, dips, fresh and dried fruits, chutney, pickles and olives — the options are endless. These six tips will ensure your charcuterie table is well planned!
1. The Guest List
Base most of your charcuterie board on the guests who will be attending your gathering. Include ingredients that will make them feel comfortable.
Are they a casual group? Go the route of basic cheeses and cured meats — white cheddar, parmesan, gouda, salami and summer sausage.
Is the gathering more black-tie? Include a few gourmet cheeses and cured meats, such as blue cheese, Asiago, brie, Gruyere, prosciutto, chorizo, pastrami, etc.
Whichever route you go, always add some interesting dips, hummus, crackers, toasted breads and fruits, plus some chocolates as a sweet treat to end the noshing.
2. Your Charcuterie Display
Choose an assortment of pretty cutting boards, marble slabs and platters, then go to town. Arrange your chosen elements to create a pleasing layout.
Another fun way to share charcuterie is to cover a table with butcher paper, laying out your elements in a pretty arrangement. Then, use a marker to write directly on the butcher paper, identifying what each element is.
Sometimes it's helpful to place your main cheeses and meats at the center of your display, adding the odds and ends toward the outside of your boards and platters.
Lastly, add pretty herbs as a finishing touch. Fresh rosemary works especially well.
3. Portion Planning
Know this going in: your guests will eat as much as you place on your boards because everybody loves meat and cheese, no doubt about it!
As long as you've laid out adequate portions of charcuterie elements for your guests, don't worry if everything is gone at the end. This is how it's supposed to be and an indicator your charcuterie was a big hit.
If you are serving the charcuterie as the appetizer before dinner, plan 2-3 oz. of meat per person and 2 oz. of cheese per person. These portions may seem small but think of this as the "snack" beforehand, leaving room for the dinner that's following.
However, if the charcuterie table is laid out to be the main course, double the amount of ingredients per person to 5-6 oz. portions. Also, be sure there is plenty of toasted sliced bread and crackers since these make good fillers.
Another thing that is very important to consider is plate size. Smaller plates can slow down those whose eyes are bigger than their stomachs. Because smaller plates look full much more quickly, this will help your charcuterie elements last a bit longer.
4. Charcuterie Serving Suggestions
Cheese and cured meats are at their optimum flavor when served closer to room temperature instead of chilled. Set out your charcuterie elements approximately 30 minutes before your guests arrive.
Once the charcuterie elements are laid out, add ingredient markers for identification of the elements, if needed, plus some serving tools like cheese buttons, serving spreaders, small spoons, tongs and cheese knives for cutting and slicing to make it easy for your guests to place items on their plates.
5. Food Safety
Don't allow your charcuterie elements to stand at room temperature for longer than two hours. Consider using smaller boards and platters to allow for switching out fresh charcuterie items as needed.
Keeping back-up charcuterie boards in the fridge, already loaded and ready, makes swapping out the elements quick and easy.
6. Beverages
Many people associate meat and cheese with red wine, so this option is always a good one.
However, meat and cheese pairs very well with a slightly sweet white wine, such as a Riesling, as well as craft beers that are of the milder variety. Good non-alcoholic options include sparkling grape juice, ginger ale or club soda.
These beverage options will nicely accompany your charcuterie elements without overpowering the palate.
---