10 Benefits of Kansas Farm Bureau Health Plans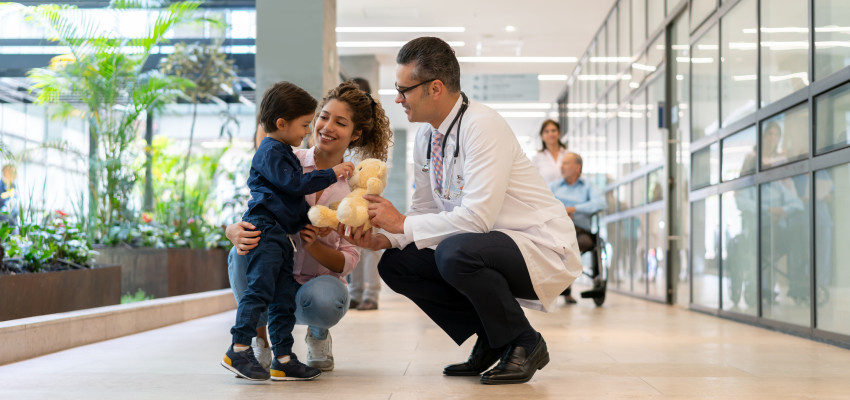 Kansas Farm Bureau Health Plans are entering their second year, with more than 8,900 covered lives. Want to add your name to the list? Read through the benefits of being covered by a KFB Health Plan and decide for yourself. We think it's worth it.
1. You'll Save Money
KFB Health Plans are meant to be affordable. Members who switch to a KFB Health Plan can save up to 60 percent compared to their current insurance.
"People consistently come back telling us they save up to 60 percent off their current coverage," Erin Petersilie, Assistant Director of KFB Health Plans, says. "When that 60 percent equals $1,000, I think we can all figure out where to put $1,000 every month, and that ability to save money is huge."
2. Enroll as a Family or as an Individual
When you enroll, the cost per individual and for a family are the same. You can pick the plan that works for you.
"People really like that it doesn't matter if you have two or 10 people on the plan, it's going to be the same exact cost, which is really beneficial for younger families," Petersilie says. "Family members can stay on until they're 26, just like they could with an Affordable Care Act (ACA) plan."
3. Plans are Portable and There is No Defined Service Area
As long as you applied with a Kansas address, you can take your KFB Health Plan with you anywhere. There's not a defined service area. If you live in a rural area like Marshall County, your doctor is probably going to send you to Omaha or Lincoln if you have a medical emergency. And you're covered either way.
"Our plans are portable, and while you have to have a Kansas address to apply, being able to take our plans with you if you leave the state of Kansas is a big benefit," Petersilie says. "Having that flexibility is important for our border counties and our members in western Kansas because Denver is closer than Kansas City. That ability for your coverage to work outside of the state of Kansas is major."
4. There is No Open Enrollment Period
With KFB Health Plans, there is no open enrollment period. You can switch to a KFB Health Plan whenever you need to, for whatever reason.
"We have no open enrollment period; you can come to us at any time, and you can change your plan for any reason," Petersilie says.
5. You Don't Need to Re-Sign Up
There is no need to re-sign up, report a change of income or do any extra end-of-the-year paperwork when you enroll in a KFB Health Plan.
"Something members really like, especially now that we're into year two, is they don't have to re-sign up," Petersilie says. "Once you're in, there's no more paperwork to do, and it's not contingent on your income. No one has to report an income change, they were already in."
6. Out-of-Network Doctor's Office Visits are Partially Covered
If you go to a physician outside of the network, KFB Health Plans will still cover part of that expense. And there's no limit on visits to your primary care physician.
"We will still cover you at a different rate if you go to an out-of-network provider," Petersilie says. "If you go to somebody out of our network, we're still going to cover a portion of that. There's a lot of plans out there that no longer do that."
7. Dental and Vision Can be Built Into Your Plan, or Can Stand Alone
KFB Health Plans offer a diverse range of options, with dental and vision being a stand-alone option or a built-in benefit.
"Some of our plans have dental and vision built into them, and that's a piece so many of our families have not ever had," Petersilie says. "On the flip side, we also have a stand-alone dental and vision plan. You can come to us and pick up a dental and vision plan that gets better with time and has some orthodontia coverage with it, and unlike many dental and vision plans, your child can stay on it until they're 26."
8. Medicare Supplement Plans
KFB Health Plans has options to supplement your Medicare.
"We offer Medicare supplement plans," Petersilie says. "They are federally regulated, and our plans are going to cover the same thing as a Medicare supplement plan from another company."
9. Teladoc
You'll have access to telemedicine through Teladoc. Doctors can treat skin problems, sinus problems, sore throats and other medical conditions. It's a convenient and affordable care option, especially if you need care immediately.
"Another one of our benefits is Teladoc." Petersilie says. "We have telemedicine attached to all of our plans so people can still speak with a physician if they can't get into their local doctor. On some of our plans, it's free."
10. Same Benefits You're Used to, and You're Not Getting Kicked Off for Being Sick
KFB Health Plans have all the same benefits you expect from your healthcare coverage.
"A lot of our plans still have the same preventative benefits you're used to with an ACA plan," Petersilie says. "Once you're in the plan, you're in. Let's say down the road you get diabetes, we will not kick you off your plan because you got sick. We also have no lifetime limits on our plans, so you don't have to worry that you've maxed out a benefit."
To find out more about KFB Health Plans and to get a free quote, visit kfbhealthplans.com.
---