Providing for the community
The Fork in the Road continues to grow and evolve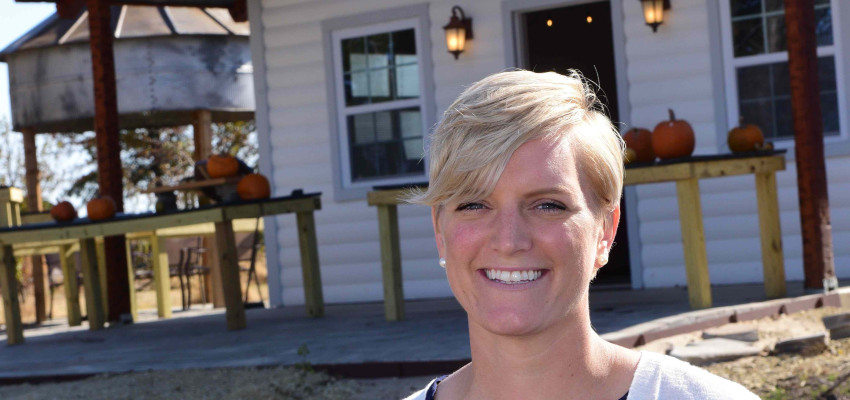 Did you know the average calorie you consume travels approximately 1,500 miles before it reaches your plate? That is, unless you buy directly from local farmers and ranchers who grow the food you eat. Then, that calorie might only travel 20 miles.
If this coronavirus crisis has made you wonder if there are local farmers and ranchers from which you can purchase directly, one such place is The Fork in the Road near Riley. This unusual, on-your-honor store is the creation of a young farmer/entrepreneur, Valerie Visser. The store is supplied with meat, vegetables, frozen dinners and pies, all sourced from Valerie and her husband Justin's farm. 
"It's gotten crazy busy with this pandemic," Valerie says. "People are shopping as close to home as they can. People are driving out from Manhattan (20 miles) because they don't want to go to the big grocery stores. The way we are located, people can sit and wait in their cars while one person shops, then, when that persons leaves, the next person in line goes in. We have plenty of hand sanitizer and wipes on hand and I go in regularly to wipe everything down."
The concept of buying local has gained more attention in the past decade as consumers have become more interested in sourcing their meat and produce from local farmers and ranchers. Although there is some controversy about how "local" is defined, consumers are increasingly interested in knowing where their food comes from and the people who grow it. This concept, also known as direct-to-consumer, is growing more popular during this pandemic.
"Our day-to-day life hasn't changed much on the farm," Valerie says. "But produce and meat sales doubled and our local locker is slammed."
When I began writing about the incredible farm and ranch families for Kansas Living magazine, The Fork in the Road was my first story. At that time, in fall 2015, Valerie had recently begun this unusual rural business offering produce and other sundries on an honor system. She placed an old flatbed pickup with a covered top along the highway and let people stop in anytime to purchase whatever was available. A lock box was available for people to slip their money into.
"Some people thought I was crazy to trust people like that," Valerie says. "But I'm kind of old fashioned and believe people are good and if you trust them, they will act accordingly."
Valerie grew up on a farm in northwest Kansas and understands how creative farmers must be to keep their farm, as a business, viable. She watched her own parents respond creatively to a devastating drop in prices of pork in the early '90s. Since hogs were a main part of their operation, the market crash threatened to wipe them out. However, her parents adjusted by creating their own market for value-added pork products like their own jerky and sausage and kept the business afloat.
"I saw the creativity of my parents and know that they are like other farmers who are always looking for new ways to keep the farm going. After Justin and I got married, I moved to the farm by Riley and looked for ways to add income. I made a USDA-certified kitchen in my basement so I could do catering. Then we started having kids and I became a full-time mom, so I shut it down. I felt like such a failure, but I just didn't have time."
Valerie is like any other farmer; she loves to grow things. Whether it is a crop of wheat waving in the breeze or a cucumber on a vine, a farmer's love for soil and the ability to grow nutritious food is embedded in their DNA. She had always been a gardener using that produce for her own family's consumption, but her entrepreneurial spirit compelled her to seek ways to make it available to the public.
"Riley is a wonderful town a few miles from us, but I couldn't run in there all the time to sell my extra vegetables, so I decided to fix up an old flat-bed pickup. Along the way, I started offering catering services again and, as the business grew, I started dreaming of building a cute little place that people could walk into and I could offer some of my baked goods like casseroles and pies."
The old pickup sits idly by on the farm now only used for special occasions. The new Fork in the Road is visible along Highway 24 where there is, as the name suggests, a fork in the road. The new building has refrigerators, freezers and offers a variety of frozen dishes baked in her USDA-certified kitchen as well as fresh produce. One of the most unique features is a wall covered with aromatic red cedar planks, milled from trees that once stood where the building now sits.
"When we took the trees out, we wanted to save the lumber, so we had them milled," Valerie says. "One day, I was looking at the planks and wondered if they could fit like a puzzle on the wall. The guys building it were pretty excited about the challenge, so we all figured it out until we got it done. It would have been a lot easier to just sheetrock it, but it's so unique. Some people stop by just to see the wall."
Valerie's vision for the Fork in the Road, before the pandemic, was more than just offering people fresh products grown on her farm. She wants it to be a gathering place. In addition to a patio, an old grain bin has been converted into a gazebo, a great place to gather for coffee and one of her fantastic cinnamon rolls or for local musicians to play on a summer's eve.
"Someday soon, I want a place people can just come and sit with their coffee and friends or a book and enjoy the sounds of the farm" Valerie says. "They don't have to buy anything from me, I just want them to enjoy the sounds of country living that I get to hear each day."
Most likely, the Fork in the Road model will become increasingly popular and profitable for farmers and ranchers in the future, as our nation has realized how important a local and regional food supply is to ensure our food security.
While we still depend on some of our calories traveling to us for 1,500 miles – and we're thankful for them – there are a lot of calories just a few miles away, grown by people like Valerie. This is a wonderful opportunity for consumers like you and me to know our food and know our farmers.
You might also enjoy
---