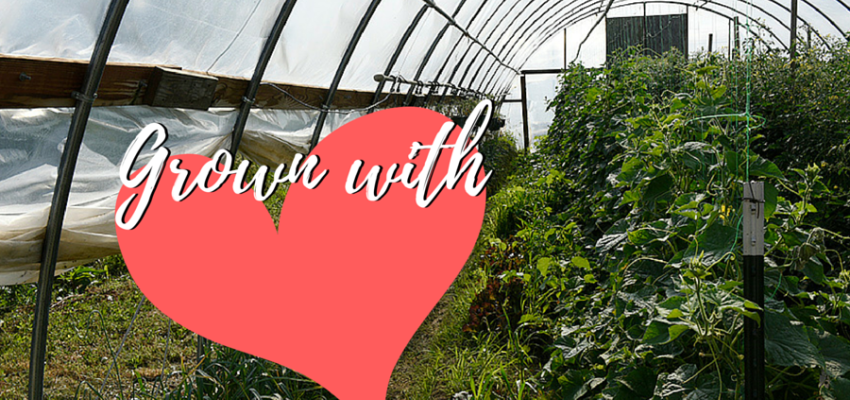 How many pounds of cherry tomatoes must their family sell in order to pay for gas to Yellowstone and back? Jay and Linda Sleichter posed that question to their five children for their 2015 vacation.
Jay's Jellies, Produce and More is a family owned business north of Clay Center. Jay, Linda and their five children - ranging from age three to 14 - all pitch in to grow a variety of vegetables and fruits.
"I graduated from Kansas State University with a degree in animal science," Jay says. "But as our family grew, I wanted to spend more time with them, especially in the summer. I went back to KSU and became an elementary school teacher."
Jay and Linda both grew up on Kansas farms and were delighted to find five acres of land with a house large enough for their family. Surrounded by thousands of acres of corn and wheat, they started a garden.
"Each afternoon, Linda gives me a grocery list and the kids and I walk out to the gardens and pick what we eat for dinner," Jay says. "That's our own version of fast food!"
"One harvest, we had too many jalapeno peppers left over and didn't know what to do with them," Linda says. "We weren't going to throw them away so we made some jalapeno jelly from an aunt's recipe."
Thus began Jay's Jellies, Produce and More. They sold the first batch at the Clay Center Farmers Market and customers clamored for even hotter varieties. Over the course of time, they've added a variety of fruit jellies as well as produce.
"Jay has the kitchen so hot with the peppers sometimes I have to load the kids up and go to the pool," Linda jokes.
The pool in nearby Clay Center, it turns out, is good motivation to engage the children in their gardens.
"We don't bribe our kids with money, but we do bribe them with activities they enjoy," Linda says. "They all have jobs to do in the morning and if they do it without whining, we'll go to the pool in the afternoon. I've only heard a child whine once this summer."
Their oldest, Katy, uses her work in the gardens as a project for both her FFA and 4-H projects.
"When I run the stand at the farmers market by myself, people ask me if my siblings and I actually grow the food," Katy says. "They ask all sorts of questions and I can answer most of them.  If I don't want a regular nine-to-five job when I get older, I already know how to make a living doing this."
Like all farmers, Jay and Linda are entrepreneurs at heart. While they'd love to farm full-time, the start-up cost of land, equipment, seeds and fertilizer were beyond their reach.
Growers Conference
in St. Joe one year and they talked about how much produce you can grow in a high tunnel," Jay says. "I came home and ran the idea past Linda who said we had $200 in the budget. I built my first 12 feet by 18 feet high tunnel and made enough money selling produce that year I paid for my next 18 feet by 48 feet high tunnel. Now I have five. They're like Lay's Potato Chips; I can't have just one."
High tunnels, also known as hoop houses, are plastic encased structures that protect plants from the sun, wind, excessive rainfall and extend the growing season. Jay raises a wide variety of tomatoes, squashes, cucumbers, peppers and other produce popular with customers. Although they are not heated during the winter, various cool season crops can still be grown.
winter market
now in Manhattan and the winter vegetables like kale, chard and Asian greens are good sellers," Jay says. "Customers like our winter carrots the best."
In addition to the Manhattan Farmers Market – of which Jay is a board member – he also sells at Farmers Markets in Junction City and Clay Center.
"Customers in each market want something different so we grow our produce based on those requests," Linda­­­­ says. "We've also found the CSA (community supported agriculture) model works well, too. Customers sign up for a six-week period and we deliver a bag of vegetables each week depending on what is ready. I throw in recipes and the customers love it."
Know Your Farmer, Know Your Food initiative
.  Tapping into this interest, Jay started
Republican Valley Produce
for local produce growers.
Linda, also a graduate of K-State, worked in the agriculture communications department at KSU before becoming a nurse. She uses her background in communications to market their business.
"We work with the local farmers markets to attract more customers," Linda says. "Social media like Facebook works well for us, too. People love to buy local."
Internationally, the Sleichters represent a segment in agriculture known as smallholder farmers: people farming five to 10 acres. Smallholders are of intense interest to agricultural scientists strategizing to feed a population of nine billion by 2050. Much research is focused on creating sustainable intensification – the concept of growing more nutritious food on small acreage that increases revenue and minimizes impact to the environment. KSU won a $50 million award for a USAID Feed the Future Sustainable Intensification Innovation Lab.
Unwittingly, the Sleichters also answered one of the biggest challenges of agriculture: post-harvest losses which can reach as high as 40 percent. Rather than throw the excess peppers away, they started a business that now involves their whole family.
"And each time we sell a pint, we all go, Ding!" Katy jokes.
---