By

Chef Alli

on

March 3, 2020
15 Easy and Flavorful Ways to Use Salsa In Everyday Cooking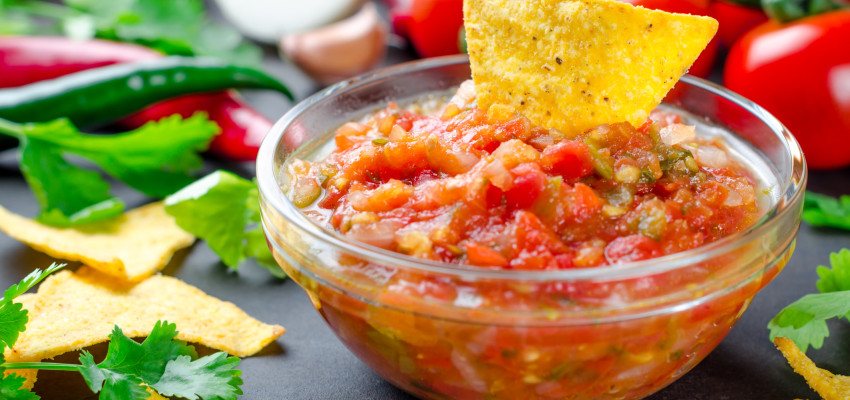 Take advantage of salsa's bold flavors, versatility and ease when you're in the kitchen. It's not only tasty, but the health benefits are great, too. Tomatoes, peppers, onions and fresh cilantro in traditional Mexican salsa provide vitamin C and lycopene, an antioxidant that can help protect our cells from damage.
Making salsa at home is easy, but there are plenty of jarred salsas that taste delicious and avoid unhealthy ingredients. Read the nutrition label to avoid salsas containing a lot of added sodium and sweeteners.
We typically eat salsa with tortilla chips, which are high in both sodium and fat. A healthier option is baked chips or by making your own oven chips from corn tortillas.
If you're a salsa fan (or would like to be), don't limit your enjoyment to just tortilla chips. Instead, try these 15 fresh ideas for using salsa in new ways.
1. Salsa makes a fabulous marinade, adding a nice zing of flavor and spice. Stir in some vegetable oil along with freshly squeezed lime juice and zest to your favorite salsa; add your chosen meat or poultry then store in the fridge to marinate.
2. Top scrambled eggs, an omelet or a frittata with a big dollop of your favorite salsa. Or spoon the scrambled eggs with salsa and cheese into warm corn or flour tortillas, rolling each one up as a breakfast burrito.
3. The next time you make a pot of chili, stir in some salsa for pizazz, taking the chili to a whole new flavor level. To add some smoke to your pot of chili, use a chipotle-based salsa.
4. Mexican meatloaf? Yes, please! When combining the ground beef meatloaf mixture, add a good splash of your favorite salsa. Your family enjoy the meatloaf, and leftover salsa meatloaf makes great grilled sandwiches the next day.
5. Substitute salsa for salad dressing. Salad dressings can be high in fat and sodium, so make your own lower-calorie salad dressing by combing salsa with plain Greek yogurt and just a tiny bit of red wine vinegar and mayonnaise for some tang. Salsa dressing is especially delicious on salads that feature cooked beans and shredded meats.
6. Ready to put a Mexican spin on your chicken alfredo? Add salsa to that creamy alfredo sauce before adding the pasta. When you add the grilled chicken strips on top, splash them with a generous dollop of salsa. Ole!
7. Top deviled eggs with a bit of hot salsa for a spicy kick and some nice color. Or add salsa directly to the deviled egg filling before placing it into the egg white halves.
8. Fruit-based salsa, such as fresh mango or pineapple salsa, makes a very flavorful topping for fish. Grill or bake the fillets, then top with the fruit salsa, chopped cilantro and diced jalapeños.
9. Salsa combined with a mild goat cheese makes a delicious spread for crackers or toasted baguette slices. Be prepared to share the recipe with your guests.
10. Slather your hamburger with a salsa-based spread to kick up the fire. Combining salsa and mayonnaise or salsa with ketchup makes a deliciously spicy condiment for any burger.
11. Are you a fan of grits or polenta? Throwing in your favorite salsa along with a bit of shredded Mexican cheese is absolutely yummy. Take it over the top by garnishing the cheesy polenta with crispy cooked bacon crumbles.
12. Would your family enjoy a new dipping sauce for their fries or potato wedges? Combine salsa and sour cream to make the best dipping sauce both sides of the Mississippi.
13. Salsa puts a fresh new spin on shrimp cocktail sauce. Dipping chilled cooked shrimp or prawns into fresh salsa or pico de gallo is the bomb when paired with a slushy margarita!
14. Give a boring baked potato a whole new take. Adding salsa along with sautéed or grilled onions and peppers plus a sprinkle of shredded Pepper Jack cheese makes a great lunch, or as a side dish at dinner. If you prefer your baked potato topping to be a bit more on the creamy side, combine the salsa with sour cream and slather it on.
15. Use salsas for cooking poultry and meats (such as pork roast or chicken breasts/thighs) in the slow cooker or Instant Pot. Once the meats are fully cooked, remove them from the slow cooker to a cutting board. Using two forks, shred the meat and return it to the slow cooker to combine it with the warm salsa. This makes a great filling for tacos, quesadillas and wraps.
You may also like...
---