By

Chef Alli

on

February 11, 2020
Grab your friends and host a soup swap!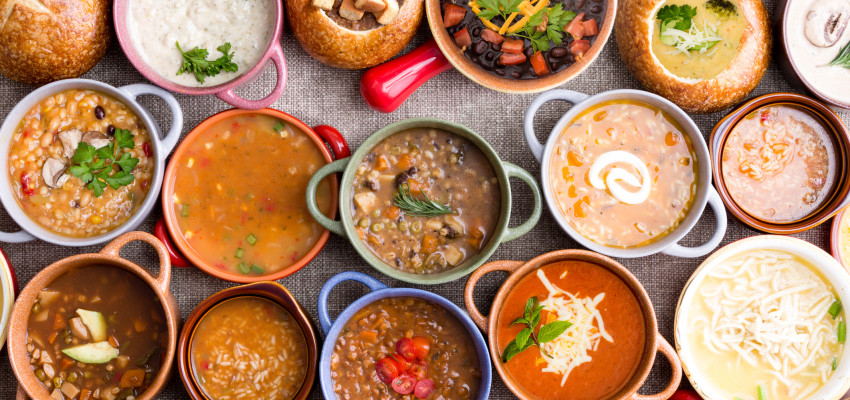 A soup swap is a fun opportunity to gather with friends AND take home a variety of soups. The best part? You only have to make one big batch of your favorite soup.
Planning Your Soup Swap
Set a date for your swap, then invite your besties. For your first swap, I recommend inviting five people which keeps it super manageable and more intimate.
Be sure to give each attendee enough time to choose, shop, prep and cook their pot of soup. Two weeks is a good rule of thumb, especially if it includes at least one weekend.
Let your guests know their soup doesn't have to be anything fancy or gourmet. It just has to be a soup they enjoy and want to share with friends. This really helps attendees not to stress about the swap. 
It's also a good idea to provide your guests with a list of tips for preparing for the soup swap since this helps them know how to plan and what's expected. 
If you're looking for easy-peasy, use ours and add your party information.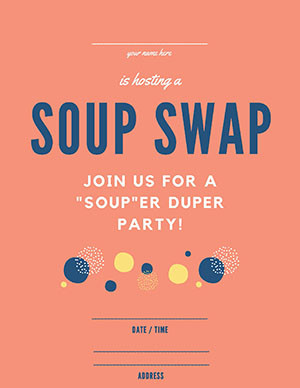 If you'd rather create your own, here are some tips we suggest:
Because there are six people (don't forget to count yourself!) included in the soup swap, please bring six quarts of frozen soup, all of one type. This will probably involve doubling your recipe since most soup recipes only make two to three quarts.
An average pot or Dutch oven is usually not big enough to hold a double batch of soup. Doubling the ingredients will require cooking two pots of soup at once or making the recipe twice in a row if you only happen to have one big soup pot. 
Once your soup is completely cooled, package it in six one-quart containers, leaving a 1" head space. This will allow enough space for the soup to expand as it freezes. 
Ziploc, Glad and Rubber Maid all make good quality 1-quart containers. The very best and safest containers for soup are the ones that have screw-on lids, rather than pop-on lids. 
If your soup requires any special directions once it's thawed and ready to reheat (say adding a bit of cream to make it extra creamy, etc.), use a sharpie to write this on the side of each container. You can also note suggested serving ideas here, such as toppings that are good when serving the soup. Be sure to make these notations BEFORE you freeze your soup. 
Clear your freezer to accommodate for the six quarts of soup to stand upright. You will be doing this not only to create room for the soup you've just made for the swap, but also for the assortment of soups you'll return home with for the freezer. 
Choose a basket or heavy-duty box ahead of time for transporting your soup to the swap. Remember you will also need this for returning home with soup, as well.
Send a  Reminder
Send out a reminder or make a call a few days prior to your soup swap event date. Mention how excited you are to host this swap, and that you've been hearing about some of the yummy soups that are coming to the swap. 
At the Soup Swap
Relax with beverages and easy appetizers as your guests arrive - this event is something to celebrate! 
As your guests arrive, showcase the soups in a prominent and accessible area, say on your dining room table or kitchen island. 
When you are ready to begin the swap, have each guest share about their soup, such as why they chose their recipe, plus details about the recipe they'd like to expand on. 
For instance, is the soup on the spicy side? Is it best served with toppings or at a certain temperature? Is it a special family recipe? Does it evoke any childhood memories for you? Encourage your guests to share details since this makes for a fun gathering. It's always neat for guests to learn what's behind the soups they are taking home to enjoy. 
Now it's time to divide up the soups. Since you have six people included in the swap, have each person will take one of each soup variety. This will also include one of the soups that each guest provided for the swap. 
Everyone (including you, as the host) should now have a wonderful variety of soups in the same amount of soup they came with! In this case, that would be six containers of soup. 
Before everyone leaves, choose who will host the next soup swap and pick a date. Getting that on everyone's calendar now while they are excited about the swap helps the group establish this fun event as a regular occurrence throughout the cold months of the year. 
At some soup swaps, guests are asked to bring copies of their recipe to share with the other attendees. This is fun, but not a must. If you opt to do this, make this a part of the tip sheet you provide as well as the reminder you send out.
Need a recipe? Try one of these.
---