High School Trap Shooting Teams
High school trap teams hit growth target in Kansas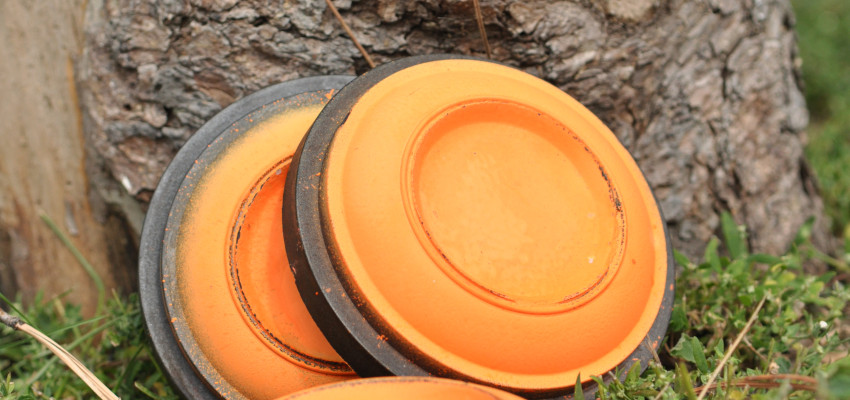 Even a 20 mph wind wasn't enough to completely muffle the shotgun report on an early April morning. From inside the clubhouse at Sportsman's Acres near Milford Lake in Geary County, the muted sounds were just the warmup for the morning's competition featuring competitors from two area high schools.
The 15 who showed up spent more than three hours using 12-gauge shotguns to break clay targets on the trap range. The participants are members of the Clay Center and Chapman trap teams, and the dual format was a different take on what's usually a solitary endeavor.
Teams normally shoot on their own and coaches record each shooter's best score on an online database. Participants can then see where they stand across their class, conference and state.
"It's an integrity-based league," Clay Center coach Bryce Dolan says, because shooters and coaches use the honor system to record scores.
The late-April dual was a chance to interact with another team, similar to what happens at the state shoot, which was in mid-June. Dolan likened the state shoot to a track meet.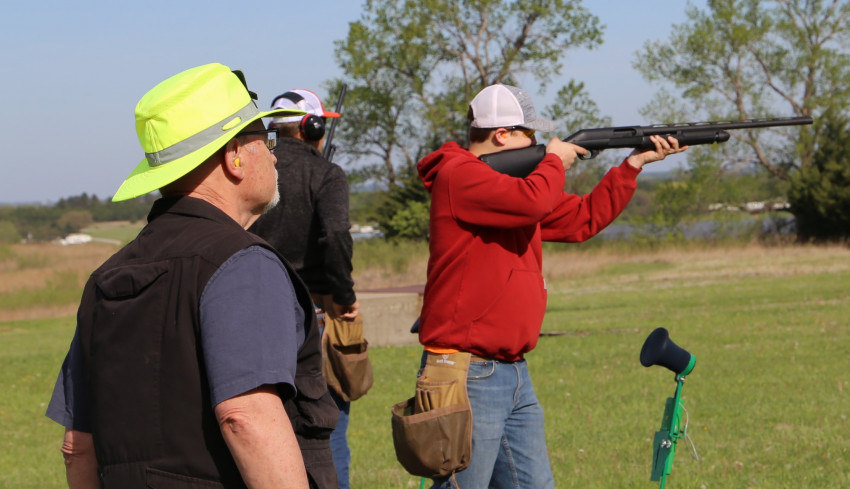 "You shoot with five guys on and then just go hang out," Stuart Kelley, Clay Center's head coach and a construction technology teacher at the high school, says.
STARTING OFF
Kelley said one of his homeroom students had the original idea to form a trap team.
"He was talking about how cool it'd be," Kelley says. "I said, 'Well, do it.' He figured out what I needed to do, and I took it from there.
"He didn't end up shooting, so I was kind of mad at him."
The team received the approval of the USD 379 school board to use the high school's name, but beyond that, it's not affiliated with the school. Clay Center's background as a rural school with a history of shooting sports helped the team gain community support.
HOW IT'S DONE
There are variations of clay target shooting, including trap, skeet and sporting clays. Trap uses a single house to launch targets while skeet uses two houses. Sporting clay courses have several launch points to simulate different aspects of hunting.
In the version practiced at Kansas high schools, five people stand at separate stations behind a trap. Each shooter shouts "pull' to signal the trap to throw a single target, which the person then attempts to break with a shotgun blast. The participants rotate through five stations after every five shots until they've completed a round. The score is determined by the number of clays broken, with 25 being the best mark possible in a round.
At Clay Center, shooters are encouraged to go four rounds with the top two being recorded in the database. Clay Center uses a makeshift range set up on the edge of a wheat field. The trap machine doesn't have the mechanism – called a wobble – that alters the throwing angle. The shooting stations are marked with disc blades from a plow.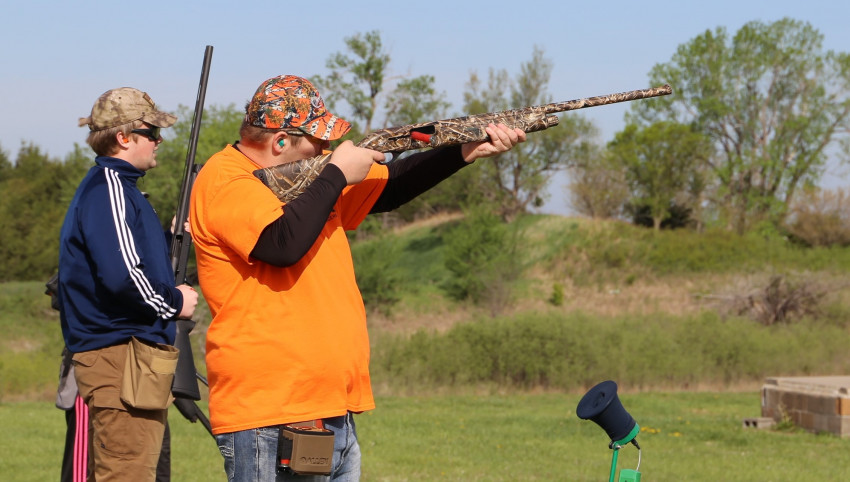 "Our main goal right now is to find a home range in Clay County because now Clay Center has a team, Wakefield has a team, but there's no trap shooting range in Clay County," Dolan says. "That's been a big hurdle these past two seasons."
SAFETY FIRST
All competitors are required to undergo firearm safety training before competing. Most experienced shooters have completed a hunter education course. The Kansas State High School Clay Target League also offers a safety program that includes three hours of training online with two hours on a range.
Eye and ear protection are required to step onto the range, and participants also keep their guns unloaded until they're ready to shoot.
"While we want the kids to have fun and enjoy the sport, safety is our number-one priority," Dolan says. "Before the season even begins, all teams are required to have a range safety day where shooters are taught the proper way to handle, carry and transport their firearms."
GROWING TREND
Clay Center's team is in its second year, but like similar programs across the state, it's growing. It started with 15 shooters, and has 23 on the roster this year, including five girls.
Clay Center isn't the only school with a growing interest in trap. At the state meet in June, Dolan says there were approximately 1,800 participants. That's more than double the number who competed in 2017. The event also has expanded to two days from one.
Chapman coach Mike Johnson said his team is 16 strong this year, an increase of 10 from its initial season. Across the country, there are more than 800 teams in 20 states featuring nearly 30,000 shooters.
PAY TO PLAY
There's a fiscal and physical cost to the sport.
"With shirts, 100 rounds per week for technically 10 weeks and clays, each kid is about $300," Kelley says. "We've got enough sponsorships - our community support is phenomenal - to get it down to about $130 per shooter."
"That's a lot more than these kids are used to shooting when they're going out hunting," Dolan adds. "So, their guns might not hold up during the first practice or two, or their shoulders might not hold up."
Participants supply their own guns, but coaches also bring theirs as backup. Dolan says he'd like to have some team guns in the future, just in case.
"Our ultimate goal is to not let these kids pay anything," he says.
BONDING OVER BREAKS, MISSES
At its core, trap is an individual sport, but it offers the same bonding and support structure offered in more team-oriented activities.
Teams include members with a variety of experience. The Clay Center team includes experienced hunters like Jairus Kelley — no relation to Stuart — and novices like AnnaLeah Johnson, who had never used a shotgun before joining the team.
For Johnson, who was the only girl on Clay Center's team when it started, it offered a chance to "get away from everything and hang out with a bunch of cool people."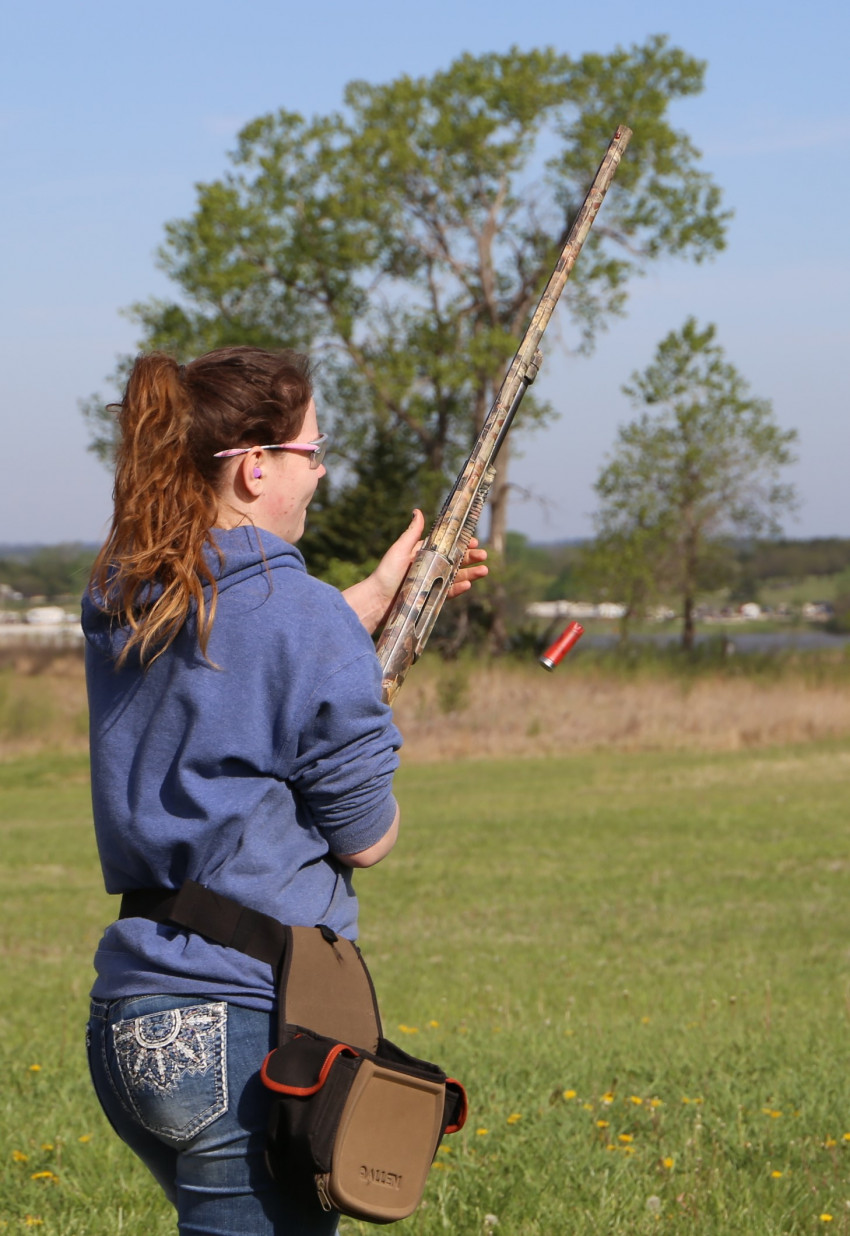 Jairus said he likes the learning aspect of it, like learning the proper stance, timing a shot and improving his marksmanship. He broke his first 10 targets at Milford Lake that windy April day, but once he hit the middle station, "it just fell apart."
Johnson thought she did pretty well during her first round of the competition, considering she'd never shot at Sportsman's Acres.
As for the wind, Jairus shrugged it off.
"I feel like our thrower at home, the wind affects it a lot more," he says. "I felt like it blew me around more than it did the clay."
No matter what the motivation for joining a shooting sport team, teaching youth about gun safety, teamwork and responsibility is paramount.
If you're interested in shooting sports, visit ksclaytarget.com. Kansas 4-H offers shooting sports to teach gun safety and hunting practices. Visit www.kansas4-h.org.
You may also like...
---